HOUSTON, Texas (24 August 2023) – TGS, the leading global provider of energy data and intelligence, proudly announces the expansion of its Carbon AXIOM platform, an advanced CCS site screening and storage assessment tool. The extension now encompasses a vast 62 million acres across the southern United States.
The Carbon AXIOM expansion will offer the states of Arkansas, Mississippi and Alabama critical subsurface intelligence, including intermediate stratigraphy deliverables and carbon storage volumetrics for those seeking to sequester carbon. The upper Gulf Coast region harbors promising aquifer sequences within the Jurassic, Cretaceous, and Eocene strata. This expansion will also chart potential storage avenues through meticulous well-based interpretations and volumetrics calculations.
Jan Schoolmeesters, EVP of Digital Energy Solutions at TGS, commented: "We are proud to unveil this significant enhancement to our CCS capabilities through Carbon AXIOM. The expansion of this platform exemplifies TGS' commitment to enhancing subsurface data and harnessing our data management expertise to help drive carbon-intensive sectors toward innovative energy diversity solutions. With our groundbreaking technology, extensive subsurface data library, and profound geological acumen, we help customers and partners make more informed decisions about their CCS journeys spanning from initial capture to secure containment."
Carbon AXIOM is a unique web-based platform enabling comprehensive screening for potential CO2 storage opportunities within the area of interest through seamless integration of subsurface assessments for storage resources with surface infrastructure information. Leveraging its extensive well log and seismic data library, TGS' Carbon AXIOM equips CCS explorers with indispensable insights for strategic, long-term decision-making regarding optimal sites for carbon sequestration, irrespective of emission quantum or origin.
Carbon AXIOM's robust workflows seamlessly provide essential reservoir attributes—temperature, pressure, salinity, porosity, permeability, reservoir thickness and prospective carbon storage volumes—both in depleted hydrocarbon reservoirs and saline aquifer formations. This information empowers carbon emitters and subsurface operators, enabling informed decisions and secure sequestration avenues, resulting in viable, cost-effective storage capacity utilization.
This expansion of Carbon AXIOM is supported by industry funding and is set to release in H2 2023 - intermediate stratigraphy deliverables available Q3 and Carbon Storage volumetrics Q4.
Sign up for a free 30-day trial to experience the transformative capabilities of Carbon AXIOM at your convenience: https://www.tgs.com/carbon-capture-and-storage/trial.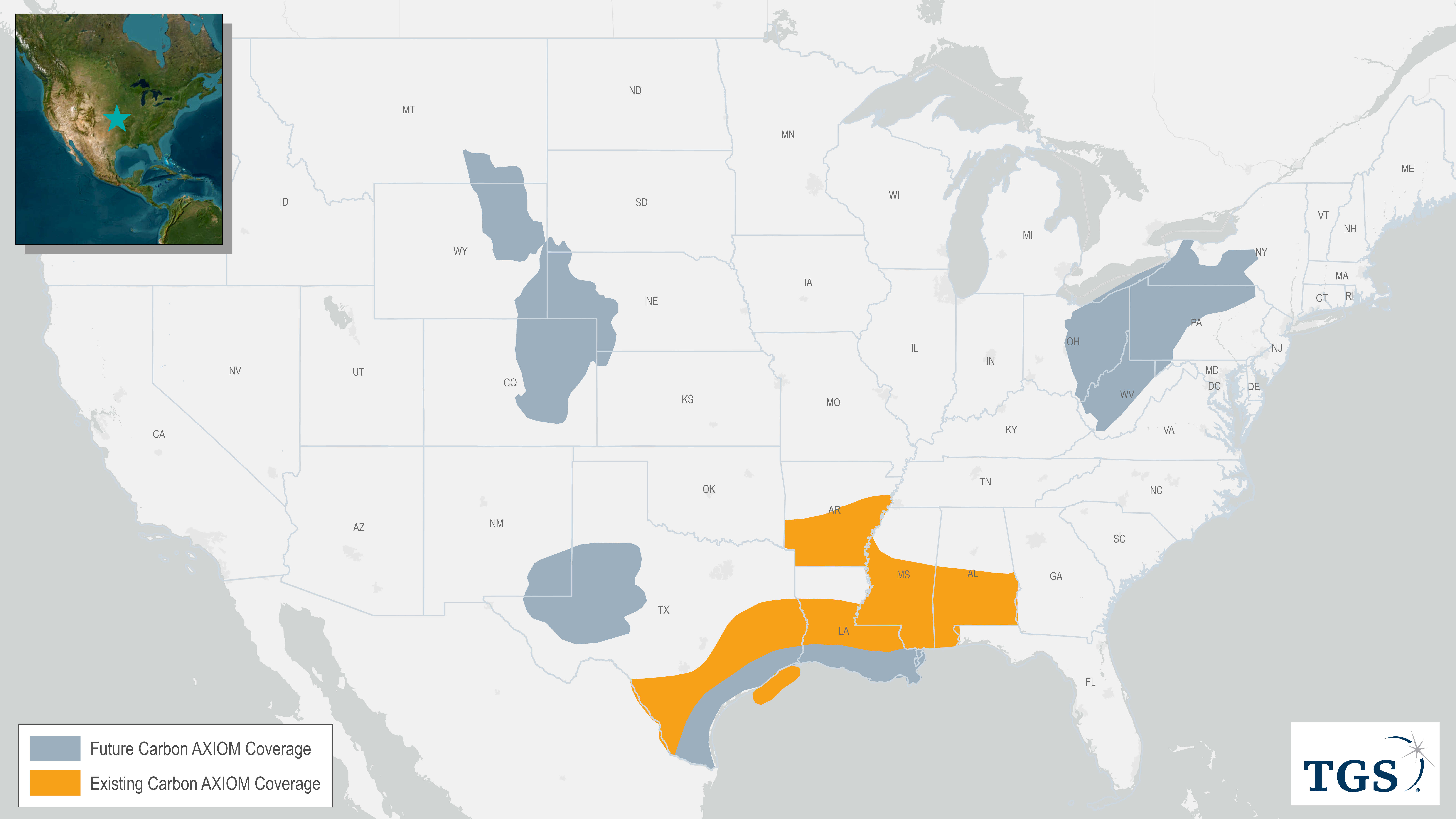 About TGS
TGS provides scientific data and intelligence to companies active in the energy sector. In addition to a global, extensive and diverse energy data library, TGS offers specialized services such as advanced processing and analytics alongside cloud-based data applications and solutions. For more information about our products, services, and who we are, visit TGS.com.
For media inquiries, contact:
Jaclyn Townsend
VP, Marketing
jaclyn.townsend@tgs.com