PWA GOM
Post Well Analysis Gulf of Mexico
US Gulf of Mexico
Exploration successes occur when all the following prerequisites are fulfilled:
Presence of effective RESERVOIR
Presence of effective SEAL (top, fault and lateral seals)
Presence of TRAP prior to hydrocarbon charge (structural and/or stratigraphic)
Hydrocarbon CHARGE (generation/migration)
Hydrocarbon RETENTION after formation of trap


TGS has reviewed historical well/drilling activity in the GOM to identify an estimated 106 key exploratory, discovery and stratigraphic wells. These wells will be used to create the baseline PWA that will be updated annually with 20-40 new exploratory data points. The extent of this study and annual updates is to cover wells from onshore to the deep water and provide analysis of the petroleum systems relationships.
Additional investigations in Field areas provide both producing wells and offsetting lead wells to incorporate relevant validation of the analysis. Focus of the PWA is towards emerging lower Miocene and Mesozoic reservoirs while providing a comprehensive database of different play types within the region. All prospective levels in each well are investigated irrespective of the primary target of the well.
Well and Seismic Data
The following data sources provide input to the analysis:
TGS LAS+ composite logs, well reports,

ect.
TGS and BOEM paleo analysis to provide litho-/chronostratigraphy
TGS petrophysical database (CPI)
General Production data from TGS Longbow well performance application
Geochemical and well pressure data
Hazard identification from

well

reports as available
Support Data from public domain sources


For the evaluation of geometric properties and certain reservoir consideration of traps and for modeling of drainage areas and play types, we will utilize TGS expansive regular regional grid of 2D data and support with modern day 3D as available. Where accessible, TGS interpretations will be provided in context to publicly available references.
Deliverables
The Gulf of Mexico Post Well Analysis (GOM PWA) is a new GIS-based exploration/field analogue aid. It is designed to analyze and explore the full range of factors influencing the presence/quality of trap, reservoir, seal and hydrocarbon charge (including retention) for all prospective levels in tested features.
Data captured and presented within the product includes both seismic and well analysis of the following:
General well / seismic information
Reservoirs

Lithological, stratigraphic and facies features
Petrophysical parameters (N/G, av. poroperm, sand counts, sand volume, resistivity – porosity cross plot)

Traps

Type (eg pre salt, post salt, salt flank), closure, faults and effectiveness
Timing of emplacement, modification, exhumation, DHI

Seals

Top seal; lithological, stratigraphic and facies features
Bottom seal, critical seal, waste and thief zones

Hydrocarbons

Type and features of HC columns and/or shows
Retention

Charges

Lithological, stratigraphic and facies features
Quality of source in well including average TOC and HI, max maturity, max and present-day temp, age of expulsion
Quality of source in the kitchen
Migration
Data Viewer
The database is delivered as an ESRI ArcGIS Geodatabase, in
*Access® or binary format, containing all spatial data and spatial analysis using data types supported by ArcGIS software.
The database also includes images of the following:
A pie chart scheme that summarizes the results of each well (PDF)
Lithostratigraphy and wireline data for each well (JPG)
At least one image of a representative seismic line for each well (PDF)
At least one grid map for a representative horizon for each well (PDF)


Benefits Include
Time saving - by having the complete well parameter interpretation in a single location.
Access to collated learning from well failures and successes to facilitate new analytical approaches (within the GISenvironment) to reduce the risk of drilling dry holes in the future.
Key Analogues database and information
Improved understanding of seismic expression and potential pitfalls (risk reduction tool)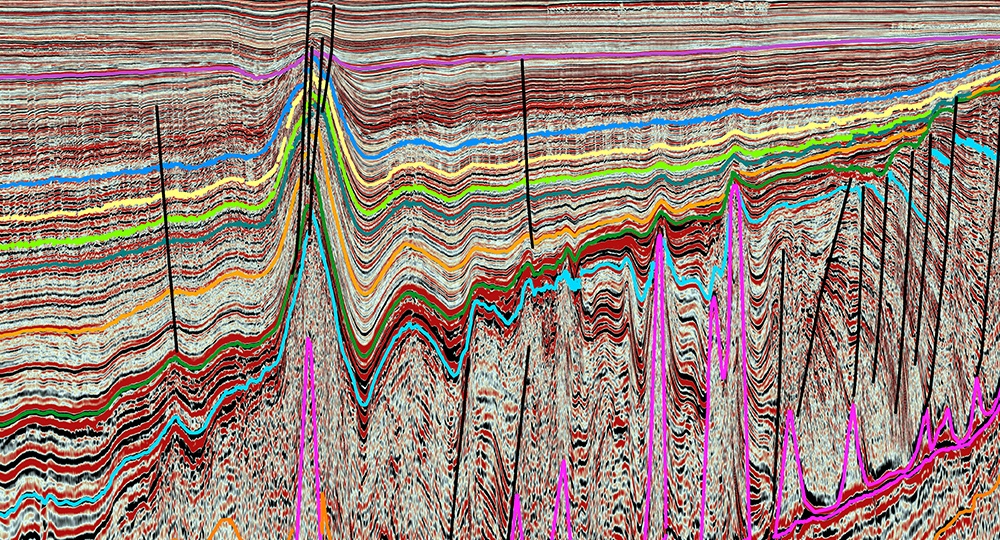 Interpretation Products and Services
TGS' global library of interpretation products provides a comprehensive framework for exploration activity.
Explore our library