Maximize your Power Generation and Increase your Portfolio Profitability
Improve solar data value and quality through reliable collection and efficient conversion for smarter asset management decision-making.
Optimize operations and asset performance management with Prediktor PowerView™
Prediktor PowerView™ is the open and scalable platform that optimizes operations and asset management through actionable, data-driven insights in one centralized system.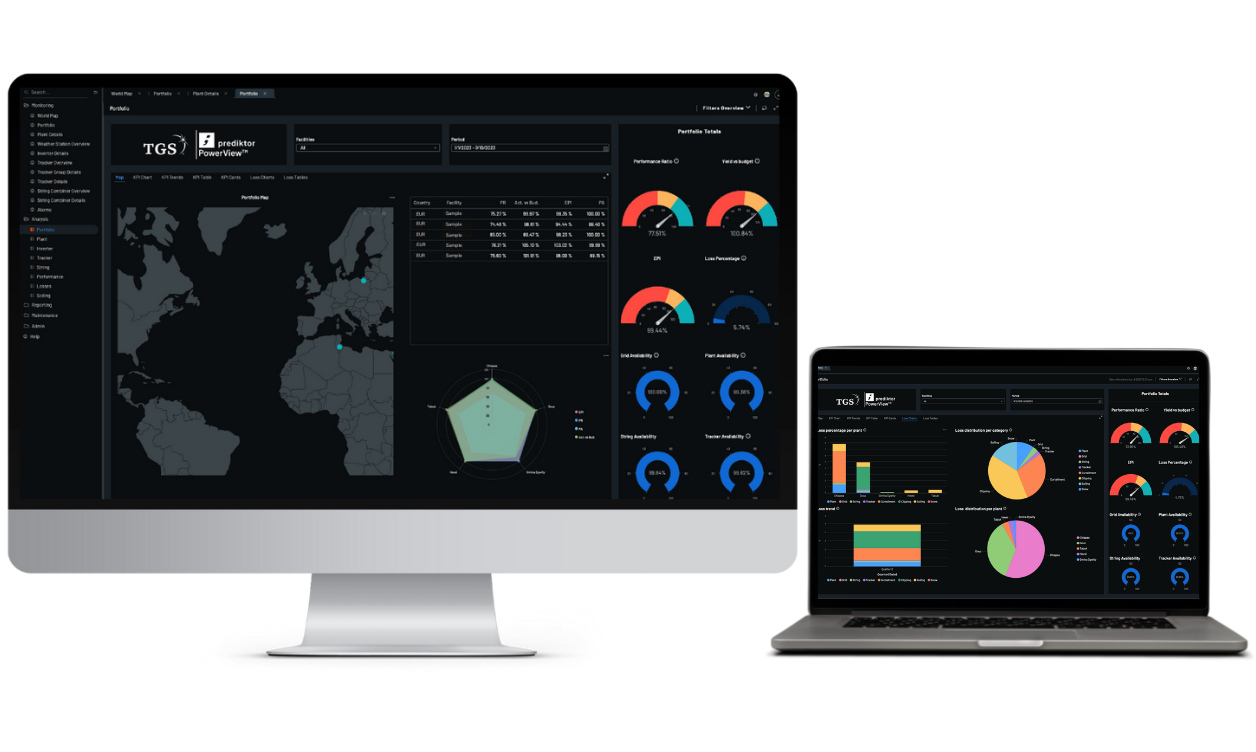 Proven, high-quality operational solar data
For 28 years, we have been enabling the digital transformation and innovation of energy assets by making high-quality operational data available. This empowers the conversion of raw data into valuable insights through our asset management solutions specially designed for renewable energy.
1,000+ Systems
We have more than 1,000 systems in operation.
6 Continents
Our systems are operational globally in 6 continents.
28 Years
We have over 28 years of experience in industrial asset management.
ISO 27001
We are committed to protecting our customer's data.
Who Needs PowerView™?
Our Asset Management platform for utility-scale solar plants provides asset managers, asset owners, O&M teams and data analysts the best tools for decision support, performance analysis, knowledge sharing, and portfolio control.
Maximize entire plant portfolio

productivity

to ensure optimal reliability and continuity

Understand portfolio, plant and device performance –

real-time and historical

Understand and resolve

portfolio-wide losses, downtime and effectively prioritize your efforts

Targets multiple stakeholders' needs

: Asset Owners, Asset Managers, Operations, Maintenance, Analysts

Reduce costs

by automating workflows

Access operational data

for the portfolio uniformly through our structured asset information model

Flexible hosting

- Local or Remote

Unlimited scalability

unique

to your

configuration

Increased profitability

through

operational efficiency, transparency and risk management

Operates in different computing environments:

on your private cloud, dedicated public cloud instances, or dedicated servers
TGS Acquires Prediktor
22 Sept 2022 - GS ASA ("TGS"), a global provider of energy data and intelligence, announced today that it has acquired Prediktor AS ("Prediktor"), a leading provider of asset management and real-time data management solutions to renewable and energy asset owners....
Case Study: Scatec ASA and Prediktor PowerView™
1 Jan 2023 - The energy industry is all about narrow margins. On a PV plant, knowing when to change a part, clean a panel or how much power the plant is producing, and what needs to be done to cut losses in production is of the essence...
How AI can assist decision-making in a SCADA system
27 July 2022 - Using AI is, as a starting point, about understanding where machine learning can add value to your company. Let's look at how AI can assist decision-making in a PV plant's SCADA system...
Book a Free Demo
Get complete control of your assets and data. Understand and act appropriately on what is going on in real-time. Book a free demo with one of our experts to realize plant efficiency.
Explore Our Other Data Solutions
Select a division to learn more