TGS insights give you the stories behind Energy data. These regular short 3-5 minute reads feature thought provoking content to illustrate the use of Energy data in providing insight, nurturing innovation and achieving success.
Last year, Scotland took a significant step to placing offshore wind at the heart of its energy transition program for years to come. In June 2020, the country launched the first of a series of leasing rounds for offshore wind projects that will seek to award up to 10 GW of capacity over the next decade.
Paving the Way for Wind
The so-called ScotWind Leasing round is expected to bring more than GBP 8 billion (USD 10.2bn/EUR 9bn) of investments in the offshore wind sector and help the country achieve its goal of being net-zero by 2045.

Scotland's Energy Minister, Paul Wheelhouse, stated: "The launch of ScotWind – the first offshore wind leasing round to be administered in Scotland – is a very important milestone for Crown Estate Scotland and Scottish Ministers, but also marks another pivotal moment for the development of our offshore wind sector and also presents an opportunity to help develop our strategic economic response to the COVID-19 pandemic."
New Energy Update e-Feed

Subscribe to our free daily e-newsletter providing you with the latest news in wind, solar, geothermal and CCS. Capture the key events associated with the world's Energy Transition, collating headlines from multiple sources to provide an easy-to-consume daily email briefing.


A Solid History
Scotland has been at the forefront of the wind generation industry from an early stage. Back in 2006, Its first offshore wind turbine was sited next to the Beatrice Oil Field, 24 km off the east coast in the Moray Firth. It was the world's largest wind turbine at commissioning, with a maximum output of 5 MW. A second identical turbine joined it, and the wind farm began supplying electricity in August 2007.

This project marked the first time such large offshore wind turbines had been tested and the first time any wind turbine generators have been assembled in such deep water, at 44 meters. Large wind turbine generators are ideally suited to the offshore environment due to high consistent wind speeds and minimal turbulence.
To date, Scotland has seen a significant amount of offshore wind energy activity, with 14 offshore wind farms (including two floating wind farms) having received consent, six of which are currently operational. This number equates to a total generating capacity of just over 5 gigawatts.

In late 2020, the Scottish government published its Sectoral marine plan for offshore wind energy. This strategy document stated that it 'Aims to identify sustainable plan options for the future development of commercial-scale offshore wind energy in Scotland, including deepwater wind technologies, and covers both Scottish inshore and offshore waters.' Not only does this document set out how offshore wind power generation will be pivotal in decarbonising the country's total power generation capabilities, but also how the sector has the capability to create enough power to be able to sell excess capacity to other countries.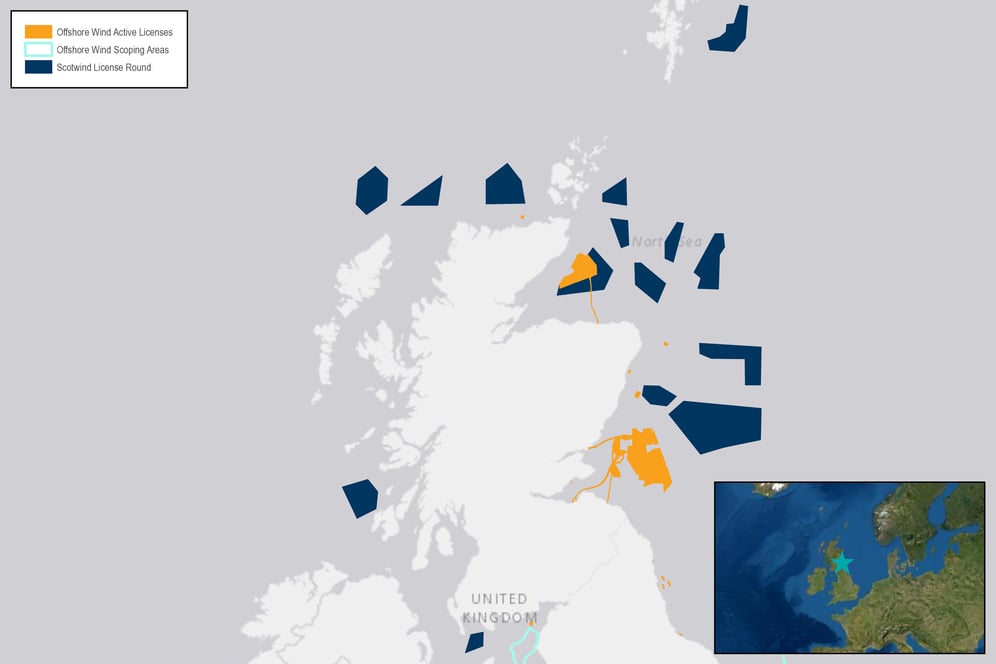 The hotly-contested wind farm licensing situation offshore Scotland provides plenty of exciting opportunities.
Skill Transferral
Over more than 50 years, Scotland's oil & gas sector has successfully built industry-leading competence in offshore extraction. To help this industry cope with the ravages of Covid-19, which led to a sharp decline in jobs in 2020, some have suggested that the Scottish government needs to swiftly develop a strategy to help transfer skills to build infrastructure for the offshore wind farm sector. There are considerable opportunities for oil & gas companies to identify, develop and exploit the growing offshore wind industry, and many have undertaken crucial analysis to do so, such as:
Scrutinizing the potential of the offshore wind market and its main drivers.
Understanding the synergies and differences in ways of working between offshore wind and oil & gas.
Auditing the skills available to be migrated to develop the offshore wind supply chain.
Considering the cost dynamics of the offshore oil & gas sector, using that knowledge to build offshore wind competence.
Understanding the major offshore wind procurement processes and trends.
Developing a strategy to leverage their competencies to assist market entry and market growth.

From project management skills and metalwork fabricators, seismic survey vessels, and foundation installation engineering, the oil & gas industry has decades of experience that can be transferred to further developing offshore wind farms in Scottish waters. However, it appears that the will need to be closer cooperation between the government, the offshore wind sector, and the offshore oil & gas industry if the greatest rewards are to be realized for Scotland and it's workforce.