First Published: First Break Magazine, Volume 39, July 2021
How digitization is helping the geoscience profession to widen its scope in the search for cleaner sources of energy.

The most successful digital transformation strategies within the energy sector must closely align with the needs of the businesses that they support, both in the short and long term. The geoscience element of this strategy should be an integral, fundamental even, component of this as geoscience observations drive many of the future policy decisions of energy companies. Hosting large raw data volumes in cloud-based infrastructure helps to facilitate the journey but does not itself answer any business problems. It is the intelligence and insights derived from the data that can truly influence business decisions and generate the maximum value from vast data assets.

Geoscience insights do not stand alone when discussed at the board level; successful digital deployments must allow for rule-based coupling with other business data categories: financial, environmental, market Intelligence and many others. As energy company portfolios diversify, or at least as companies consider diversification options in the wind, solar, geothermal, CCS, and other markets, the geoscience resources drawn upon will also expand. In the future, energy companies will not focus solely on geoscience resources beneath our feet but on every component of the Earth's system. Approaching geoscience data with this mindset at the earliest opportunity will allow energy companies to better meet the demands of a more diverse, evolving business environment.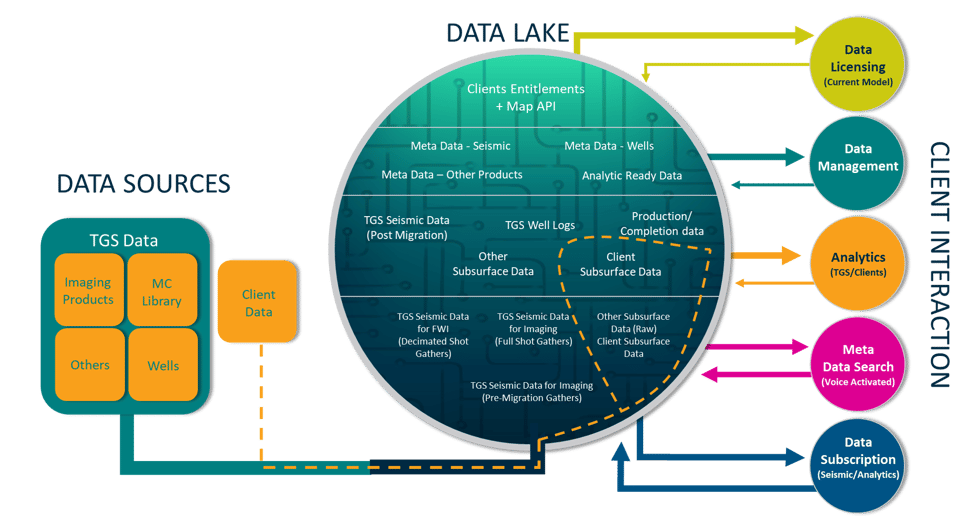 Schematic showing the TGS Data Lake Structure.
Download the full article using the link at the top of this page.