First Published: Geo Expro, May 2023
by Bent Kjølhamar, Adriana Citlali Ramírez and Reidun Myklebust, TGS

According to the World Economic Forum, Europe has enough gas for the first quarter of 2023. However, there is no time to sit back, as the remainder of the year could bring new gas shortages and competition for global suppliers' resources will likely intensify as summer draws to a close.

The LNG demands from China and India could also increase, while the supply from Russia could reduce further or even cease completely. The outcome would be a larger mismatch between Europe's needs and the global suppliers' ability to fulfill those needs and/or their willingness based on competition for energy security.

To our knowledge, there are no basins as close to a major energy market on the planet and yet poorly explored at the same time as the Møre Basin. There are two exemptions: the massive Ormen Lange field and the Aasta Hansteen field which produce gas from the northern part of the Vøring Basin. Aasta Hansteen came on stream in 2018 and it is predicted to come off plateau production this year and be shut down in 2027 if no new discoveries are tied-back to its infrastructure. As such, the Polarled pipeline and the existing infrastructure in the area are in danger of becoming a liability, while there are stranded gas discoveries toward the west.

Against this backdrop, with an expected increase in demand for LNG in Europe, it is pivotal to find and develop more gas to fill the Polarled pipeline. Can the Atlantic Margin come to the rescue?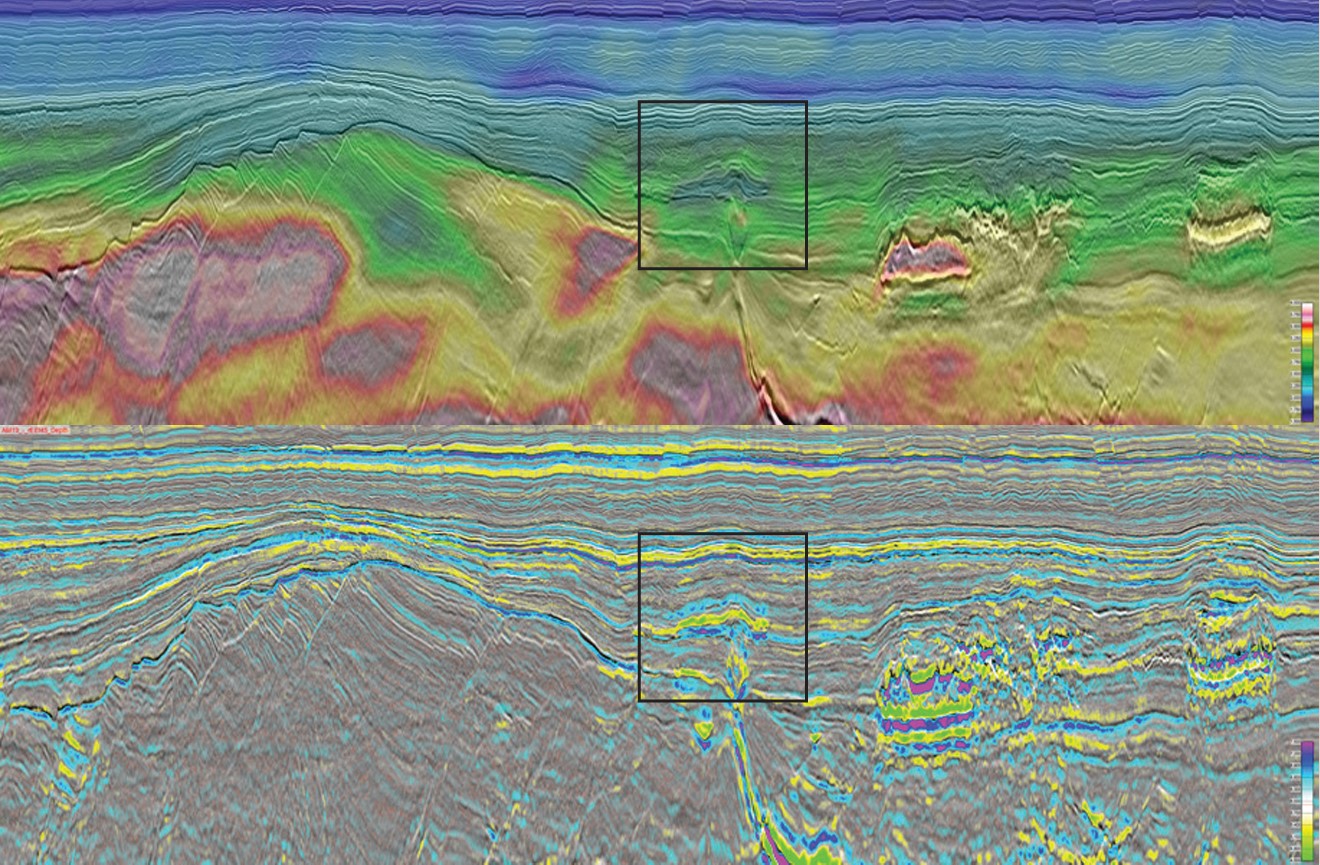 Figure 1: The top line shows AM19 PSDM data with DM FWI velocity overlayed. Notice the sharp velocity slow-down anomaly (inserted rectangle) within the hydrothermal vent structure, possibly sourced from a Cretaceous hosted sill intrusion below. Below, a line from the rEEI volume shows a class 3 AVO anomaly matching the slow velocity anomaly, similar to the one observed in the proven Gro gas field. The lead is one of many found in both flanks of the Gjallar ridge to the left.
In this article, we sum up what is new on the Atlantic Margin, especially how we use high-end seismic imaging and model building with dynamic-matching full waveform inversion (DM FWI) to interpret the geology and gas anomalies, alongside observations underpinning why the volcanic rocks and hydrothermal vents stimulate gas migration into traps created by the same volcanic rocks.
Read the full article HERE.