India East Coast 2D-Cubed Project
TGS' East Coast India 2Dcubed project encompasses over 250,000 line kilometers of existing 2D data across an area of over half a million square kilometers offshore India's east coast. This dataset is unrivaled in its coverage and utilizes TGS' proprietary 2Dcubed technology to create a single conformable, easily accessible dataset designed to encourage and assist exploration endeavors offshore India. Data covers all of the west coast blocks recently announced in India's Offshore Bid Round (OALP Bid Round-IX).
This new dataset, the latest TGS initiative to provide seismic to enhance exploration potential across Asia, offers coverage of the prospective Krishna-Godavari Basin, Cauvery Basin, and West Bengal Fan. The seismic data product will allow local and international companies to develop structural and geological models in their pre-study evaluation process. This will increase confidence in license round decision-making processes and support further exploration.
Offshore Bid Round (OALP Bid Round–IX)
On 11th October 2022, a total of 23 offshore blocks were offered for exploration and development through international competitive bidding by the Indian Government. These blocks cover an area of almost 220,000 square kilometres in total. Of these blocks - the majority were newly delineated by Government, and the rest were a result of EoIs received from potential investors.
Key Facts:
• 26 Blocks in total (offshore and onshore) over 9 Sedimentary Basins, covering an area of 223,031 sq km
• Ultra Deep-Water: 15 blocks (over 159,000 sq km). Shallow Water: 8 blocks (approx. 60,000 sq km).
• Spread over Category-I (11 Blocks) and Category-II (13 Blocks) and Category-III (2 Blocks) Basins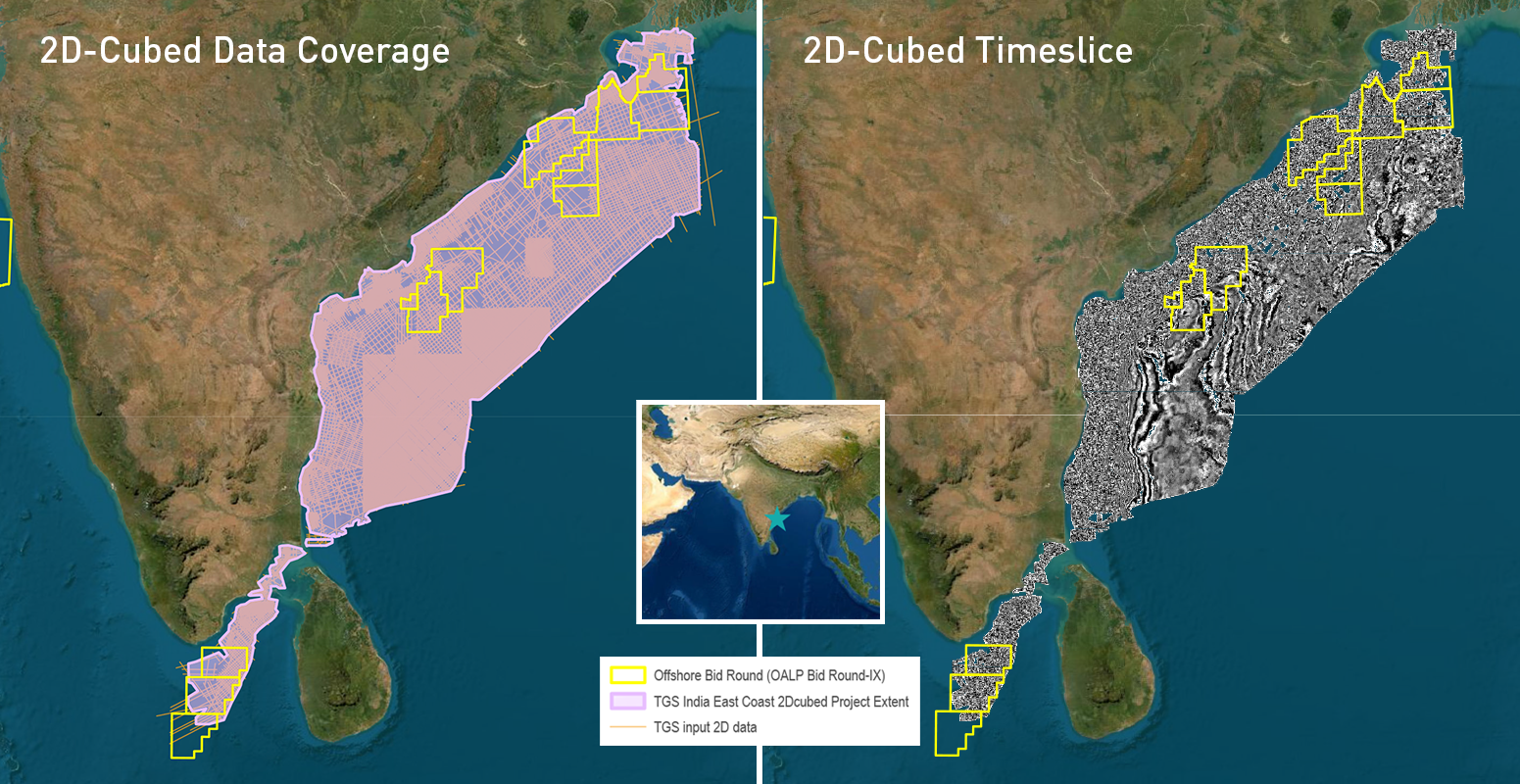 2D-Cubed Technology
2Dcubed is a unique technology from TGS for generating a 3D seismic migration volume from a set of 2D and 3D seismic lines. An advanced structurally conformable interpolation algorithm revitalizes existing 2D multi-vintage and 3D data. The resultant volume can be used for both regional interpretation and the optimization of subsequent 3D and 2D survey designs.
Exploration Context
The east coast of India's passive margin developed following the disintegration of eastern Gondwanaland, with east India separating from Antarctica in the Early Cretaceous.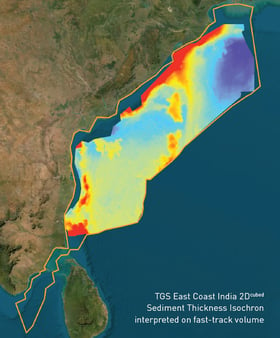 Intrinsic differences between various subcrustal blocks, along the rift geomorphologically segmented it into several pericratonic rift basins. The main ones mapped include the Cauvery, Krishna-Godavari, Mahanadi, and Bengal basins, all with river systems feeding into them from the hinterland.
The graben terminations from onshore, crustal thickness, and Moho topography place the COB nearly parallel to the coastline between 100 & 200 km offshore.
During the drift phase, mantle sources have left their footprint over the Bay of Bengal oceanic crust in the form of linear volcanic ridges, namely the 85° E. Northward drift of Indian culminated in the collision with Eurasia and the Himalaya Orogeny starting during the Oligo-Miocene. The significant increase in sediment input from the Himalayas accelerated the Bay of Bengal burial with >3.5km over much of the region and exceeding 16km under the Bengal Delta.
With an improved understanding of the deep offshore following the recent successes in South America and southern Africa and having all the ingredients, the interplay of river systems, varied crustal topography, and confirmed hydrocarbons, this offshore region deserves a closer look.

2Dcubed extract from QC volume
Contact Us
Get in contact with our Asia Pacific team to ask more about how we can help you with your subsurface intelligence needs.