2020 Acreage Release
The Department of Industry, Science, Energy and Resources has confirmed the Offshore Petroleum Exploration Acreage Release for 2020. This wide-ranging release comprises blocks located in all major exploration basins including the North-West shelf which has been transformed in recent years following a series of exciting new discoveries. This year's round provides E&P companies with a diverse selection of exciting opportunities.
In total, 42 blocks have been offered following nomination by the oil and gas industry, they are located in Western Australia, Northern Territory, Victoria and the Territory of the Ashmore and Cartier Islands. Many of these blocks are covered by TGS' 272,000 km2 2Dcubed dataset which spans much of the North-West Shelf. This unique survey employs existing 2D data from over 250 different vintages to create one continuous and matched seismic 3D volume for interpreting major regional trends and structures ahead of bid nominations. This data complements extensive 3D and 2D coverage in key areas enabling explorers to evaluate key geological structures and play types to support and de-risk bid submissions.
Successful bidders will be offered an offshore petroleum exploration permit. This six-year title can be renewed for a further two periods of five years.
See the full Australian Government press release here.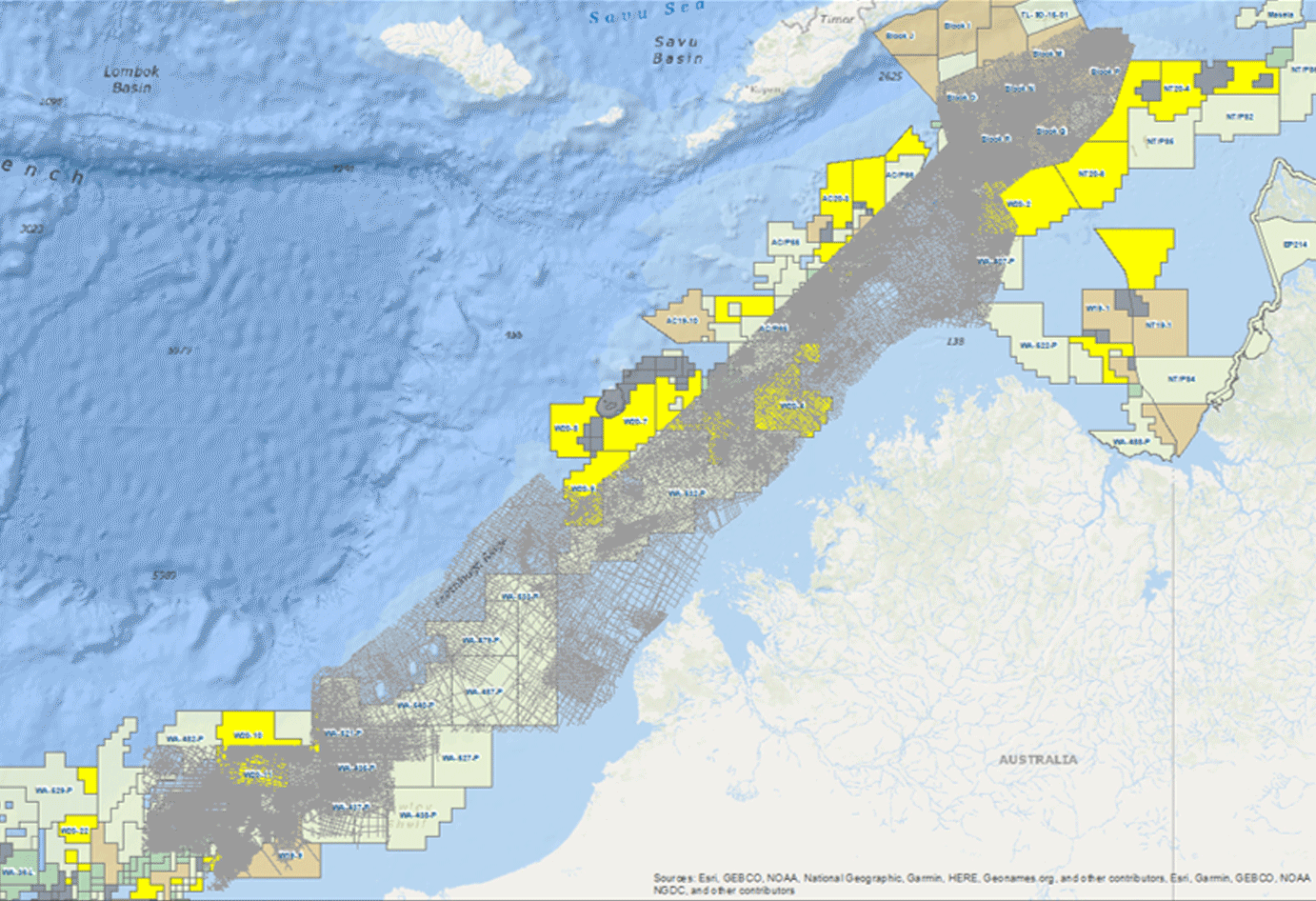 ---
Seismic Block for Evaluation
---

TGS seismic data is available for the following areas in the 2020 acreage release:
The North Carnarvon Basin is a proven oil and gas province with producing fields, extensive infrastructure and numerous discoveries yet to be developed.
The Basin is a northeast-southwest trending extensional and thermal sag basin comprised of structural features including the Barrow, Beagle, Dampier and Exmouth Sub-basins, the Rankin Platform and Exmouth Plateau.
The major depocentres within the basin contain up to 15km of Triassic to Early Cretaceous deltaic-siliciclastic fill. There are two main source intervals found within the Carnarvon Basin: The Upper Jurassic Dingo Claystone and Triassic Locker Shale and Mungaroo Formations.
Exploration success to date has been reservoirs in multiple stacked intervals within Upper Triassic, Jurassic and Lower Cretaceous sandstones however deeper Triassic targets exist, for example the exciting Ironbark prospect, which is due to be drilled. There is also additional near-field exploration potential within more subtle closures. Trap geometries styles include structural, stratigraphic and combination.
Although there has been extensive drilling in the basin, there is thought to be significant remaining potential.
The Beagle Sub-basin lies between the prolific Dampier Sub-basin and Rankin Trend to the South West and the highly prospective Bedout Sub-basin to the East which contains the recent exciting middle Triassic Dorado/Roc/Phoenix South oil and gas discoveries.
It is a relatively underexplored and overlooked basin with very few wells having been drilled in the area. Most of the existing wells were focused on bright amplitudes at the Jurassic level, within structural traps mapped on vintage 2D seismic data with Nebo being finding a small accumulation in the Jurassic. There has been very little focus on the deeper Triassic. Exploration failures have been attributed to trap integrity and breach due to fault reactivation and also an unclear understanding of migration pathways due to poor quality legacy 2D seismic data.
The Browse Basin is a Northeast-Southwest trending extensional and inversion basin with significant remaining potential. The Basin is made up of significant structural features like the Barcoo and Caswell Sub-basins, Yampi Shelf and Ashmore Platform.
There are several large producing and undeveloped gas fields in the basin with access to pipeline and onshore processing infrastructure with access to the East Coast market.
Play types within the Browse consist of structural, stratigraphic and combination traps with strata ranging in age from Permian to Cretaceous. There are at least four known working petroleum systems in the basin, each with its own distinct geochemical marker. Source rocks are known to occur in the Jurassic, Triassic and Paleozoic sections. These source rocks have been shown to be mature over much of the basin. Reservoir facies include fluvio-deltaic Jurassic and Cretaceous submarine fans.
The Bonaparte Basin initially developed in the Palaeozoic as a Northwest-Southeast trending rift basin but has been subsequently overprinted in the Late Carboniferous to Early Permian by NE-trending rift basins, the proto Malita and Vulcan grabens. N-S compression followed in the Late Triassic resulting in widespread uplift and erosion before collapse occurred in the Jurassic as continental break-up took hold in the Late Jurassic – Early Cretaceous resulting in a series of linked NE and SE-trending intracontinental grabens. The basin has multiple petroleum systems and many undrilled extensional and compressional structures, surrounded by oil and giant gas fields with extensive associated infrastructure.

The basin now consists of several sub-basins and pronounced features including the Vulcan, Petrel Sub-Basins, Sahul Syncline, Malita and Calder Grabens, Nancar Trough, Troubadour Terrace and Flamingo High.

Recent drilling activity has been sparse, with just five wells drilled in as many years and two of those being gas and condensate development wells. This has in part been due to the ongoing negotiation of the Australia/East Timor maritime boundary and now this has been agreed, new areas have been opened up for exploration.

The prospective intervals within the Bonaparte range from Carboniferous to Cretaceous in age with stratigraphic, structural and combination trapping geometries. Reservoirs consist of fluvio-deltaic and fan delta clastics and proximal erosion products from Late Triassic uplift. Source rocks are thick Jurassic marine mudstones, shales and coals plus postulated Lower Carboniferous marine shales and Permian coals.
The Otway Basin is a prolific gas basin within the onshore and offshore shallow water areas with many commercial discoveries and large prospects further offshore. The most recent gas discovery made was in September 2019 at Annie-1.
Otherwise the basin remains largely under-explored and with the added benefit of close proximity to both market and infrastructure, shortening the time between discovery and commercialization.
There are two petroleum systems that are recognized within the offshore part of the basin, being the Middle to Late Cretaceous Austral 2 where existing shelfal discoveries have been made and the Late Cretaceous Austral 3 that is proposed to be at the shelf slope. There are several indications that the Austral 3 system is working, however this play has not yet been conclusively tested and remains as an exploration target.
Many of the existing discoveries have a strong amplitude-structure conformance and so modern 3D seismic processing is an essential element.
The trapping styles present in the Otway basin include faulted anticlines, large anticlinal features and tilted fault blocks.
Acreage Release Navigation
Contact Us
Get in contact with our Asia Pacific team to ask more about how we can help you with your subsurface intelligence needs.