Facies Map Browser (FMB)
Improve regional geological interpretations and detailed subsurface understanding
A comprehensive well database with a robust regional sequence stratigraphic interpretation, delivered in a desktop browser.
Facies Map Browser
This interface includes tools to review and analyze depositional system models derived from this interpreted well database; all of which has been tied to reference seismic.
The FMB is an invaluable tool for improving geologic regional perspective and detailed subsurface understanding, as well as for testing new investment opportunities or new play concepts.

Available Regions:
Northwest Europe
Eastern Canada
Australia NW Shelf
Offshore Brazil
Mexico
---

Integrate TGS FMB well and map data into your applications and databases using the FMB Connect webservices to streamline the integration of data into your workflows
Integrate FMB well and map data with your internal systems utilizing our RESTful webservices to automate data management processes.
Optimize productivity with integration of data across applications and access to up-to-date data for decision making and technical evaluation.
Integrate TGS data with proprietary and other 3rd party data to optimize workflows.
For more information, contact Alex.Kurobasa@tgs.com
Data Deliverables
Interpreted borehole stratigraphy
High quality log suite (GR, DT, DTS, NPHI, RHOB, ILD, SP and CAL) when available
Interpreted lithology with cement and modifiers
Main environment of deposition
Associated depositional facies
Gross depositional environment maps
Hydrocarbon shows data
Paleobathymetry
Calibrated time depth pairs and synthetics
Burial history
Benefits of FMB
Reduced risk through delineating source, seal and reservoir for use in predictive exploration
A robust framework for play modelling and exploration work
A fast track understanding of basin development and shortened exploration cycle time
TGS' multi-client approach delivers a large integrated study in a relatively short time frame for a greatly reduced cost per client
A Robust Visualization Application
FMB includes a suite of integrated applications that allow the user to perform a range of visualization, manipulation, data analysis techniques, and exports.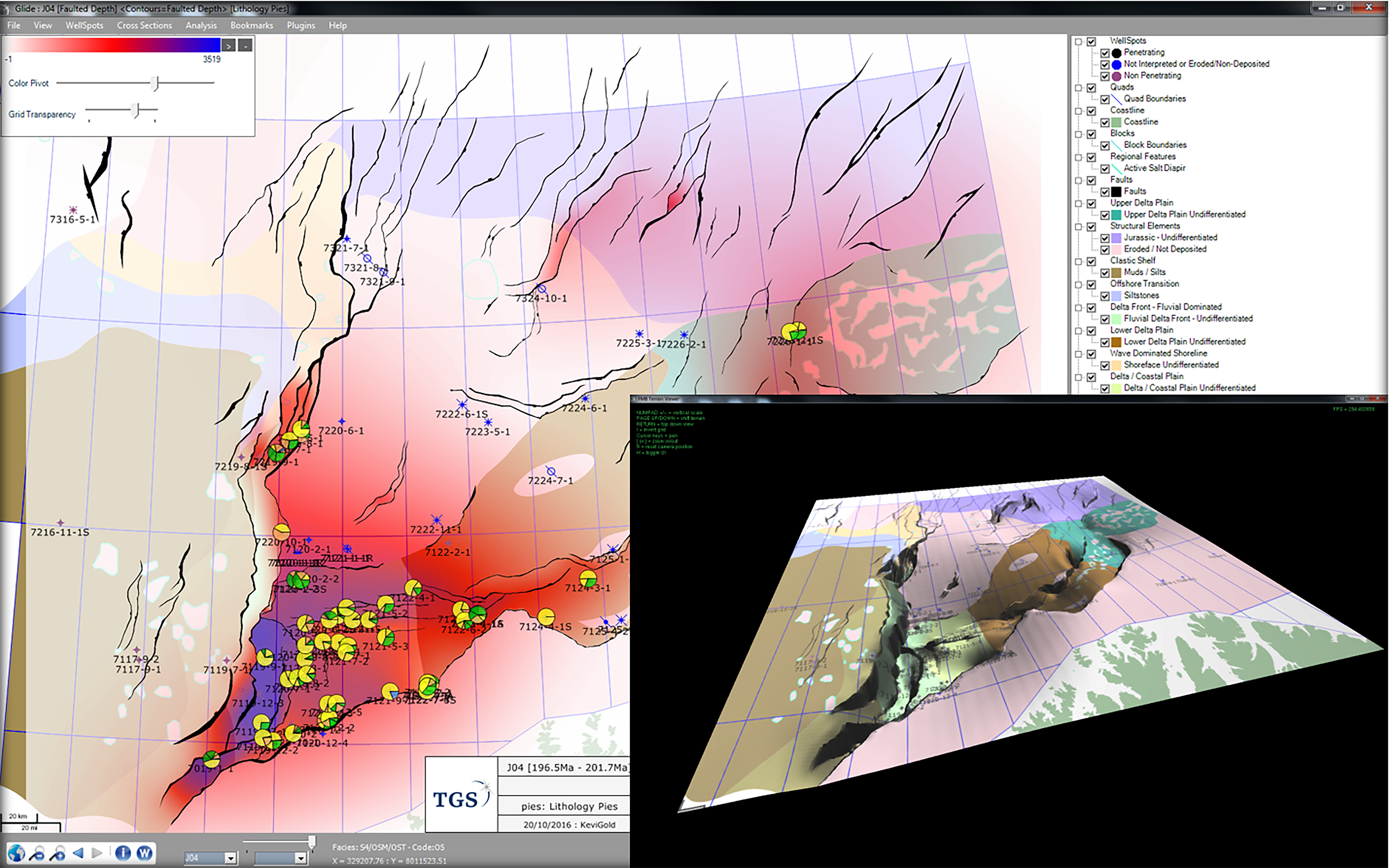 These applications include:
Well Panel

- A core component of the FMB, providing access to the primary licensed interpreted well data. Enables visualization of wells in single and multi-well cross-section views.

Glide Map

- The interactive map viewer and data analysis tool for the FMB.

Query Tool

- Enables exploration led queries made directly from the licensed data. It provides an opportunity to generate value outputs directly from the FMB.

v4.5.0 Northwest Europe FMB Update
Includes all recently released E&A wells to provide the most up-to-date and comprehensive sequence stratigraphic model in the entire region.
Utsira Formation Review
4 new glide maps (T15-T16, T17, T18, T19)

Review of existing interpretation and new infill of 5 Oligo-Pliocene sequences

Stratigraphic chart update
NEW Feature - Hydrocarbon Show Strength
Extent and type of hydrocarbons with additional show strengths are highlighted and flagged within the the oil, gas, and condensate fields within the Well Panel.

This will be represented as a diagonally striped interval.

Extensive data mining of wireline logs and completion reports were used, aiming to capture flow rates from Drill Stem Tests (DSTs) to give our clients key indicators about hydrocarbon discoveries.
Clearer Unconformities
Breaks in stratigraphy will be highlighted by a wavy line and users can customize the colour, frequency, width, and amplitude of the line.

Hiatuses can be correlated using either 3rd Order Sequences , or Chronostratigraphic Stages.
Geoscience Interpretation Products
TGS provides a variety of basin wide interpretations to aid geoscientists. These include Play Fairway Analysis (PFA), Basin Temperature Modeling (BTM), Post Well Analysis (PWA), Formation Tops, and Seismic Interpretation.
Learn More