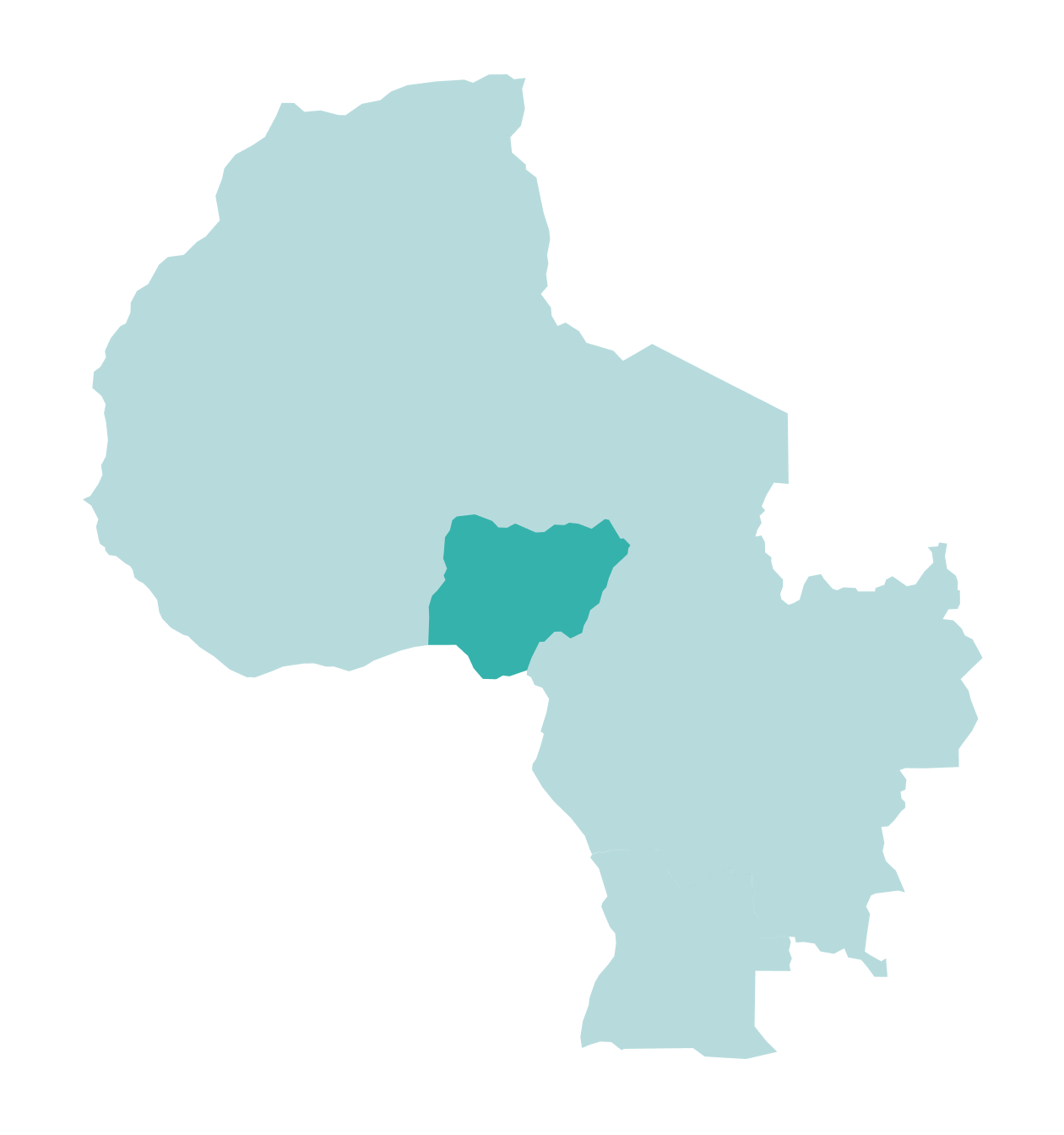 Backscatter map with water column anomalies over a live seep
Why Nigeria?
The offshore Nigeria shelf is West Africa's most prolific hydrocarbon province, with multiple billion-barrel discoveries and decades of successful production.
Since the early 1970s, Nigeria has been a member of the Organization of the Petroleum Exporting Countries (OPEC). Nigeria is the ninth largest oil exporter in the world regarding value. This means that mineral fuels, oils, and distillation products generate about 90 percent of the export value for the country.
TGS and our joint venture partner, PetroData, are committed to providing high-quality data in the region. Our datasets, including 2D seismic, a unique regional Multibeam and Seafloor Sampling (MB&SS) study, and a geochemical coring project, can help evaluate various open and deepwater acreage exploration opportunities.

Mini Bid Round
The Federal Government of Nigeria has opened a mini-bid license round to explore and exploit petroleum opportunities. Seven deep offshore oil and gas blocks are on offer, with the round providing interested parties the chance to invest in the region's potential for oil and gas.
TGS-PetroData is pleased to welcome potential bidders to come and view our data packages covering the seven blocks. We offer data from our newly acquired offshore multibeam, coring, and geochemical program (the first of its type in the region), with its interpretation from newly reprocessed deep-water 2D data set, to provide a new de-risking angle to the exploration plays in the deep-water region.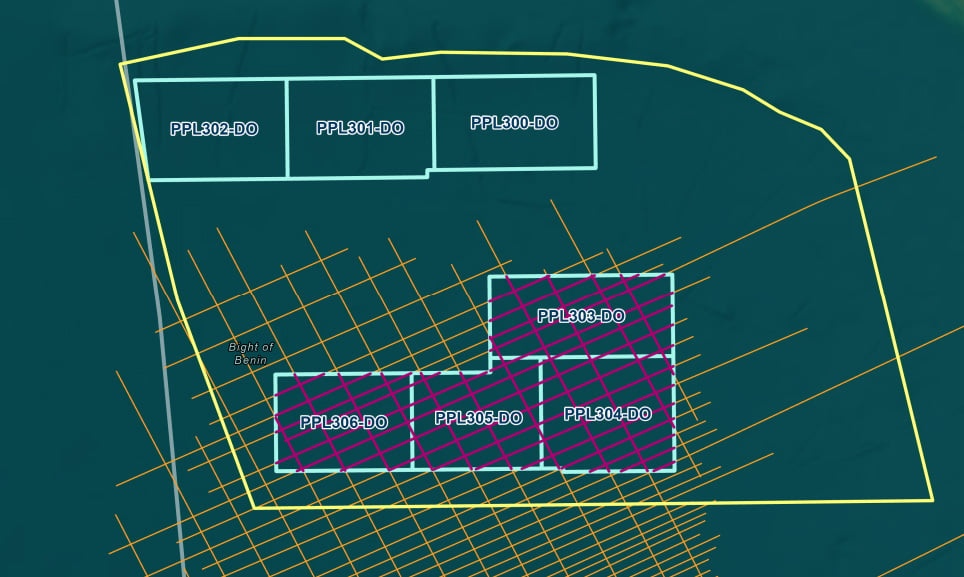 Nigeria Mini Bid Round - 7 license blocks
Our Data
We offer a variety of data types to explore the offshore waters of Nigeria. Alongside traditional 2D seismic data, we also present a unique regional Multibeam and Seafloor Sampling (MB&SS) study to provide cost-effective insight into the seafloor. These data sets, combined with our geochemical analysis, will allow explorers to evaluate a variety of open and deep-water acreage exploration opportunities.

Data available offshore Nigeria consists of the following:

17,874 km NGRE19 2D multi-client seismic - formerly named the VERNG9899 survey, TGS reprocessed this project in 2019
2,048 km NG02 2D multi-client seismic
82,000 sq km Multibeam and Seafloor Sampling (MB&SS) - 1,223 active hydrocarbon seeps detected
Interpretation Products
Drop Coring - including 17 seabed heat flow measurements and 253 seabed cores
Multibeam
Multibeam bathymetry and backscatter surveys provide a comprehensive view of the seafloor in a cost-effective and efficient way and complement traditional tools such as seismic, gravity, and magnetics.
We have acquired over 82,000 km2 of multibeam data at water depths between 750-3,500 meters, and have high-graded the huge amount of anomalies identified in the data. The project is in partnership with the DPR, Nigeria through our local joint venture company, TGS-Petrodata.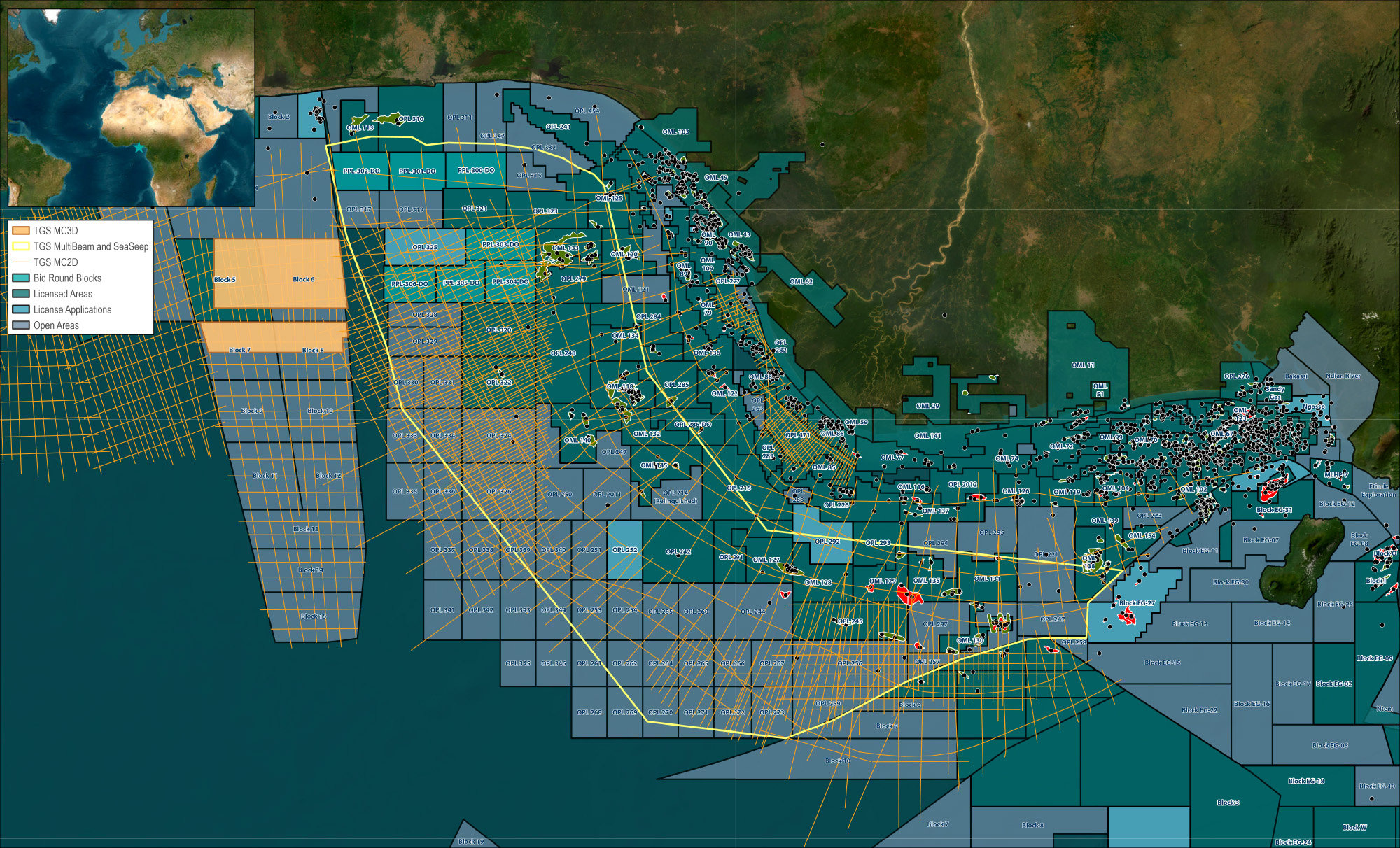 TGS subsurface data coverage and block map.
Orange = 2D seismic lines. Yellow = Multibeam and Sea Seep coverage area.
Nigeria's Deepwater Potential
With significantly improved imaging of more than 17,000 km of recently reprocessed 2D seismic offshore Nigeria, TGS-PD data will enable a better understanding of the petroleum system of the deepwater offshore area. Our new depth imaging creates more accurate dip and realistic volume interpretation of features of interest. The potential for new license rounds over the deepwater open blocks, in conjunction with lower-risk petroleum play concepts, could once again establish Nigeria as West Africa's flagship country for exploration.

More than ten currently producing fields in water depths of 1,000 m to 3,000 m confirm source rock presence and maturity in the deepwater region offshore Nigeria. These seem to prove that the Akata Shale formation can be mature for oil further outboard than the shelf and that there are feasible migration paths and trap charge scenarios in the distal part of the delta lobes. This makes prospects further outboard viable, such as those identified in the outer fold and thrust belt. Structural analyses on the fault and thrust patterns and detachment mechanisms of the margin slope show various viable setups of charging several folds and thrusts along the slope.
Speak to a Specialist
Interested in a product demo or trial? Let us know your needs and we'll connect you to the right person or team.
Book a Data Viewing
Want to see the latest seismic data solutions and imaging technologies in your region of interest or for the next license round? Book a data viewing with one of our experts.
Discuss Your Seismic Data Needs
Every need is different and we'd like the opportunity to discuss yours further. Speak to one of our data or geoscience experts to customize seismic solutions specific to your requirements.