Environmental Policy
Minimizing Environmental Impact and Improving Environmental Programs
TGS is committed to protecting the environment in which we live and work, while also conducting our operations in an environmentally sustainable and responsible manner. TGS strives to lead the industry in minimizing the impact of our operations on the environment. TGS is dedicated to the continuous improvement of our environmental programs and standards across all our operations.
We will work to achieve these commitments by:
Planning operations to minimize and/or reduce environmental impacts to acceptable levels;
Monitoring our performance against approved environmental management plans;
Carrying out regular environmental audits, inspections and site visits of TGS and contractor operations;
Maintaining compliance with applicable laws, regulations and guidance from trade associations;
Monitoring the environmental performance of our contractors throughout the life cycle of each project;
Ensuring that our contractors restore, in a reasonable and practical manner, all project sites to their original condition;
Educating our employees and contractors in TGS' environmental stewardship and sustainability strategies;
Communicating TGS' environmental expectations to all employees and contractors;
Seeking continuous improvement and environmentally sustainable solutions;
Annually reviewing this policy and related plans to ensure ongoing suitability and effectiveness;
Providing appropriate financial and physical resources to enable compliance;
Publishing our environmental performance in our yearly Corporate Social Responsibility report.

Our environmental efforts will be based on the implementation of the following key global strategies:
Conducting environmental risk assessments of our operations and assessing our impact on the environment;
Minimization and reduction of waste generated by design and purchase;
Adoption of reduce, re-use and recycle programs where efficiencies can be found;
Where hazardous chemicals, materials or products are used, adopt substitution techniques aimed at reducing or eliminating the handling, use and storage of such items;
Minimization of carbon emissions by survey design and minimization of technical and non-technical downtime;
Guarding against accidental and operational pollution;
Development of emergency response plans for environmental incidents;
Committing to implementing UN Global Compact Sustainable Development Goals.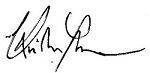 Kristian Johansen
Chief Executive Officer – TGS
July 24, 2019