Suriname Shallow Offshore 2 Bid Round 2023-2024 Opened
Suriname is rapidly establishing itself as a prominent player in offshore oil and gas exploration, riding the wave of success experienced by ExxonMobil in neighboring Guyana and TotalEnergies in Suriname. At the forefront of these burgeoning efforts is Staatsolie, the country's regulatory authority, which has played a pivotal role in driving the nation's exploration initiatives.

This journey commenced in 2021 when Suriname initiated its first shallow water bid round, marking the beginning of a remarkable trajectory which ended with production sharing contracts signed by supermajors TotalEnergies and Chevron in 2022. Subsequently, another significant bid round was successfully concluded in May 2023, this time focused on the deep water area on the Demerara High. With these accomplishments under its belt, the regulatory authority has now opened the second shallow water bid round. The bid round officially launched on November 7, 2023, with the commencement of the bidder authorization process. The data room will open on December 18 with bids required by May 31, 2024.

As the spotlight turns towards Suriname, it is becoming increasingly clear that the nation's rise in the oil and gas industry is connected to the concerted efforts of stakeholders. Staatsolie understands that information is key for providing oil and gas companies with the opportunity to evaluate the potential of their offshore acreage and attract more companies to some of the underexplored areas. High-quality 3D seismic data can provide the right insights to increase the potential success for oil and gas exploration. In strategic foresight, the nation proactively allocated rights for the acquisition of multi-client 2D and 3D seismic data to a consortium of leading seismic services companies – TGS, CGG, and BGP – well ahead of the first shallow water bid round. As a result, the second shallow water bid round is now backed by top-tier 3D seismic data, poised to unveil the extensive exploration possibilities in offshore Suriname.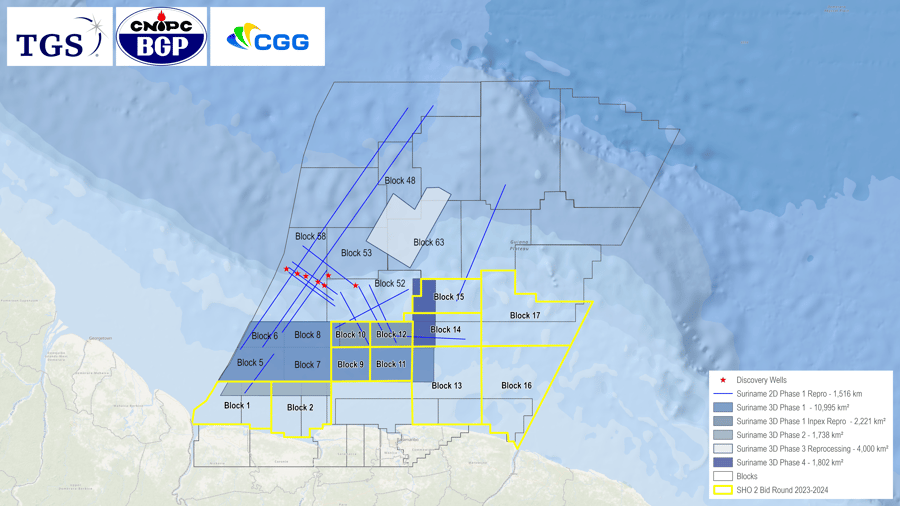 This collaborative industry endeavor has resulted in the acquisition of more than 16,755 square kilometers of new high-quality 3D seismic data and the reprocessing of existing 3D seismic data. This valuable dataset enhances our comprehension of the shallow water region and plays a pivotal role in the precise identification and mapping of potential sand-filled early tertiary channels, thereby reducing the exploration risk. Achieving this remarkable enhancement in data quality requires a strategic combination of the right acquisition technique – high-density triple source – with the utilization of advanced imaging technologies. These technologies include modern broadband and state-of-the-art Full-Waveform Inversion (FWI).

The race is on in Suriname as TotalEnergies sets its sights on achieving initial oil production from its Block 58 offshore Suriname project by 2028. Block 58 is rich in potential, boasting a minimum of 50 prospective drilling sites. In 2020, Morgan Stanley estimated that it could harbor up to 6.5 billion barrels of recoverable oil resources. Additionally, Petronas has confirmed the presence of oil-bearing Campanian sandstone reservoir packages at the Roystonea-1 exploration well in Block 52.

The importance of having access to high-quality 3D seismic data cannot be overstated in ensuring successful drilling campaigns. Given the proximity of the shallow water blocks to these promising discoveries, it is highly likely that the trend of exploration success will continue. This, in turn, will contribute to a compelling success story for the exploration industry and the initiatives spearheaded by Staatsolie, particularly in their pursuit of a multi-client business model to support their offshore bid round.
For more information regarding 3DMC projects in Latin America, contact us at latinamerica@tgs.com.