2017 Annual Report
2017 Board of Directors' Report
TGS-NOPEC Geophysical Company ASA (the Parent Company, and together with its subsidiaries, TGS or the Company) is a leading resource for global geoscientific data products and services in the oil and gas industry. TGS specializes in the design, acquisition and processing of multi-client seismic surveys worldwide. In addition to extensive global geophysical and geological data libraries that include multi-client seismic data, magnetic and gravity data, digital well logs, production data and directional surveys, TGS offers advanced processing and imaging services, interpretation products, and data integration solutions. TGS operates globally and is presently active in North and South America, Europe, Russia, Africa, Asia and Australia.

The corporate headquarters of the Parent Company and TGS are located in Asker, Norway. Its primary subsidiary, TGS-NOPEC Geophysical Company, is based in Houston, Texas, U.S.A. TGS also has regional offices in the United Kingdom, Canada, Australia, Brazil, Mexico, Singapore and elsewhere in the U.S.

All financial statements in this report are presented on a going concern basis in accordance with the Norwegian Accounting Act section 3-3a, and the Board of Directors confirms that it is of the opinion that the prerequisites for a going concern assumption are indeed present.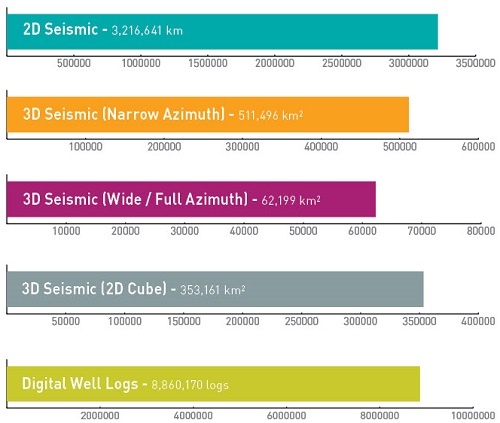 Operations
Although the underlying fundamentals improved slightly and revenues grew by 8%, 2017 was another challenging year for the seismic industry, impacted by continued low exploration activity among E&P companies.

TGS' geoscientific data library is one of the industry's most comprehensive multi- client resources, encompassing a wide range of geophysical, geological, gravity, magnetic and bathymetry data. The following table summarizes the data inventory at year-end.

TGS' primary focus is developing, managing and selling licenses of the Company's multi-client geoscientific data, which accounted for over 98% of revenues in 2017. Customer pre-funding of new multi-client projects reduces the Company's investment exposure, while late sales from its library of data products have historically provided the bulk of the revenue stream. Net late sales after partner share was at USD 369.4 million in 2017, compared to USD 333.4 million in 2016. Pre-funding revenues of USD 115.8 million, representing an increase of 10% from USD 105.2 million in 2016, funded 44% of the operational investments in new multi-client data for 2017, compared to 48% in 2016. Proprietary contract revenues decreased by 60% mainly as a result of lower proprietary acquisition activity, but also as a result of lower revenues related to processing of seismic data on behalf of external customers. Proprietary contract revenues represented 1% of total net revenues in 2017 (2016: 4%).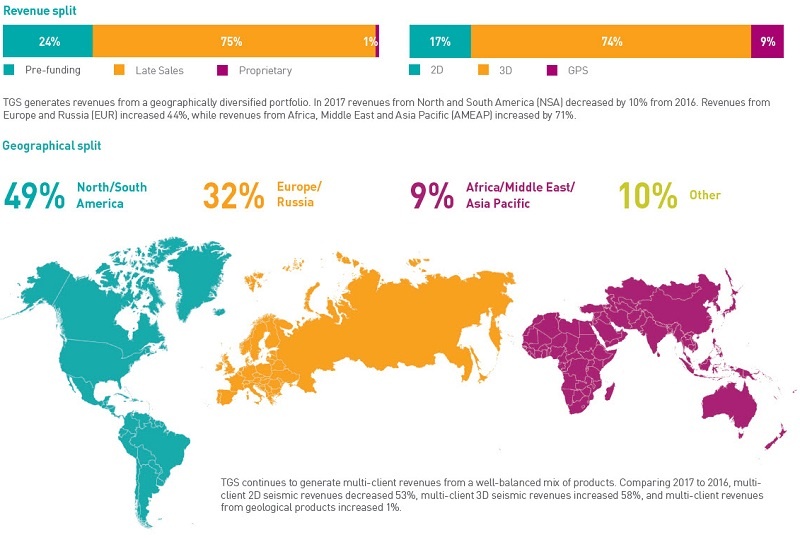 Multi-client Geoscientific Data Library
TGS' library of multi-client seismic data, geological data and integrated products represents 56% of the total assets as of 31 December 2017 (55% in 2016). Seismic data, representing 91% of the library's net book value at year-end, is amortized on a project-by-project basis as follows:
During the work in progress (WIP) phase, amortization is based on total cost versus forecasted total revenues of the project.
After a project is completed it is amortized on a straight-line basis. The straight-line amortization is assigned over the remaining useful life, which for most marine projects is considered to be 4 years. For most onshore projects the useful life after completion is considered to be 7 years.
The well data library is amortized on a straight-line basis over seven years, while data purchased from third-parties follow a straight-line amortization profile over the remaining useful life.
Commitments to Seismic Acquisition Capacity
TGS secures all seismic acquisition capacity from external suppliers, for both offshore and onshore projects. At year-end 2017, the Company had entered into commitments for one 2D vessel, two 3D vessels and two land crews. All these commitments will expire in 2018, and the amount committed, included contractual lease agreements, totaled USD 37 million (2016: USD 25 million).
As of 31 December 2017, the deferred part of contingent rent agreements which is contingent on future sales, totaled USD 13 million (2016: USD 25 million).
Results from Operations, Operating Cash flows and Financial Position
Net revenues in 2017 were USD 492.2 million, an increase of 8% compared to 2016 (USD 456.0 million). Operating profit (EBIT) for 2017 was USD 97.4 million compared to USD 53.0 million in 2016.
The 2017 Operating profit (EBIT) margin was 20% versus 12% in 2016. Pre-tax profit in 2017 was USD 99.6 million, up from USD 52.7 million in 2016. Net income was USD 75.6 million in 2017 compared to USD 27.7 million in 2016.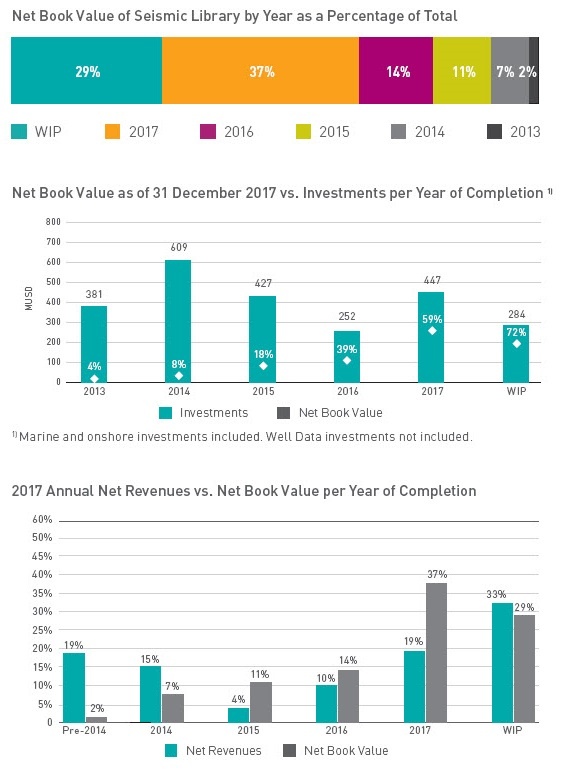 TGS' operating cash flow was USD 461.3 million in 2017, an increase of 42% from USD 324.4 million in 2016. Operating cash flow is significantly higher than the operating profit as non-cash expenses, in the form of amortization and impairments of the multi-client library, are the Company's largest expense item.
TGS has paid quarterly dividends since 2016. The Annual General Meeting held on 9 May 2017 resolved to renew the Board of Directors' authorization to distribute quarterly dividends. In 2017 TGS paid dividends totaling USD 62.8 million (equal to USD 0.60 per share), up from USD 59.5 million (equal to USD 0.60 per share) paid in 2016.
On 7 February 2018, the Board of Directors resolved to pay a quarterly dividend equal to the NOK equivalent of USD 0.20 per share (NOK 1.57).
At year-end 2017 TGS had cash and cash equivalents of USD 249.9 million compared to USD 190.7 million at the end of 2016. TGS held current assets of USD 523.6 million and had current liabilities of USD 194.9 million. In addition, TGS had USD 75.0 million available under an undrawn Revolving Credit Facility.
As of 31 December 2017, total equity amounted to USD 1,200.1 million, corresponding to an equity ratio of 84% (2016: 79%).
TGS has implemented IFRS 15 Revenue from Contracts with Customers from 1 January 2018. For further details, please refer to note 1 in the consolidated financial statements.
| Shareholders value metrics | 2017 | 2018 |
| --- | --- | --- |
| Net revenues | 492,181 | 455,991 |
| Operating profit (EBIT) margin* | 20% | 12% |
| Multi-client net revenues/ average netbook value ratio | 0.60 | 0.53 |
| Return on average capital employed (ROACE)* | 10% | 5% |
| Cash flow from operations after multi-client investments | 123,342 | 91,069 |
| Shareholders equity as % of total assets | 84% | 79% |
*Defined in the Alternative Performance Measures section in Annual Report
Mergers and Acquisitions
In 2017 TGS acquired the Norwegian and Barbados multi-client surveys of Multi- Client Geophysical ASA (MCG), which prior to the transaction had been acquired by Geoex Ltd, a UK based geophysical company.
In connection with the restructuring of the debt of Seabird Ltd. (Seabird), a Cyprus based geophysical company, TGS entered into an agreement in 2017 to exchange USD 5 million of outstanding bond debt owed to TGS by Seabird for Seabird's interest in its multi-client surveys.
In 2016, TGS, together with Petroleum Geo-Services, entered into an agreement to acquire the multi-client library of Dolphin UK Ltd. The transaction closed in Q1 2017.
The acquired multi-client surveys, totaling USD 9.5 million in 2017, are considered to be a good strategic fit for TGS and will add to the already strong position in areas such as the Barents Sea, the North Sea, NW Africa and Australia. Since 2015, TGS has been involved in a number of strategic library transactions and has taken over multi-client libraries from Polarcus, Dolphin, Multi-Client Geophysical and Seabird.
Investments, Capital, Financing and Dividends
TGS is listed on the Oslo Stock Exchange with a market capitalization of USD 2.4 billion on 31 December 2017. As of year-end, TGS was the 18th largest company on the Oslo Stock Exchange and is part of the OBX index consisting of the 25 most liquid stocks in Norway. TGS did not issue any new equity during 2017, other than shares issued as part of employee long-term incentive programs. The Board does not anticipate issuing any new shares in 2018, apart from share issues as part of employee long-term incentive programs, unless necessary to finance the acquisition of a company or a major business opportunity.
During 2017 TGS invested USD 289.0 million (net of contingent rent investments and library acquisitions) in its multi-client library, compared to USD 271.0 million in 2016. Contingent rent investments amounted to USD 18.1 million in 2017 (2016: USD 50.7 million). The net book value of the multi-client library amounted to USD 799.0 million as of 31 December 2017 compared to USD 812.4 million as of 31 December 2016 after recognizing USD 294.8 million of amortization and USD
7.5 million of impairments (2016: USD 286.7 million of amortization and USD 11.0 million of impairments).
The Annual General Meeting held 9 May 2017 resolved to renew the Board of Directors' authorization to distribute quarterly dividends. The aim will be to keep a stable quarterly dividend in US dollars through the year, but the actual level paid will be subject to continuous evaluation of the underlying development of the Company and the market.
In its meeting on 7 February 2018, the Board of Directors resolved to pay a dividend of USD 0.20 per share (NOK equivalent of 1.57 per share) in Q1 2018 based on the 2016 financial statements. The dividends were paid on 1 March 2018.
The Board will propose to the May 2018 Annual General Meeting that the Board should be authorized to distribute quarterly dividends on the basis of the 2017 financial statements.
Risk Management and Internal Control
TGS' activities are heavily dependent on the spending budgets of its clients, which are exploration and production companies in the oil and gas industry. These budgets are in turn largely a function of actual and/or expected shifts in oil and gas prices. Consequently, TGS' activities, opportunities and profitability are linked to the development of these prices. Under TGS' business model, discretionary investments in new multi-client projects are by far the largest use of cash. As TGS does not itself own seismic vessels or onshore seismic crews, but rather outsource these acquisition services on short-term contracts to vendors, the Company can quickly adjust its cash outflow in accordance with market fluctuations, thus mitigating part of the risk represented by movements in oil and gas prices.
TGS is exposed to financial risks such as currency, liquidity and credit risk. TGS' operational exposure to currency risk is low as significant portions of its revenues earned and costs incurred are in USD. However, as significant parts of the taxes are calculated and paid in NOK, fluctuations between the NOK and the USD result in currency exchange gains or losses. From 2016 the quarterly dividend payments have been linked to USD which has reduced the NOK exposure significantly.
Liquidity risk arises from a lack of correlation between free cash flow and financial commitments. As of 31 December 2017, TGS held current assets of USD 523.6 million, of which cash and cash equivalents represented USD 249.9 million, while current liabilities were USD 194.9 million. TGS also had unused credit facilities of USD 75.0 million at 31 December 2017. As a result, the Company considers its liquidity risk to be low.
TGS is exposed to credit risk through sales and receivables and uses its best efforts to manage this risk by monitoring receivables and implementing credit checks and other actions as deemed appropriate. In addition, excess cash is placed in either bank deposits or financial instruments that have a minimum rating of "investment grade". The maximum exposure to credit risk at the reporting date is the carrying value of each class of financial assets, such as accounts receivables, other short-term receivables, and other non-current assets. TGS evaluates the concentration of risk with respect to trade receivables as low due to the Company's credit rating policies and as the clients are mainly large energy companies considered to be financially sound.
TGS is highly focused on maintaining adequate internal controls. The Company's primary business activity is building its multi-client geoscientific data library, which represents its largest financial asset, through multiple investments in new data for licensing to clients. TGS utilizes custom investment proposal models and reporting tools in order to assess and monitor the status and performance of the Company's multi-client projects. Reference is made to Note 13 to the consolidated financial statements and the more detailed information on risk management and internal control in the Corporate Governance section of the Annual Report.
Organization, Working Environment and Equal Opportunity
Following restructuring and right-sizing initiatives at the start of the industry down-cycle, as well as more recent outsourcing projects, TGS' global workforce has been reduced by 37% from the peak. This has helped to reduce operating costs and has positioned the company to maintain profitability during this period of decreased spending from clients. The Board considers the organization to be optimally sized for the current environment and does not anticipate a significant increase in headcount in the immediate future, with any increased workload being managed through outsourcing and the use of contractors. In 2017, the Board targeted management to maintain good levels of employee engagement, with focus on communication, training and development, and compensation / rewards. The results from the annual employee engagement survey showed that Overall Engagement Capital (measured by an independent third party, CEB) increased to 61% in 2017 (from 60% in 2016), which is on a par with the cross- industry benchmark comprising 400 similar-sized companies from more than 20 industries. Furthermore, TGS maintained a very low level of staff turnover at only 6% (down from 8% in 2016) and was successful in attracting high performing individuals. The Board recognizes the importance of maintaining good employee engagement to ensure high levels of discretionary effort and employee retention. Therefore, employee engagement activities will continue to be a high priority in 2018.
The Parent Company had 41 employees as of 31 December 2017. At year-end, TGS had a total of 597 employees in the following locations: 391 employees in the United States, 41 employees in Norway, 99 employees in the United Kingdom, 51 employees in Canada, 11 employees in Australia and 4 employees in other countries. The average number of employees during 2017 was 605.
The Board considers the working environment in the Company to be good. The Board and management believe that employees of diversified gender, ethnicity and nationality are provided with equal opportunity and treated fairly within the Company.
At the end of 2017, women comprised 41% of the total workforce in the Company, which is slightly lower than the prior year (43% in 2016). The corresponding figure for managers is 29% at the end of 2017, which is unchanged from the prior year.
Health, Safety and Environmental Issues
TGS interacts with the external environment through the collection of seismic, gravity and magnetic data and the operation of offshore vessels, land crews and aircraft. TGS is dedicated to safeguarding and maintaining the environment in which the Company works and providing a safe and healthy workplace for employees and contractors through the active implementation of a comprehensive HSE Management System that includes appropriate policies and procedures. Not only does TGS comply with mandated legislation and local regulations, the Company also works closely with industry associations in an effort to investigate ways to mitigate the impact of seismic operations on the environment. TGS typically conducts environmental impact assessments as part of the permitting process prior to initiating seismic data acquisition.
Additionally, TGS works with the vessel owners and seismic contractors through the Subcontractor Management System to ensure compliance under the TGS sustainability program.
In 2017, TGS employees worked 991,765 man-hours, and there were no recordable employee injuries. The injury frequency rate for 2017 was 0.00 (2016: 0.18 per million man-hours). The sickness absence frequency for TGS employees in 2017 was 1.15 % as compared to 1.11 % in 2016.
As part of the continuous improvement strategy, Management participates in audits of office locations. Furthermore, all TGS staff is required to complete relevant training modules and are assessed on active HSE commitment during annual performance reviews.
In 2017 all TGS Executive Team members conducted at least one HSE facility inspection each and all C-Level Executives, Seismic SVP's, as well as VP Global Services and Area Managers visited at least one seismic vessel or land crew each in 2017 in order to promote the importance of HSE. Moreover, all office locations performed at least one HSE related lunch and learn activity.
Corporate Social Responsibility Report
TGS has prepared a Corporate Social Responsibility Report in accordance with the Norwegian Accounting Act, section 3-3c. It is the opinion of the Board of Directors that the Company complies with the reporting requirements. The report, including TGS' Corporate Social Responsibility policies, is included as a separate section of this Annual Report and on TGS' website at www.tgs.com.
Board Structure and Corporate Governance
The Board, of Directors consists of eight directors, each serving a one-year term. The Board's Audit and Compensation Committees are composed exclusively by independent directors. No material transactions other than the remuneration disclosed in note 7 have occurred in 2017 between the Company and its management, Directors or shareholders.
The independent Nomination Committee, elected by the shareholders, consists of the following members:
Tor Himberg-Larsen (Chairman), Christina Stray, and Herman Kleeven. Himberg-Larsen and Stray were elected for a two-year term at the Annual General Meeting on 9 May 2017, while Kleeven was elected for a two-year term on 10 May 2016.
TGS emphasizes independence and integrity in all matters among the Board, management and the shareholders.
TGS conducts an active compliance program designed to continually inform and educate employees on ethical and legal issues. The Company employs a full- time Board-appointed compliance officer who reports quarterly on progress on compliance activities and objectives.
TGS has based its corporate governance policies and practices on the Norwegian Code of Practice for Corporate Governance published on 30 October 2014. It is the opinion of the Board of Directors that the Company complies in all areas with the Code of Practice and any subsequent amendments. A more detailed description of how TGS complies with the Code of Practice and the Norwegian Accounting Act's requirements for reporting on corporate governance is included in the Report on Corporate Governance included in this Annual Report and on TGS' website at www.tgs.com.
Salary and Other Compensation
TGS compensates its employees according to market conditions that are reviewed on an annual basis by the Compensation Committee. Compensation includes base salary, insurance and retirement benefit programs, a profit-sharing bonus plan based on the Company's performance and, in certain cases stock options plans or other long-term incentive programs. For further details please refer to item 12 in the Report on Corporate Governance and the Declaration on Executive Remuneration.
The members of the Board of Directors do not participate in any bonus plan, profit-sharing plan or stock option plan. In recent years, the directors' compensation has been composed of both a fixed fee and a number of restricted TGS shares. The remuneration is not related to the Company's financial result. Refer to note 7 to the Consolidated Financial Statements for details on the remuneration for 2017.
Significant Litigation
The Board is regularly updated on significant litigation matters. As a result, at each meeting the Board receives an update on the Økokrim criminal charges and investigation as well as related civil claims. See note 21 to the Consolidated Financial Statements for further details.
Outlook
In parallel with the substantial increase in the oil price since mid-2017, oil companies are to an increasing extent seeing the impact of the cost reductions and efficiency measures implemented over the past years, resulting in sharply increasing cash flows. Nevertheless, most of the oil companies that have made public outlook comments for 2018 have signaled a continued cautious approach towards exploration spending. As such, the demand for seismic data in 2018 is expected to remain weak in a historical perspective, although there could be upside to this assumption if the oil price remains stable at the current level or higher through the year.
As a result of the steep reduction in exploration spending over the past few years the global reserve replacement ratio has dropped to historically low levels.
At some stage oil companies need to increase exploration efforts in order to meet the continued growth in demand as well as compensating the declining production at existing fields. Combined with the efficiency gains realized across the oil & gas industry during the downturn, this should lead to increases in the oil companies' exploration budgets in the long-term.
In accordance with its counter-cyclical investment strategy, the Company has over the past couple of years added substantial amounts of data to its multi-client library at attractive unit cost through both organic and inorganic investments. This should, in combination with an efficient cost base, strong balance sheet and flexible business model, put TGS in a unique position to continue enhancing its status as the world's leading multi-client geophysical company in the years to come.
These forward-looking statements reflect current views about future events and are, by their nature, subject to significant risks, uncertainties and assumptions that are difficult to predict because they relate to events, and depend on circumstances, that will occur in the future.
Events after the Balance Sheet Date
On 7 February 2018, the Board of Directors resolved to pay a quarterly dividend of the NOK equivalent of USD 0.20 per shares (NOK 1.57) to the shareholders. The dividend payments of USD 18.5 million were made on 1 March 2018.
Following an employee stock option exercise on 22 February 2018, a total of 73,600 new shares in the Company were registered resulting in an equity increase of USD 1.7 million.
To the best of the Directors' knowledge, no other subsequent events have occurred that would impact the accounts as presented for 2017 have occurred since 31 December 2017.
Annual result of the Parent Company and Allocation of Profit
The Board proposes that the Parent Company's net profit of USD 14.8 million shall be allocated as follows:
Allocated to Other Equity USD 14.8 million
The Board of Directors resolved on 7 February 2018 to pay a quarterly dividend of USD 18.5 million (NOK equivalent of 1.57 per share) from the 2016 financial statements, which is covered by other equity
The Board of Directors would like to thank all employees for their good efforts throughout the year.
23 March 2018

Confirmation from the Board of Directors and CEO
We confirm, to the best of our knowledge that the financial statements for the period 1 January to 31 December 2017 have been prepared in accordance with current applicable accounting standards, and give a true and fair view of the assets, liabilities, financial position and profit or loss of the entity and the group taken as a whole. We also confirm that this report of the Board of Directors with references to the notes to the accounts and the Corporate Governance section of the Annual Report includes a true and fair review of the development and performance of the business and the position of TGS, together with a description of the principal risks and uncertainties facing the Company.
23 March 2018