2018 Annual Report
Letter to Shareholders
Dear Shareholders,
Increased client spending combined with strong performance from TGS in 2018 indicate that we have passed the trough of the industry down-cycle. I'm pleased to report another positive year for TGS with 26%* revenue growth and strongly improved return on capital. Our counter-cyclical investments during the downturn, with high volumes of data acquired at record-low cost, have started to pay off and bodes well for continued industry-leading returns going forward.

TGS' flexible, asset light business model combined with our ability to adjust costs rapidly allow us to deliver significant shareholder value, even during periods with challenging market conditions. Despite a relatively modest growth in clients' exploration spending, TGS generated free cash flow before dividends of USD 105 million in 2018. The strong cash flow enabled us to pay a dividend to our shareholders of USD 81.4 million, corresponding to a growth of 30% from the previous year. In February 2019, we announced a 35% increase in our quarterly dividend, and in May 2019, the Board will propose to the AGM that an authorization to pay further quarterly dividends for the next 12 months is granted.

Our return on capital continues to be industry leading. For every dollar of revenue in 2018, 17% was converted to free cash flow and this ratio ranks TGS as a top player in the global oil service industry. Our Return on Average Capital Employed (ROACE) continued to improve and at 18%* it positions TGS as one of the few international oil service companies delivering a return above cost of capital.

While global exploration spending was slightly up in 2018, the energy markets continue to be characterized by significant volatility. Shale producers in North America react swiftly to positive oil price trends and can adjust production such that the supply – demand balance is constantly challenged. As a result, oil price volatility remains high and our clients are continuing to focus on cost, capital discipline and more efficient use of technology. Through our multi-client model, built on the principles of shared economics, TGS is well positioned to help clients become more efficient in their exploration efforts both onshore and offshore.

High prospectivity, combined with improved political and regulatory conditions, have attracted the attention of major energy companies to the South Atlantic Margin, with Brazil and north west Africa proving to be hot areas for exploration. TGS is well-positioned in north west Africa and in Q4 2018 we commenced the 28,300 km2 Jaan 3D program in the MSGBC basin, alongside a regional SeaSeep study, comprising multibeam and coring. After a four-year absence, TGS returned to Brazil to commence acquisition of a 15,000 km2 3D survey in the southern Santos Basin. This survey is also complemented by a SeaSeep study. TGS recently announced another 3D seismic survey in the Campos basin in Brazil and I am delighted to see our increased focus on this region delivering exciting growth opportunities.

TGS' strategy of making new technology available at large scale through the multi-client model is well exemplified by the recently announced multi-client Ocean Bottom Node (OBN) projects in the US Gulf of Mexico and the North Sea. Further, TGS is continuing to develop its technology offering in other areas. Several initiatives have been launched within the Imaging business to make sure that TGS's position as a leading data processing company is further enhanced. Moreover, TGS has added substantial resources to the data and analytics area over the past couple of years. Combining artificial intelligence and advanced data analysis capabilities with our strong geoscience knowledge and vast library of geophysical and geological data we are further enhancing the value offering to our clients.

North America onshore production continues to grow, and the Permian is expected to break 4 million bpd in early 2019. Large supermajors have taken big positions in this market and guided significant production growth for the future. Subsurface knowledge is increasingly important in the onshore market and seismic combined with well data have become critical tools for increasing efficiency. TGS' onshore data library consists of 35,000 km2 of modern 3D data and almost 10 million digitized well logs and we continue to see good opportunities to grow these libraries further.

Population growth and global economic development support further growth in demand for oil and gas. Fossil fuels are expected to remain the dominant sources of energy even in long-term forecasts. However, there is an increasing concern from stakeholders that the industry must work more proactively to reduce the carbon footprint. The Oil and Gas Climate Initiative consists of 13 energy companies, all clients of TGS, taking practical actions on climate change and reducing carbon footprint. As a member of UN Global Compact, TGS is committed to the principles and are taking actions to help clients reach their important goals. Industry collaboration is key, and through the multi-client model, TGS is working on facilitating more efficient utilization of seismic vessels helping to reduce the carbon footprint of our industry.

As we are looking forward into 2019, we see indications of a further improvement in exploration spending. The speed of the recovery will depend on the stability of commodity prices and sustained cash flow generation by our clients. Discoveries of new hydrocarbon resources have been down to historically low levels over the past three years, largely driven by cuts in exploration spending. This has driven global reserve replacement ratios down to unsustainably low levels. Energy companies will need to increase exploration efforts in order to grow production levels in the longer term to meet the expected growth in demand.

When energy companies return to the business of replacing the reserves that they are producing, they will need high-quality geoscience information. TGS' unique culture, people and quality library assure that it will be the leading energy information company providing data to support their exploration and drilling decisions.

The employees of TGS are strongly committed to our core values of quality, service, integrity and growth. Thanks to our people, TGS has become the largest and most successful multi-client geoscience data provider in the world.

On behalf of the TGS team, I would like to thank our shareholders and clients for their continued confidence in us. I would also like to thank our employees for all the hard work, passion and client focus during another successful year for TGS and our shareholders.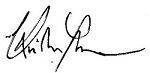 Kristian Johansen
Chief Executive Officer - TGS
*Based on segment reporting. Please refer to Note 5 of the Consolidated Financial Statement for details on the basis for preparation.