Innovative and Cost-Effective 4D Monitoring Tools for CCS
To meet the demands of CCS storage monitoring requirements TGS offers two seismic technologies - permanent Distributed Acoustic Sensing (DAS) using optical cables and small footprint, ultra-high resolution P-Cable 3D seismic imaging surveys.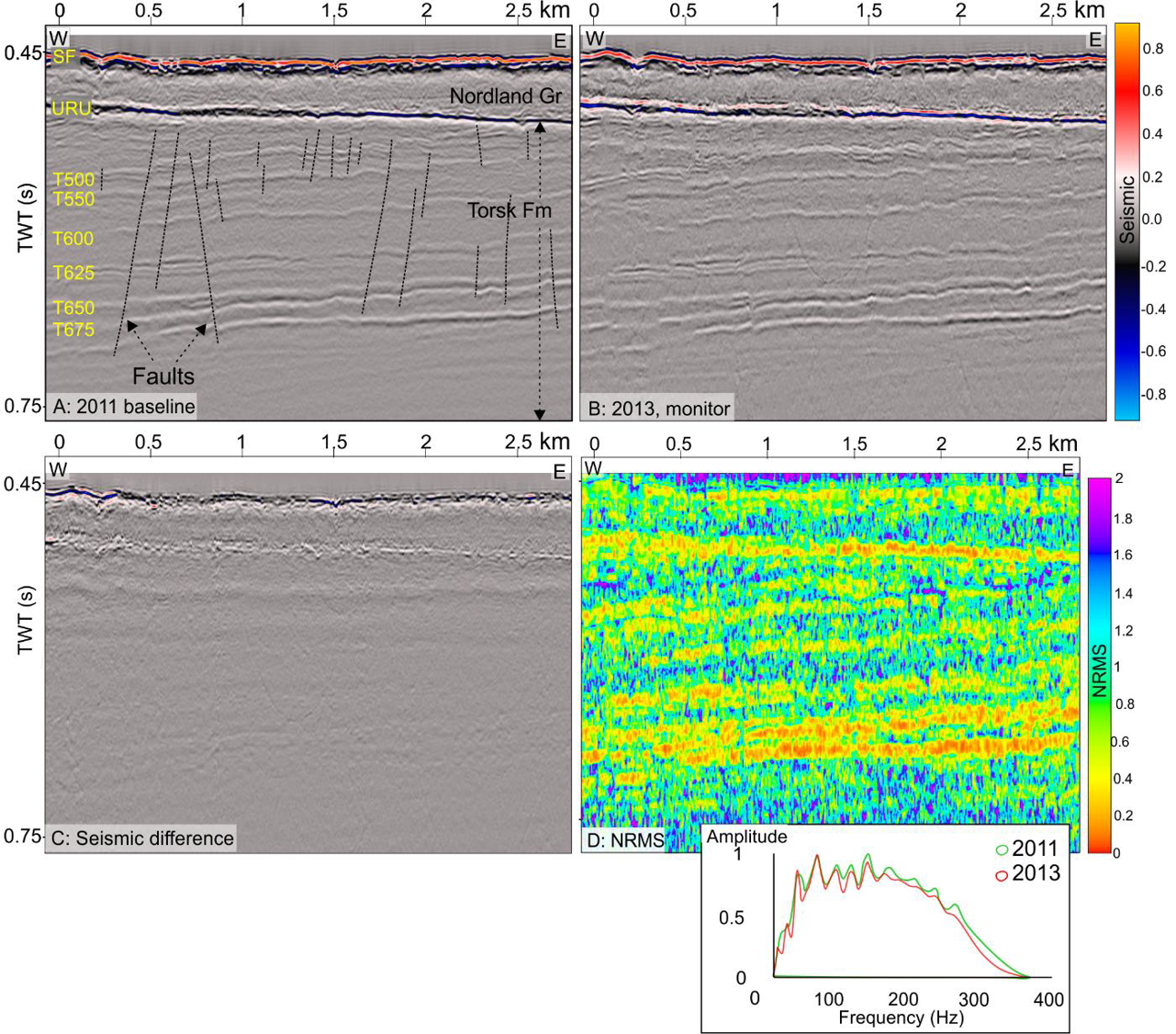 Above: Time-lapse example of P-Cable data acquired in the Snøhvit field showing an inline of the baseline (A), monitor (B), the difference between monitoring and baseline survey data (C), and the comparable NRMS section using 5 meters running interval (D). (Waage et al (2018), Planke S. et al, in press).
For 4D monitoring, P-Cable seismic technology may be the optimal solution in terms of data density, repeatability, and quality for CCS sites located in the shallow section. The light-weight cross cable design using ropes and short streamers are cost-effective in mobilization, production and more suited to yearly monitoring in certain shallow geologic terrains.
DAS for Permanent Installed 4D CCS monitoring
Distributed Acoustic Sensing (DAS) utilizes standard fiber optic (FO) cables instead of electrical hydrophones and geophones for measurement of acoustic and elastic waves. The technology has previously been tested in connection with in-well applications, such as Vertical seismic profiling (VSP) acquisition.
The FO cable can be interrogated by a tailor-made unit at the surface containing pulsed lasers and recording devices to produce digital traces that will represent measurements at certain intervals along the fiber. Any incoming seismic wave, active or passive, will deform the fiber in the cable. The measured phase delay of the propagating laser light is proportional to the difference in strain in the fiber caused by any seismic disturbance. The interrogator can sample the laser light at several tens of kHz providing a spatial sampling in the order of magnitude of a few meters.
Standard FO cables, telecom or existing FO network on a field, can be used in connection with such application. For potential new offshore CO2 storage sites, a sparsely-deployed distributed network of FO cables on the seafloor, or in well, may provide a cost-efficient method of monitoring deposits in active or passive modes. The readings from such cables over a specific area can be performed several tens, or even up to order of magnitude 100 km away from the deposit depending on the application and demand for resolution. This implies that remote existing infrastructure such as offshore platforms, or even onshore facilities, can be used to host the necessary instrumentation for interrogation and recording.
Using FO DAS technology in this way has a great advantage over permanently installed electrical point sensors because it is completely passive - no short circuits will occur and the equipment should enjoy longer life-time with fewer parts and no corrosion of sensing elements. TGS sees this technology as a potential cost-efficient alternative to provide reliable 4D data in continuously monitoring and surveillance of CO2 sequestration.
Contact Us
Get in contact with our New Energy Solutions team to ask more about how we can help you with your subsurface intelligence needs.