Carbon AXIOM, A Unique Storage Feasibility Tool
Find viable CO2 storage near you based on TGS subsurface modeling leveraging the industry's largest library of well logs and production data, we provide insights into the carbon storage value chain from capture to container.
An Interactive Solution for Rapid CCS Evaluation
As custodians of the world's largest subsurface data library and experts in storing, sorting, and delivering that data into meaningful insights, we understand that our unique access to the secrets of the subsurface and ability to distill valuable insights from data can provide innovative tools to the Carbon Capture and Storage (CCS) industry. Carbon AXIOM is the first of such data-driven tools developed as part of our drive to support global CCS activity by increasing the efficiency of carbon storage feasibility assessment.
What is Carbon AXIOM?
Carbon AXIOM is a unique, new web-based platform that enables stakeholders to quickly evaluate permanent CO2 storage opportunities by leveraging the world's largest well data library. Our production and well data are merged with seismic data to deliver key insights into potential storage volumes of CO2 storage containers, including fluid and reservoir properties.
Carbon AXIOM provides an intuitive framework that seamlessly integrates subsurface and infrastructure data to help you make sound business decisions – which storage containers are the most valuable?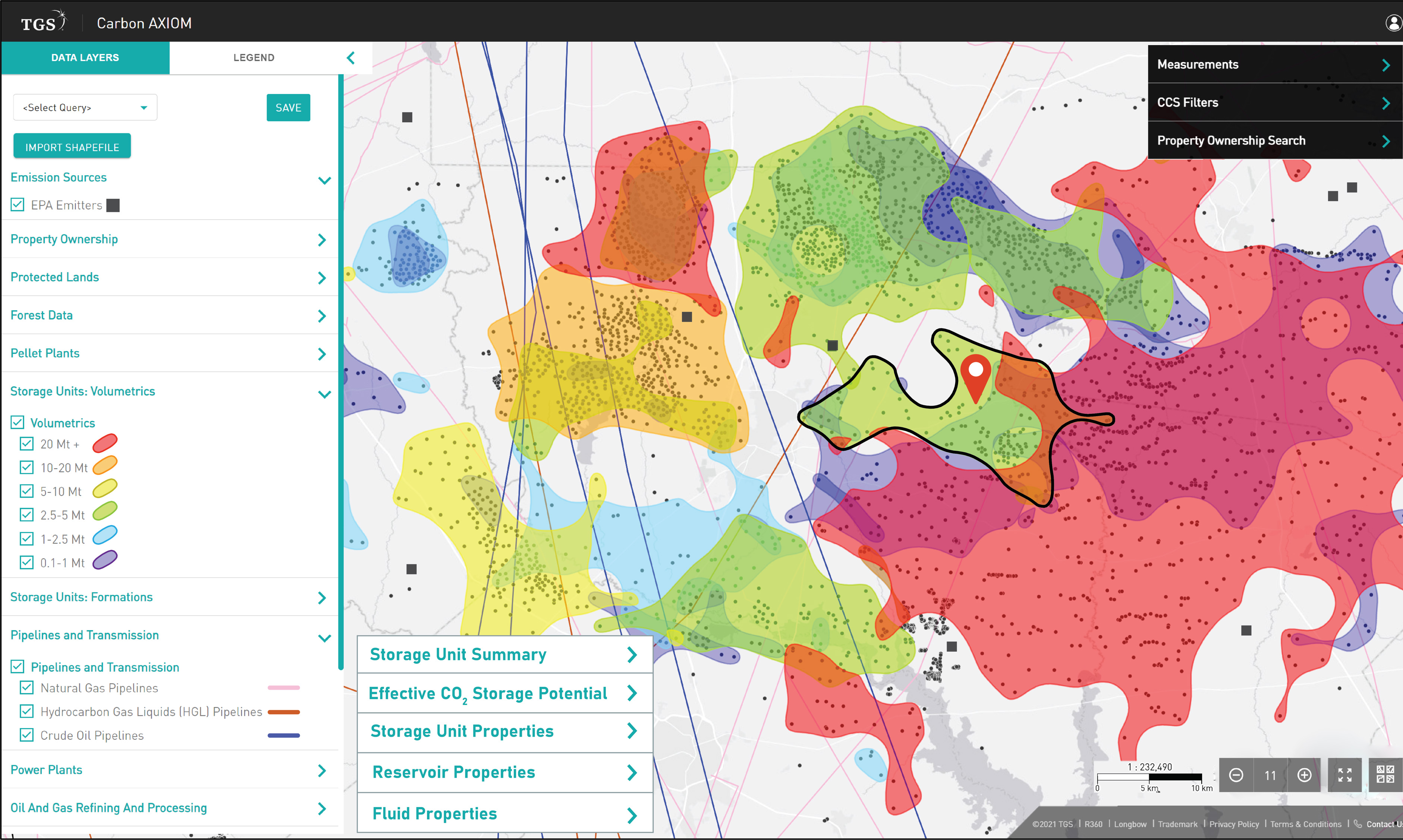 What Insight does
Carbon AXIOM

Provide?

Capture
Map out Power, Refining, & Processing Plants
Search Emitter Locations

Transport
View Pipeline and Transmission Lines
Discover Property Ownership & Protected Areas

Storage
Evaluate Depleted Hydrocarbon Reservoirs
Identify Saline Aquifers
Explore Carbon Storage Potential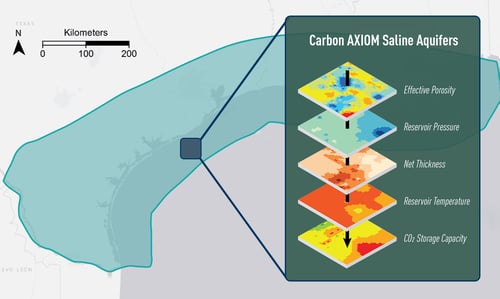 CCS stakeholders can now assess the carbon storage potential of saline aquifers along the US Gulf Coast. Seismic data along with a combination of effective porosity, net formation thickness, and temperature and pressure models, are used to provide quantitative insights into the CO2 storage capacity of aquifers. These models can be visualized and evaluated via Carbon AXIOM, our simple, interactive, web-based platform.
Assessment Process
Seismic–well log tie
Stratigraphic interpretation of saline aquifer intervals
Petrophysical models – effective porosity, net thickness, temperature, pressure
Raster grid development of reservoir attributes
CO2 storage capacity calculation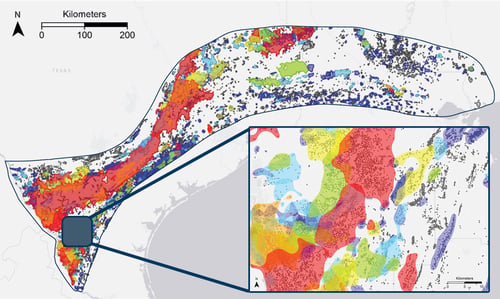 Assess the carbon storage potential of depleted hydrocarbon reservoirs along the US Gulf Coast. Production data, bottom hole temperatures, pressure reports, and reservoir characterizations are combined to provide quantitative insights into the CO2 storage capacity of depleted reservoirs. These depleted reservoir models can be visualized and evaluated via our easy-to-use, interactive web platform, Carbon AXIOM.
Depleted Hydrocarbon Reservoir Assessment Process:
Well production allocation at each formation level
Temperature assignment at each producing interval
Pressure assignment at each producing interval
Grouped reservoir data into pool to estimate storage capacity
Summarizing key data attributes per storage unit
Generating the nearest and largest proximity storage pools