Our Insights
TGS.ai
The gateway to data insights through AI applications
Data & Analytics at TGS

TGS.ai offers leading-edge digital and machine learning solutions using the world's largest and most comprehensive subsurface data library. Whether our own seismic and well data or our client's own library, we use innovative data-driven solutions to help customers gain deeper knowledge and actionable insights into their investments and areas of interest.
TGS Data Lake
As a result of our commitment to technology and data modernization, TGS has implemented a cloud-based data analytics platform to process petabyte (PB) scale natural resource data with over 2.6PB of data. Leveraging the TGS Data Lake as the backbone, we've taken what we know best to the next level, transforming data into data insights through robust analytics and machine learning solutions.
Clients can now gain access to TGS' application suite to quickly check the metadata and consume the data exactly how they need it to complement or enhance their existing workflows. For clients that prefer to continue using their native data management tools, TGS is here to assist you with our API solutions.
Key Benefits:
Significant improvement in the metadata extraction speed

End-to-end repository for easy searching and cataloging with immediate data delivery

Save time and resources with already curated, standardized and organized data

Consume the data on on-demand basis

High Performance Computing (HPC)
TGS manages and maintains one of the world's largest HPC clusters in support of our data processing. Having this substantial compute footprint not only allows faster project delivery to our clients but generates opportunities to explore more compute-intensive algorithms that provide better overall seismic imaging. Coupled with the flexibility and sustainably of our hybrid cloud solution, our HPC solutions allow us to deliver higher quality products without materially increasing the cost to our customers.
While the demand for HPC over the last three years has been growing due, in part, to more robust imaging algorithms, larger datasets and our investments in ML and AI, TGS strives to make responsible investment choices. At the end of 2020, TGS reduced its HPC footprint to 3 Megawatts (MW) from 6 MW through software and hardware design improvements. Additionally, TGS has made a sizeable commitment in a hybrid compute strategy to partner with Google who matches 100% of the energy consumed by their global operations with renewable energy.
TGS AI and Machine Learning
Levering the most extensive commercial digital log library in the world, TGS is actively developing a suite of AI/ML solutions to tackle many challenges voiced by our clients.
Analytics Ready LAS (ARLAS) – Using ML algorithms, ARLAS On Demand successfully predicts missing measurements in five key curve types: Gamma, Resistivity, Density, Neutron and Sonic with accuracy rates over 90% range.

Formation Tops Prediction – Further utilizing our ARLAS and handpicked formation tops, TGS is training our ML model to predict the formation tops for our well data to give our customers a complete picture of a basin with a 3D Strat Model.
SaltNet – Revolutionary ML algorithm quickly detects salt during Velocity Model Building seismic processing to significantly reduce the imaging cycle time for complex salt basins.

Interpretation.ai – Web-based AI platform to facilitate SaltNet access and allow interpreters to train AI algorithms to learn and evaluate in an intuitive environment.
With a solid foundation, TGS continues to lead digital transformation within the industry using Microservices architecture and API first principles. For more information visit tgs.ai or contact one of our experts.
Contact Us
Get in contact with our AI team to ask more about how we can help you with your subsurface intelligence needs.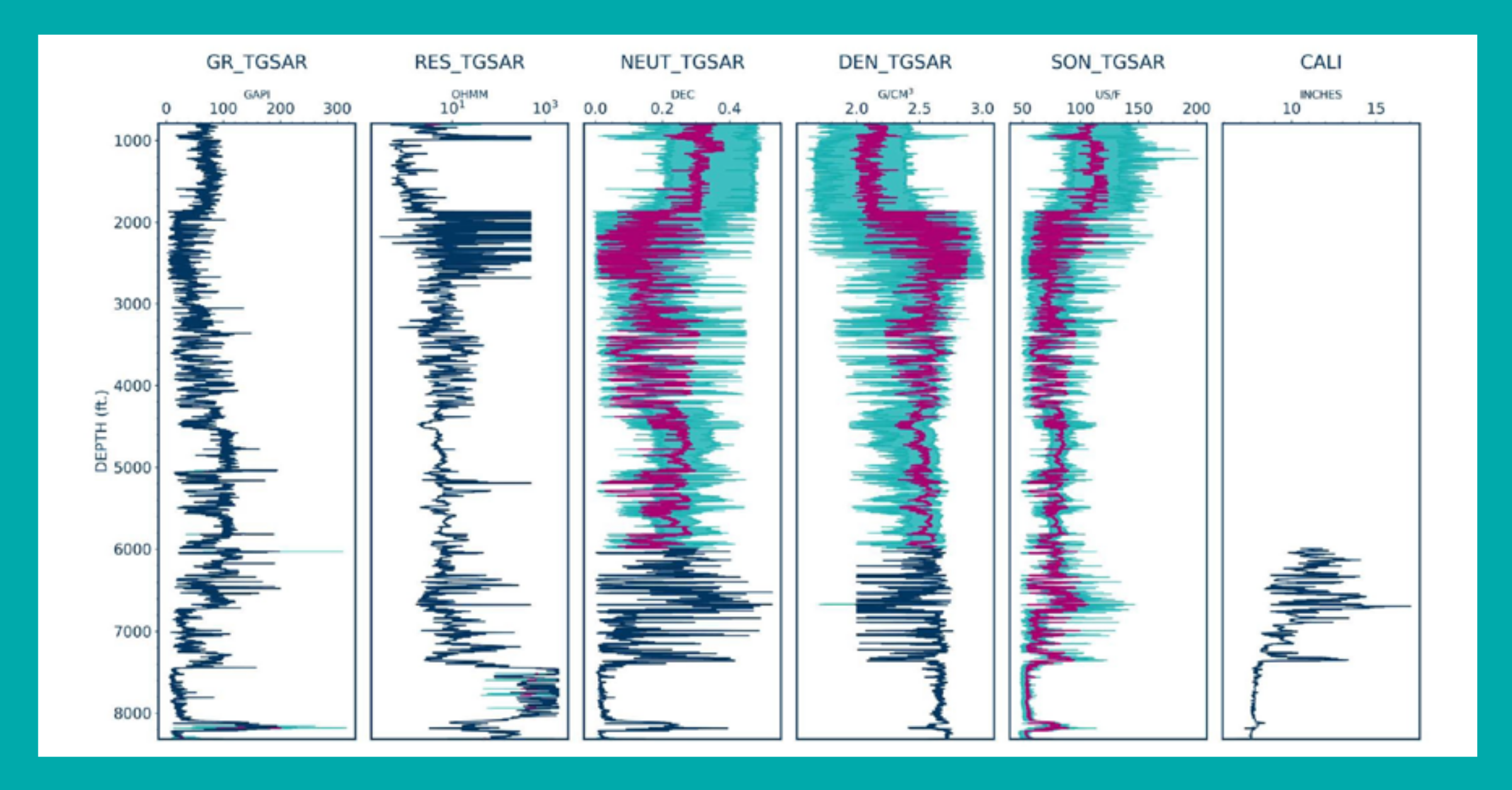 See ARLAS in action
Discover how ARLAS predicts missing intervals and curves.