Coherence computed on specific voice component volumes exhibit more and crisp lineaments information than just the input seismic volume.
Up to three voice component coherence volumes can be blended using the RGB color scheme, but if the coherence volumes to be blended becomes more than 3, then it becomes a limitation of the RGB blending.
Sui et al. (2015) addressed the multispectral coherence analysis problem by constructing a covariance matrix from the spectral magnitudes am:

where L is the number of spectral components. They found the resulting coherence images to be higher quality than that computed from the broadband data, including most of the details seen in coherence computed by constructing covariance matrices from the individual magnitude components. By ignoring the phase component, they also found that the algorithm was less sensitive to structural dip, resulting in algorithmic simplification.
Marfurt (2017) built on these ideas, but constructed a multispectral covariance matrix oriented along structural dip using the analytic voice components, and therefore twice as many sample vectors (i.e. spectral voices and their Hilbert transforms):

The corresponding energy ratio coherence computed using this equation is then referred to as multispectral coherence. We notice that multicoherence displays exhibit more focused and distinct lineament detail than the broadband seismic data.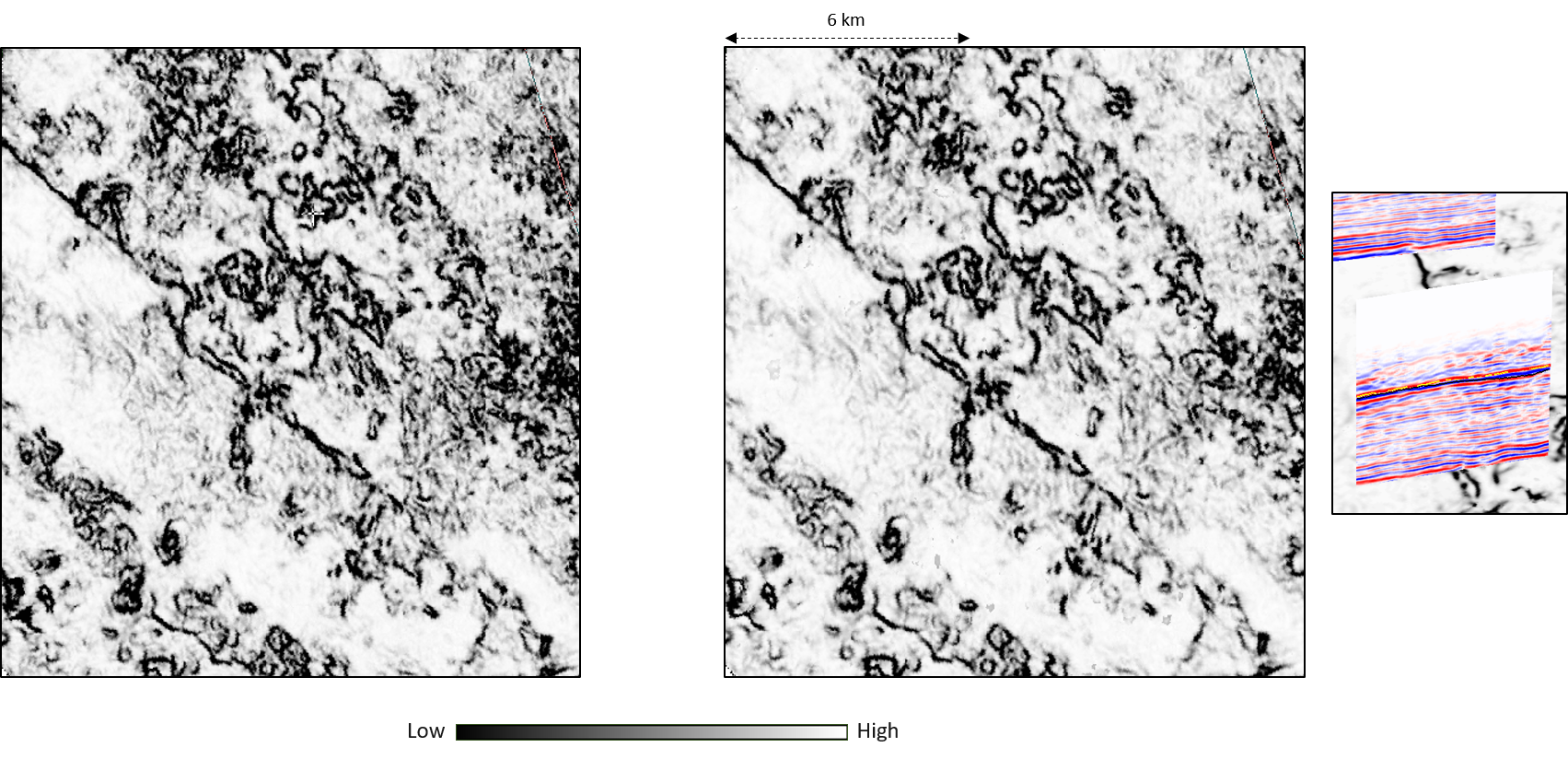 Equivalent time slices (664 ms) from (left) broadband or the conventional way of running coherence, and (right) multispectral coherence volumes. The multispectral coherence display depicts clearer and distinct definition of the different features. The seismic data shown is from the Delaware Basin in western Texas. (Data courtesy of TGS, Houston)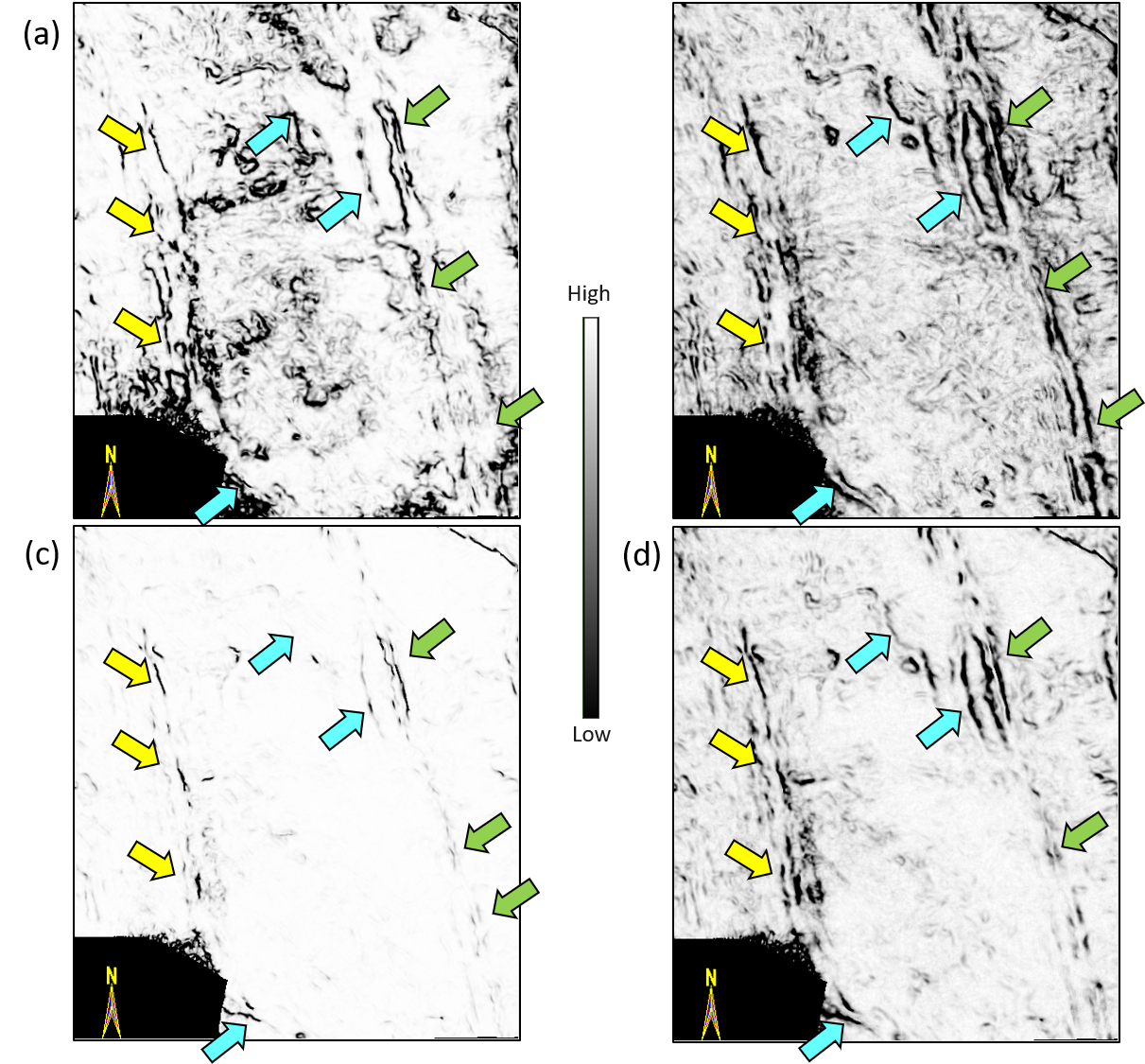 Stratal slices 36ms above a marker at roughly 1700ms from (a) coherence volume generated on the full-offset stack, (b)multispectral coherence volume generated by using twelve selected voice component (20, 25, 30, 35, 40, 45, 50, 55, 60, 65, 70 and 75 Hz) volumes. (c) Similar stratal slices generated at the marker at 1700ms from the full-offset stack, (d)multispectral coherence volume. The seismic data is from the Montney-Dawson area in British Columbia, Canada. Notice, the overall better definition of faults (indicated with yellow, cyan and green arrows), and the paleochannels (indicated with purple arrows) on the multispectral coherence volume shown in (b).(Data courtesy: TGS, Calgary)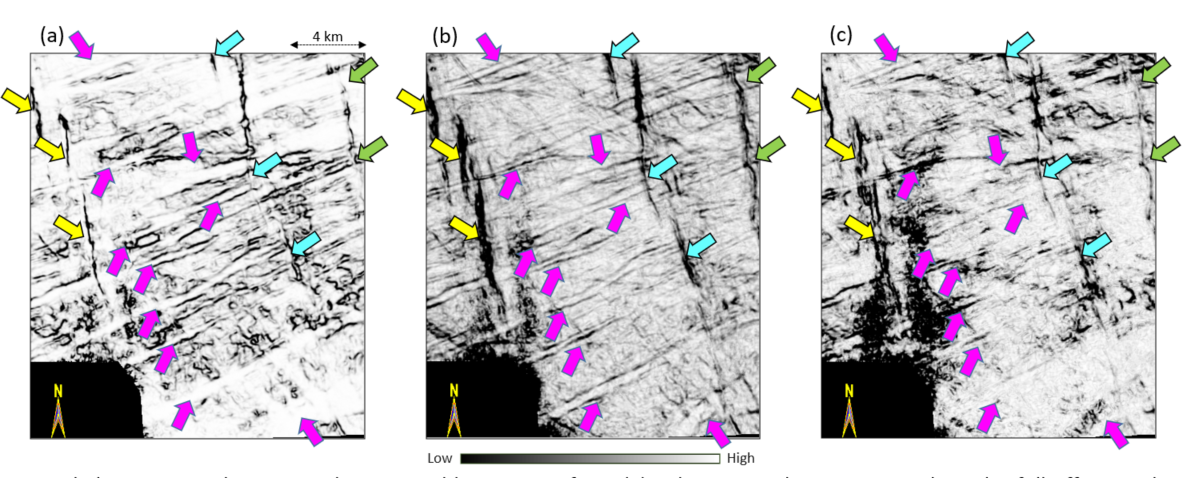 Stratal slices 38 ms above a marker at roughly 1400 ms from (a) coherence volume generated on the full-offset stack, (b)multispectral coherence volume generated by using twelve selected voice component (20, 25, 30, 35, 40, 45, 50, 55, 60, 65, 70 and 75 Hz) volumes, and (c) multispectral coherence volume generated by using six selected voice component (50, 55, 60, 65, 70 and 75 Hz) volumes. The seismic data is from the Montney-Dawson area in British Columbia, Canada. Notice, the overall better definition of faults (indicated with yellow, cyan and green arrows), and the paleo channels (indicated with purple arrows) on the multispectral coherence volume shown in (b).(Data courtesy: TGS, Calgary)