Our single greatest asset is our employee base.
Therefore, TGS is committed to providing a safe, healthy and sustainable workplace for our employees, contractors, vendors and clients while protecting the environment in which we live and work.
TGS is also committed to the promotion and maintenance of the physical, psychological and social well-being of all workers. Furthermore, TGS is dedicated to the continuous improvement of health, safety and security standards for our employees, and insists that all contractors and vendors follow the same policy.
TGS has defined safe operating procedures in the HSE Management System that are designed to meet, or exceed, all appropriate legal requirements and, in the absence of any defined standards, to meet or exceed generally-accepted industry wide best operating practices. By employing our Statement of Values and the basic principles of Leadership, Risk Management, and Continuous Improvement, a high level of safety awareness shall always be maintained. All employees are encouraged to participate in the management of safety by striving to achieve and follow health, safety, and environmentally-driven objectives and standards, which are reviewed and appraised on a regular basis.
TGS holds all employees and contractors accountable for, and committed to, their own health and safety, as well as for those with whom they work. TGS supports, empowers, and encourages employees to intervene and STOP any operation or activity that they feel is unsafe or hazardous. These actions will be supported by all levels of management. To promote continuous improvement in workplace safety, all personnel are encouraged to propose improvement opportunities by means of direct communication with the Manager of Health, Safety & Environment.
Employees, contractors and visitors are responsible for obeying all safety policies, complying with applicable laws, following company standards, safe work procedures and practices, wearing personal protective equipment where required, participating in all aspects of the safety program, and informing Managers or Supervisors of unsafe work conditions or actions.
All levels of Management are responsible for the communication and implementation of TGS' Health and Safety Policies and Programs. Management shall ensure that employees have access to the appropriate information, instructions, training, financial and physical resources to enable compliance with all health and safety requirements. These health and safety requirements shall be reviewed on a regular basis to ensure ongoing suitability and effectiveness.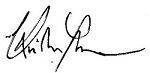 Kristian Johansen
Chief Executive Officer – TGS
November 2, 2021