Vital Energy (formerly Laredo Petroleum Company) is adding 10,000 BOEPD of daily production in the Delaware Basin asset.
This week brought another major player to the Delaware Basin. Former Midland Basin pure-player Vital Energy announced the acquisition of Forge Energy II Delaware, expanding their Permian Basin assets in a $540 million cash deal. This follows Vital Energy's February acquisition of Driftwood Energy for around 1.58 million shares of stock and $127.6 million in cash. These acquisitions continue an extensive period of growth in the Permian throughout 2022 and into 20231.
In keeping with the recent trend of Permian Basin acquisitions and growth in rig count, this expands Vital Energy's operation from two to three rigs, with one rig operating on their new assets. Operating one rig will maintain their business model of maximizing free cash flow while sustaining productivity levels. These new leaseholds will add about 10,000 BOEPD (TGS Well Data) to Vital Energy's current production while adding more than 100 high-value oil locations (TGS Well Data) in the Bone Spring and Wolfcamp A formations. Total Permian production from Vital assets in 2022 was about 100,000 BOEPD2.
Many other supermajor and large independent operators have announced their intention to consolidate and grow their positions in the Permian Basin. Callon Petroleum also made a major move in the play last week, announcing the acquisition of Percussion Petroleum Operating II LLC in a cash and stock transaction. This increases their Permian footprint by adding more than 1,500 high-quality locations (TGS Well Data) to their Permian assets.
Permian rig count increased from ca. 329 to ca. 353 over the last 12 months, providing for projected Permian production growth of 10%. In addition, the EIA Drilling Productivity Report data shows a decrease in drilled but uncompleted (DUC) wells from 1500 to 1300 over the same period and is forecasting record-breaking production levels over the next few months.
For more information on Well Data Analytics or to schedule a demo, contact us at WDPSales@tgs.com.
Figures: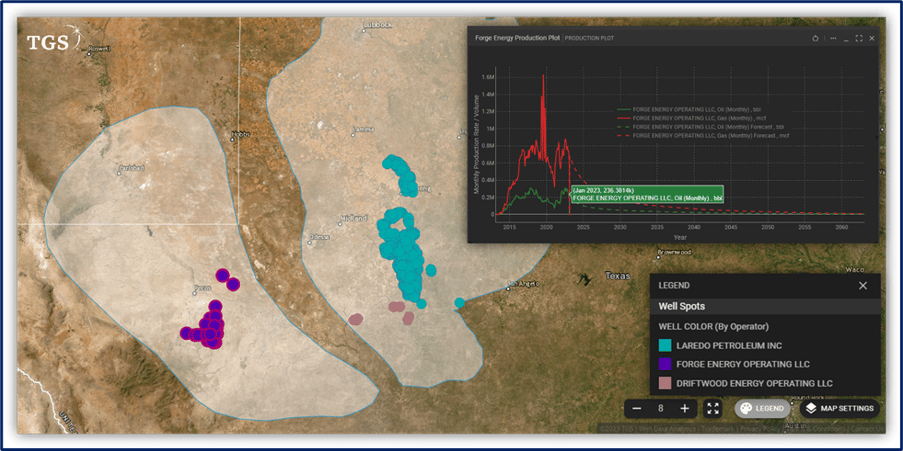 1TGS Well Data Analytics application showing the operator map for Vital Energy's Permian Basin assets. Production plot is for wells operated by Forge Energy and does not include non-operated positions.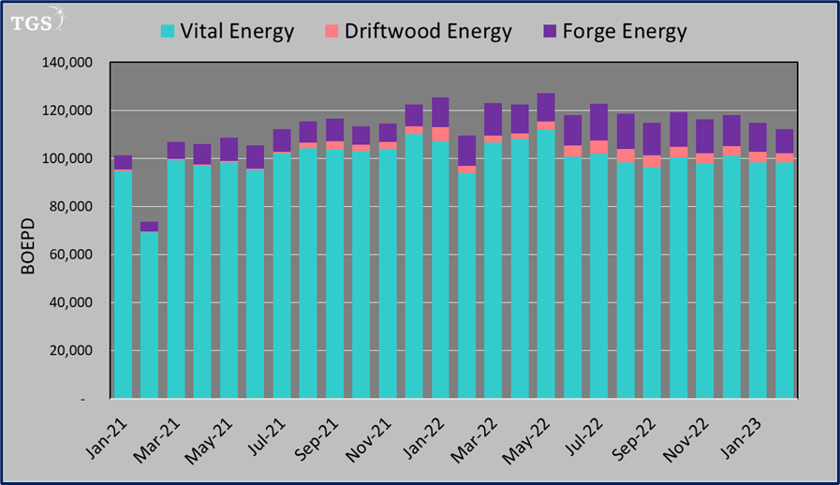 2Vital Energy, Driftwood Energy and Forge Energy production over time (Data provided by TGS Well Data Analytics)