2017 Annual Report
Letter to Shareholders
Dear Fellow Shareholders,
While the market for seismic data continued to be challenging in 2017, there are signs that we have passed the trough. The upwards development in the oil price during the year, strongly improved cash flow among our key clients, as well as unsustainably low global reserve replacement, make us optimistic to the long- term future of our industry.

Despite no significant growth in clients' exploration spending, TGS managed to grow free cash flow before dividend by 35% from 2016 to a level of USD 123 million. The strong cash flow enabled us to pay a dividend to our shareholders of USD 63 million and we are proud to be one of few international oil service companies who have maintained a dividend throughout the severe down cycle.

Our financial performance continues in the top end of the range in the oil service industry. In 2017, we converted as much as 22% of our net revenues to free cash flow, ranking TGS among the very best in the industry. Despite the challenging market, our Return on Average Capital Employed was 10.1%, meaning that TGS is one of few international oil service companies delivering a return above its cost of capital in 2017.

Once again TGS utilized its strong balance sheet to take a countercyclical investment approach. In late May, we increased our full-year investment guidance by approximately 20%, driven by new project opportunities with favorable economics. While our dollar investments remained lower than before the down cycle, we took advantage of favorable seismic acquisition rates, risk-sharing with suppliers and significant reductions in processing unit cost, which allowed us to increase the amount of data acquired in 2017 to the highest level since 2012. This highlights the strength of our flexible, asset-light business model.

An important milestone for TGS in 2017, was the entry into the Permian basin in
U.S. onshore with the acquisition of the West Lindsey and West Kermit 3D projects, supported by a comprehensive digital well database. The Permian is approaching its 100th year of oil production. In 2017, production reached a record 2.8 million barrels per day, making it the world's second-most-prolific field. Some of our large offshore clients have recently announced aggressive production plans in the Permian basin, and we believe this will offer great opportunities for TGS in the future.

Another significant milestone for TGS in 2017, was the commencement of a large 3D survey in the central-southern Norwegian Sea called AM17. The 40,000 km2 project is the single largest 3D survey carried out by any company in Northern Europe and covers largely open blocks in a relatively under-explored area with limited drilling to date.

In 2007 TGS acquired Houston based Parallel Data Systems, which gave us the foundation for TGS' high performance 3D imaging and data processing technologies. Ten years later, in 2017 TGS announced the new Fusion M-WAZ reimaging program comprising data covering 1,000 Outer Continental Shelf blocks in the U.S. Gulf of Mexico. This program will reprocess wide azimuth 3D data previously acquired by TGS and Schlumberger between 2008 and 2012 in the Mississippi Canyon, Atwater Valley and Ewing Bank areas using the latest imaging technology. The uplift in data quality is achieved through application of industry leading seismic processing algorithms, using our Houston super computer which, at more than 30 petaflops of compute power, is one of the largest in the World.

Big Data and Data Analytics have moved firmly into the energy industry vocabulary as both E&P companies and service companies seek to grow value through better understanding the huge volumes of data produced by our industry. TGS' vast global data library includes more than 3 million km of 2D seismic, almost 1 million km2
of 3D seismic, and approximately 9 million digital well logs. Combined with our expertise in super computers and data management, TGS is well positioned to play an important role in the Big Data evolution that is spreading across our industry. We are actively discussing with our clients how TGS can work with them to help maximize the value that we extract from our data.

The Company has continued its' extraordinary focus on cost management. Reported operating expenses were down another 5% from 2016 to a level of 43% below
the comparable cost in 2014. Strict cost control and staff reductions have been necessary to remain competitive throughout one of the worst downturns ever experienced in our industry. While the cost focus will remain, we are pleased to see a slightly improved future business climate allowing for selective hires of top talents.

TGS' flexible, asset-light business model and ability to adjust costs rapidly continue to allow us to deliver significant shareholder value even in a difficult market. In February 2018, we announced a 33% increase in our quarterly dividend. In May 2018, the Board will propose to the AGM authorization to pay further quarterly dividends for the following 12 months. Management's focus is to deliver long-term shareholder growth through a combination of value-creative investments and dividend payments to the shareholders.

As we look forward into 2018, market visibility remains limited but we see indications of a slight improvement in spending. The speed of the recovery will depend on the stability of commodity prices and a continued improvement of our clients' cash flow. Due to the cuts in exploration activity, discoveries of new hydrocarbon resources have been down to historically low levels over the past
couple of years. This has driven reserve replacement ratios down to unsustainably low levels. Demand for hydrocarbons is expected to continue to increase, despite forecasted growth in electric vehicles and renewable energy resources. Energy companies will need to increase exploration efforts in order to grow production levels in the longer term to meet this demand. Geoscience information will be a critical tool to deliver future exploration success.

TGS has become the largest and most successful multi-client geoscientific data provider in the world. The employees of TGS are strongly committed to our core values of quality, service, integrity and profitable growth. Our financial platform and a highly competent organization position us well to handle both the up and down cycles in the industry.

On behalf of the TGS team, I would like to thank our shareholders and clients for your continued confidence in us. I would also like to thank our employees for all the hard work, passion and client focus during another challenging year for our industry.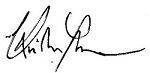 Kristian Johansen
Chief Executive Officer - TGS