Carbon Capture and Storage
CCS Monitoring
Insights from capture to container
CO2 Monitoring Leveraging Fiber Optic Technology
TGS provides a cost-effective 4D CO2 monitoring solution with digital acoustic sensors, vertical seismic profile (DAS VSP). This technology leverages existing fiber technologies with established and new imaging flows to capture a geophysical dataset down the entire well where temperature and pressure can constantly be monitored. The DAS dataset can cover the 4D needs for the injected CO2 plume for two decades or more, depending on rock properties and the reservoir depth.
Benefits
Reduces acquisition risk and delivers a robust 4D solution
Low cost and effective for life of well solution
Technology is already widely adopted within oil and gas (in-well DAS cable recording has been tested onshore US and in Deepwater Gulf of Mexico)
Speak with a TGS representative to learn how our data expertise together with strategic technological partnerships can provide your next CCS monitoring solution.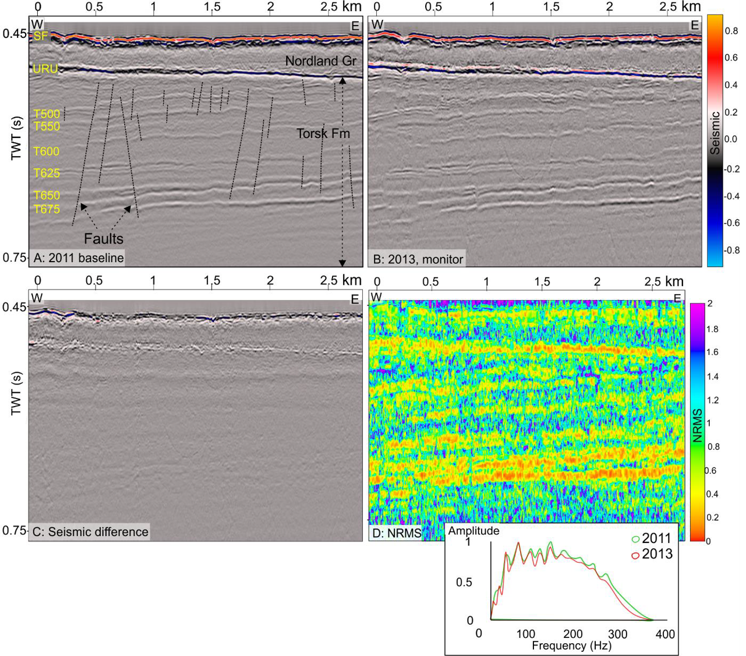 Above: Time-lapse example of P-Cable data acquired in the Snøhvit field showing an inline of the baseline (A), monitor (B), the difference between monitoring and baseline survey data (C), and the comparable NRMS section using 5 meters running interval (D). (Waage et al (2018), Planke S. et al, in press).
Contact Us
Get in contact with our CCS team to ask more about how we can help fill your data needs.
Carbon AXIOM™
Search for subsurface carbon storage solutions built from the world's largest library of well logs and production data.
View Insights

Take a Closer Look at Well Data Quality
Looking for Well Data insights? Choose Quality.
Learn More