Equinor strengthens their low-carbon portfolio by acquiring stake in the Bayou Bend CCS Project.
Equinor announced this week that they have acquired a 25% stake in Bayou Bend CCS LLC, a major carbon capture and storage (CCS) project situated along the Gulf Coast in Southeast Texas. Bayou Bend aims to be one of the largest CCS projects in the US, targeting industrial emissions reduction in the surrounding counties. Equinor's involvement strengthens their low-carbon portfolio, aligned with their goal to develop significant CO2 transport and storage capacity by 2035. The project spans nearly 140,000 acres with potential storage for over a billion metric tons of CO2. Chevron, Talos Energy, and Equinor jointly operate the project with 50%, 25% and 25% stakes, respectively. This expansion enhances the project's scope and potential impact on industrial emissions in the region.
Bayou Bend is centrally located between seven neighboring counties1 with combined CO2 emissions totaling nearly 128 million metric tons of CO2 equivalent per year. Cameron Parish, Louisiana and Jefferson County, Texas produce the most CO2 normalized by number of facilities at 1.2 and 1.1 million metric tons annually1. Bayou Bend has adequate storage capacity to support all seven counties. TGS has interpreted saline aquifer storage capacity southwest of Bayou Bend with CO2 storage capacity equating to more than 1.3 billion metric tons in the Lower Miocene Sands1. The Miocene Sands along the Gulf Coast show prolific storage capacity and will likely be a target for Bayou Bend. TGS Well Data Analytics also indicates there are hundreds of successful injection wells surrounding the project2. These injection wells consist of storage, enhanced oil recovery (EOR), and disposal wells. Chambers County, Texas has the most storage wells at 1362.
In conclusion, Equinor's recent acquisition of a stake in Bayou Bend CCS LLC marks a significant step towards addressing industrial emissions reduction in Southeast Texas. With its strategic location and ample storage capacity, the project has the potential to greatly impact emissions across multiple counties. As Bayou Bend collaborates with Chevron and Talos Energy, this expansion underscores their commitment to low-carbon solutions and positions them to play a pivotal role in shaping the region's sustainable future.
For more information on Carbon Axiom or Well Data Analytics or to schedule a demo, contact us at WDPSales@tgs.com.
Figures: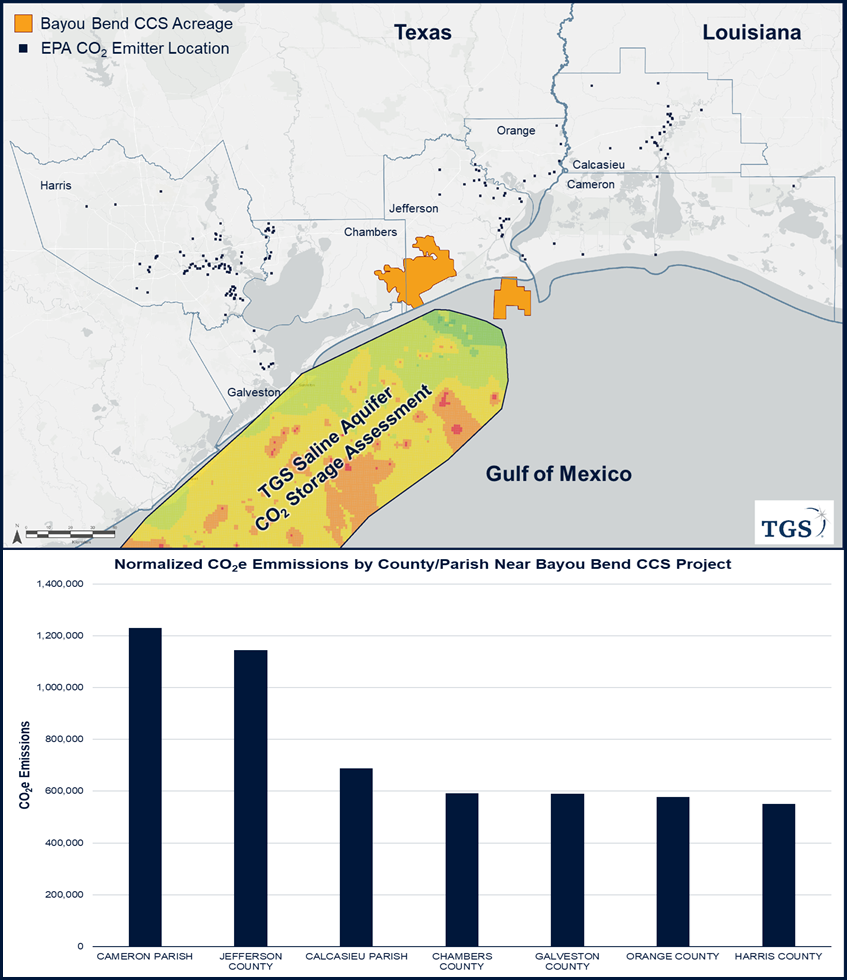 1Map and bar chart showing the locations and normalized CO2e of EPA regulated CO2 emitters (source from the EPA). Map also highlights TGS Saline Aquifer buildout in relation to Bayou Bend CCS LLC acreage.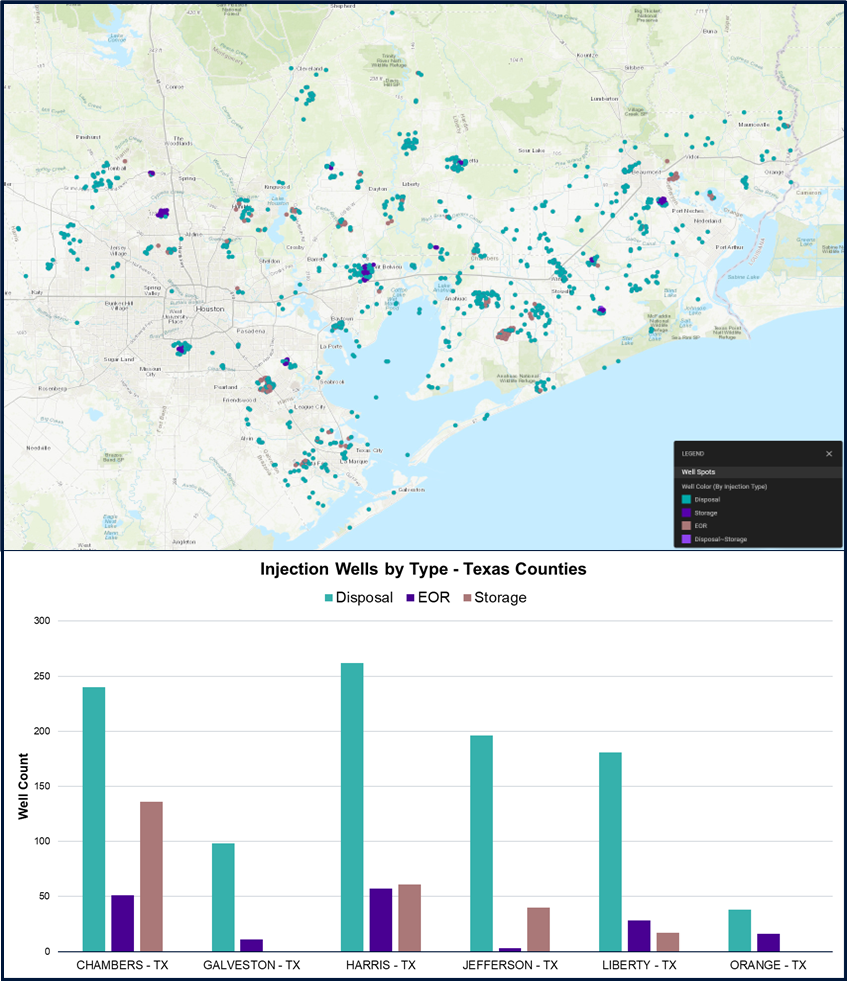 2Map and bar chart showing injection wells in six Texas counties. Figure created using TGS Well Data Analytics.