Decisive Clarity with Well Data Analytics
Experience the power of streamlined subsurface data analytics and confidently make data-driven decisions. Oil and gas data analytics just got a lot easier.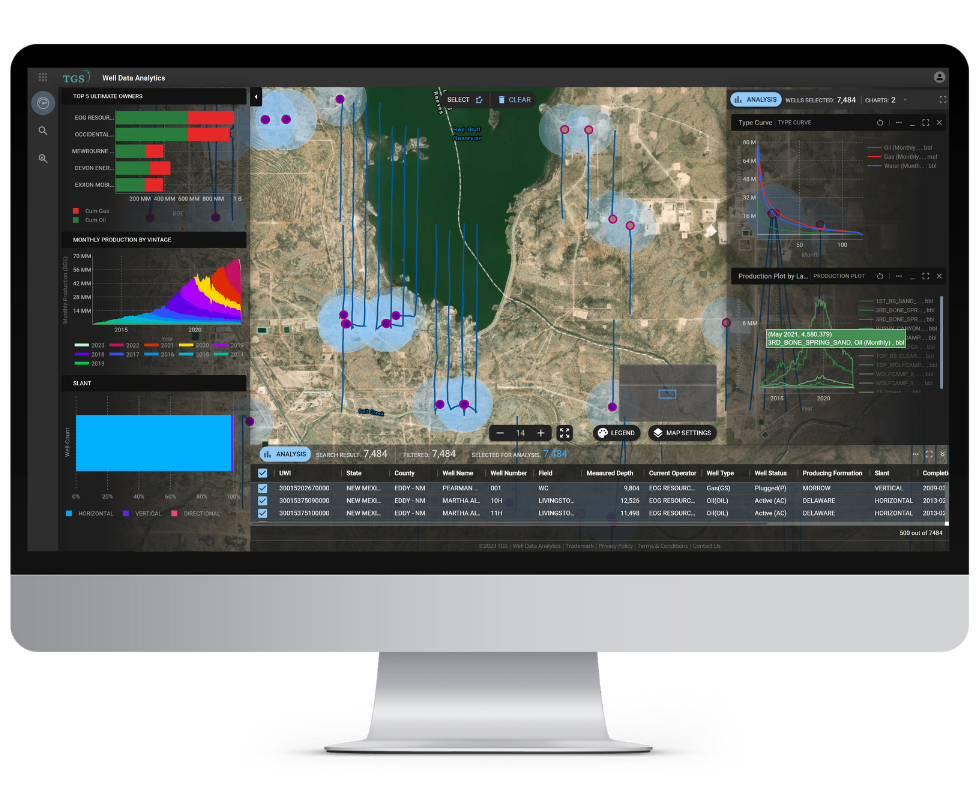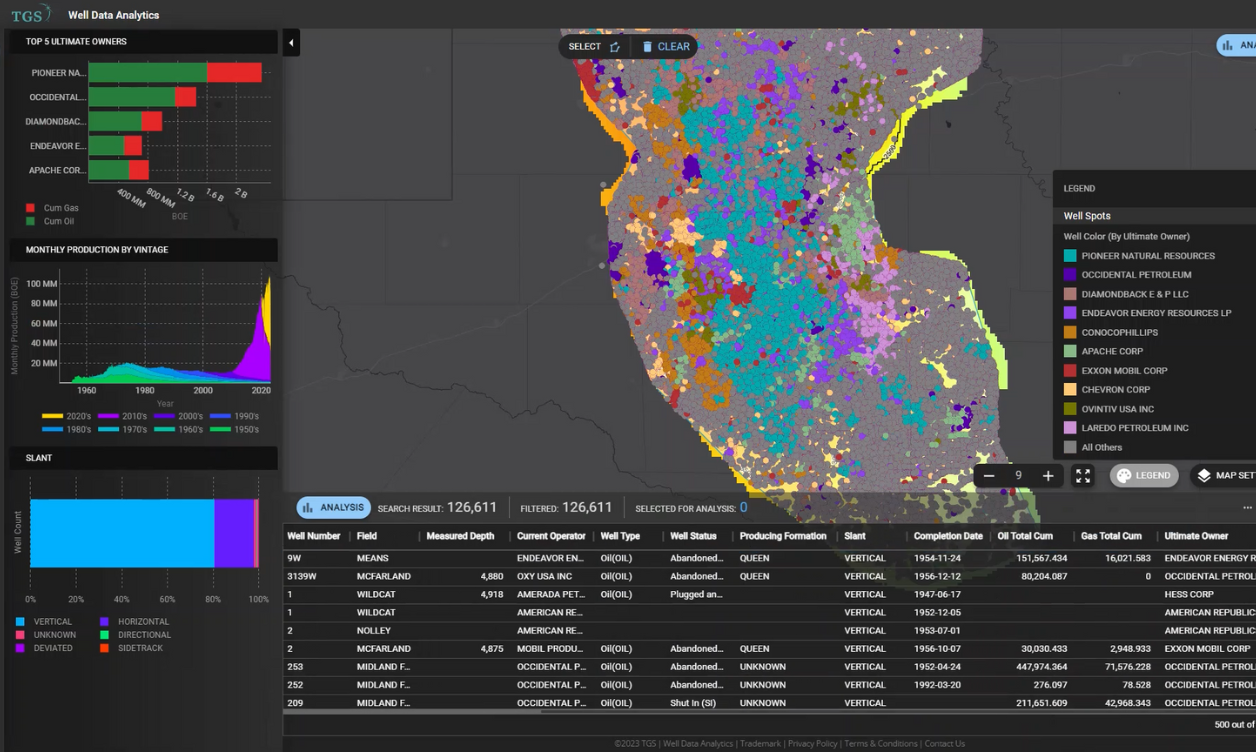 Introducing Well Data Analytics
Well Data Analytics offers a streamlined and intuitive experience to benchmark, predict and optimize well performance in all U.S. basins. TGS' newest oil and gas analytics software combines our comprehensive oil and gas production data with geological mapping, powerful visualization, and user-favorite workflows from TGS well performance software TGS Longbow™.
The platform offers unparalleled access to the industry's largest library of subsurface data within seconds, enabling efficient analysis on the spot. Oil and gas predictive analytics support effective decision-making vast cloud-based well data resources are quality controlled (QC'd) and ready to use at any level and scale.
Well Data Analytics Features
Our subsurface data analytics platform provides decisive clarity using the world's largest and most accurate well data library. Streamlined workflows offer a holistic well data analytics solution that gives you fast, easy access to vast cloud-based well data resources, quality controlled and ready to use.
Dashboard view (search, map display, tabular results and charts are synched for efficiency) including:
Top 5 operators
Stacked area production by vintage
Wellbore profile
Production plots
Type Curve plots
Horizontal and vertical distances to parent, sibling, and child wells, visualized in a gun barrel diagram and available in a table
A cross-sectional diagram of well spacing distances
One-click well card to easily view well details
Interactive maps with data visualizations including:
Well Paths
Well Styling - customizable for well performance attributes
Bubble Maps - customizable for performance statistics
Map Culture Layers including:
Land grids and offshore blocks
USGS gravity and magnetic maps
TGS Seismic Surveys
TGS Basins and Trends
TGS Stratigraphic model contour map layers (structure and isopachs)
Export Manager includes the industry standard export formats:
Full export
Incremental exports (updated data)
Basic and advanced search includes importing UWI's and shapefiles
Customizable tabular well results, including filtering
Nationwide Validated Well Headers include:
Derived from all potential location information validated by Digital Elevation Models (DEM

s) and verified by satellite imagery

State, county, API, operator, well name and number

Field, location, depths, elevation and production date

Interpreted landing zone

Producing formation derived from TGS stratigraphic models




Nationwide public production data for wells or leases include:
Production volumes, monthly amount of oil, gas and water
Lease, formation, production month, number of days on production
Summarized cumulative production volumes and statistics
Non-public historical production volumes and vintages for Texas, New Mexico and Wyoming
Test data - Test type, oil rate, gas rate, water rate, pressure data and perforated interval
Enhanced Oil Recovery (EOR) and disposal injection data
Nationwide coverage of well injection volumes, target formations, and injection purpose (EOR, water disposal, or storage)



Nationwide completion data includes:
Drilling days, lateral length, number of frac stages and length, amount and type of frac fluid
Amount & type of proppant, treatment remarks, choke size, max treatment rate and max pressure
Detailed well perforation data
Monthly forecasted oil, gas and water volumes with statistical cumulative summaries
Gas volume disposition data set includes vented and flared volumes allocated to the well level
Comprehensive US coverage of drilling, completion, and recompletion permits – updated daily
170,000 original drill stem tests (DSTs) including quality assessments
Interpreted tops are handpicked by TGS and State tops are reported by state regulatory agencies
Who is Well Data Analytics for?
Our users include exploration geologists, reservoir engineers, and data managers and techs. We support asset and operator benchmarking, predictive analytics, and easy data integration.

User-favorite features include an intuitive no-onboarding interface, ready-to-use and formattable graphs, accurate and QC'd data, and integration into third party applications through API services (incl. OSDU), SQL Direct Connect, standard export formats, and loaders.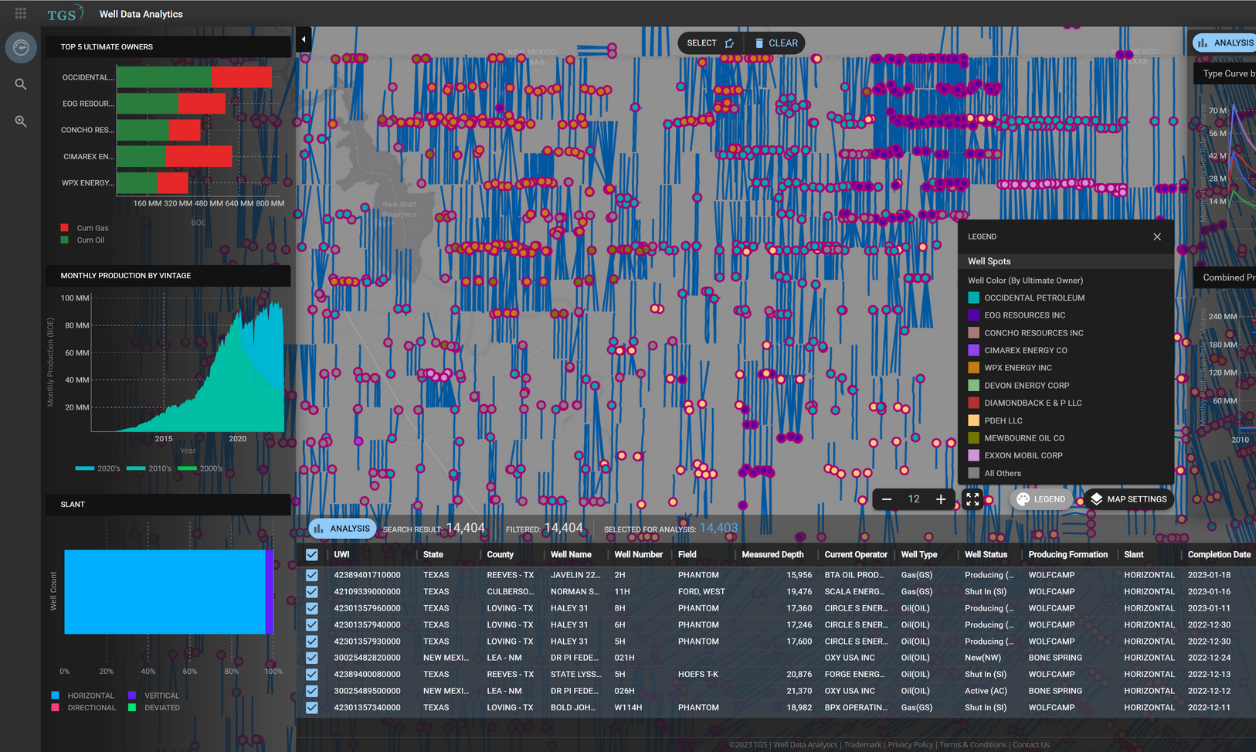 Why Choose Well Data Analytics?
One of the world's most trusted oil and gas data companies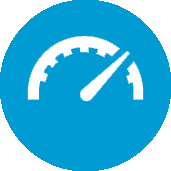 Fast
Save time on project start-up and quality control with no training or ramp-up time required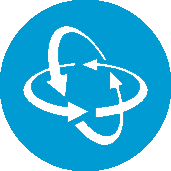 Accurate Data
Maximize workflow efficiency with easy access to QC'd cloud-based well data resources
Streamlined
Easy-to-use workflows combined with the world's largest and most accurate well data library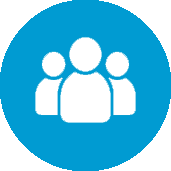 Customer-Focused
All features are designed by customers for customers
Well Data Analytics Free Trial
The Well Data Products Team is here to help

Spend more time analyzing your well data and less time on quality control so that you can make decisions with confidence. Whether you need a complete picture of your well performance or just want to access your well data quickly, our platform has got you covered.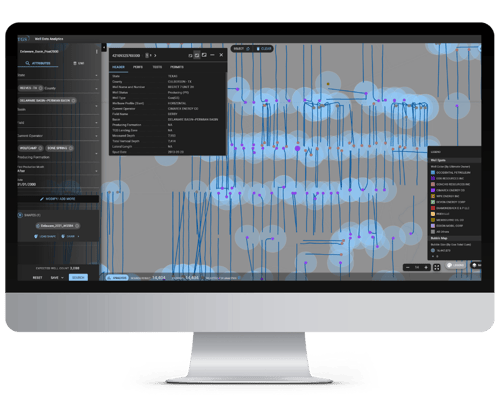 "I have been trying other applications, but Well Data Analytics is the best one I have seen so far!"

- Small Investor

"We really like the geo grids and apparent ease of use of the platform."

- VP of Geology, Small Oil and Gas Operator

"Overall, I think y'all have a great product that could really serve a unique section of the user market."

- Independent Consultant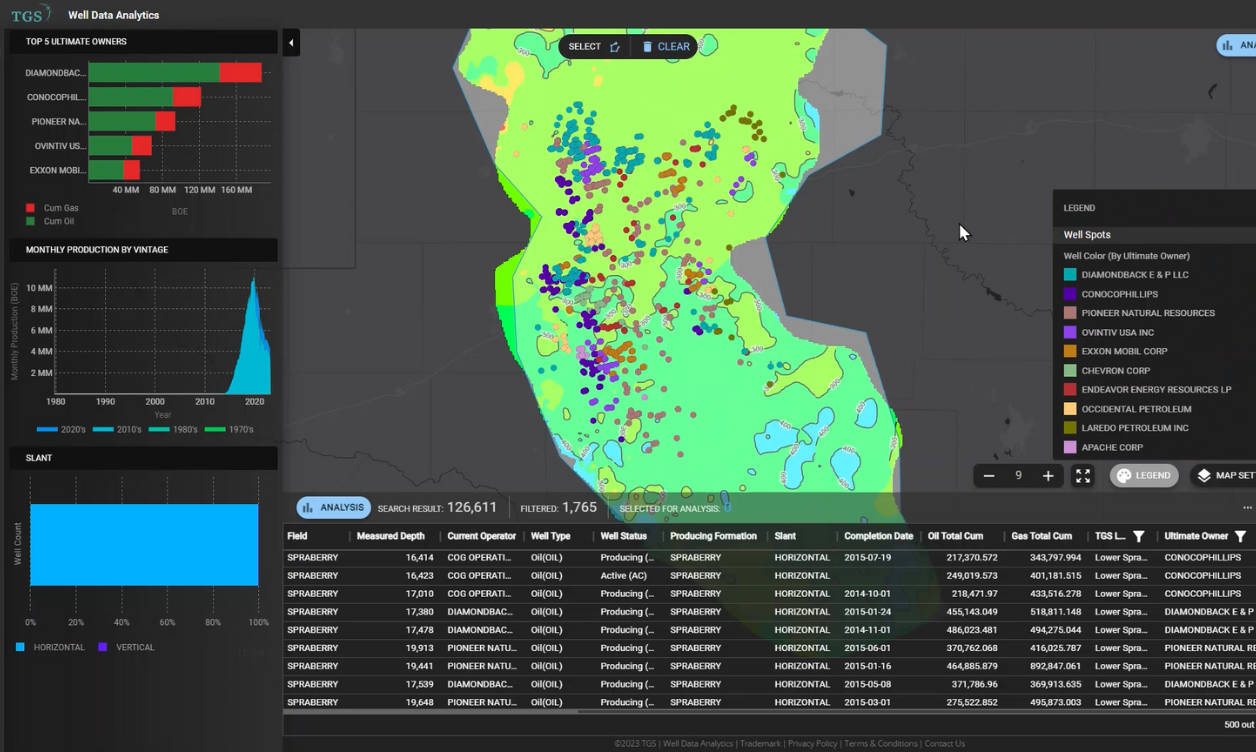 Oil and Gas Analytics
Oil and gas analytics are an essential element for the industry, encompassing the analysis and interpretation of data to drive informed decision-making. Leveraging specialized oil and gas analytics software such as Well Data Analytics, exploration, production, reservoir management, and refining professionals can extract actionable insights from vast datasets. Reservoir engineers, production managers and many other people in vital roles rely on oil and gas data analytics to optimize operations and maximize efficiency.

By employing advanced techniques such as well data analytics and subsurface data analytics, sector professionals can assess reservoir performance, pinpoint optimal drilling locations, and make accurate predictions regarding production rates.

Oil and gas predictive analytics also play a pivotal role in forecasting maintenance requirements, minimizing downtime, and optimizing asset performance, leading to significant cost savings and enhanced safety. Integrating oil and gas analytics empowers industry stakeholders to make data-driven decisions, drive operational excellence, and fuel sustainable growth.
Discover our Subsurface Data Types
As a dominant force in the oil and gas analytics industry, we have over a century's worth of public and proprietary data to help our customers understand the subsurface.
Well Data

Geological Data
Well Data
Boasting the largest library of well data in the industry, we empower you with crucial insights for unrivaled comprehension of the subsurface.
Geological Data
Our team of internal geologists employs a standard interpretation technique to create our suite of interpretive products, which includes 21 models of North American basins. All geological data from TGS is poised for immediate dispatch or can be custom-made via R360TM or the TGS Data Lake API, which incorporates OSDU.