OSLO, Norway (3 July 2023) - TGS, a leading provider of energy data and intelligence for offshore wind, announced today the successful deployment of the first-ever LiDAR buoy measurement campaign to support Norwegian offshore wind development. This event represents the first industry-led investment and installation toward making large-scale Norwegian offshore wind a reality.
The buoy, which is part of a global campaign by TGS to deliver high-quality wind measurements to wind developers, has been deployed in the Utsira Nord zone. It uses state-of-the-art sensors to conduct wind, metocean, and environmental measurements to enhance decision-making for the three floating wind project areas to be awarded in Norway's first floating wind lease round.

Terje Aasland, Norway's Oil and Energy Minister commented, "Utsira Nord is an important, exciting energy and industrial project. This is a good example of how we have picked up pace in offshore wind development and that the consortia have started concrete activities. We need the data that will now be acquired on wind, waves, ocean currents and birds if we are to successfully build out the power capacity."

Jan Schoolmeesters, EVP of Digital Energy Solutions at TGS, commented: "We are thrilled to be part of this pivotal point in the story of Norwegian offshore wind. Our multi-client floating LiDAR buoy deployments enhance the decision-making ability of all stakeholders investing in this region's offshore wind development future, and this is proven by significant interest and commitment from Utsira Nord wind consortia."

The company's unique multi-client approach, where multiple customers can subscribe to the same floating LiDAR data, allows all offshore wind stakeholders to minimize energy yield uncertainty, make better project development decisions and reduce the costs and turnaround time associated with acquiring bankable wind and metocean data.

The TGS buoy is equipped to provide an extensive range of data throughout a 12-month measurement campaign, with the possibility of extending for an extra year. Alongside measuring wind speeds, the data package encompasses essential metocean and environmental information, encompassing significant wave heights, profiles of ocean currents, and acoustic surveillance of birds and bats.

Data is continuously streamed, quality-controlled, and made available to customers on a daily basis through the Wind AXIOM platform, a comprehensive site evaluation and wind data analytics tool allowing stakeholders to analyze the most influential factors impacting their offshore wind projects.

Utsira Nord marks the sixth global deployment of TGS multi-client floating LiDARs over the past 12 months but is the first aimed at floating wind development, being situated in approximately 270 m of water depth. The previous five buoys are active off the US East Coast, and TGS is planning additional deployments in offshore wind markets globally.

It has been a busy year for Norwegian offshore wind following the announcement of the first offshore wind tenders as part of its ambition of allocating lease areas with an installed capacity of 30GW by 2040. The government will announce the lease winner for Utsira Nord floating wind lease zone and the Sørlige Nordsjø fixed foundation lease area by year-end.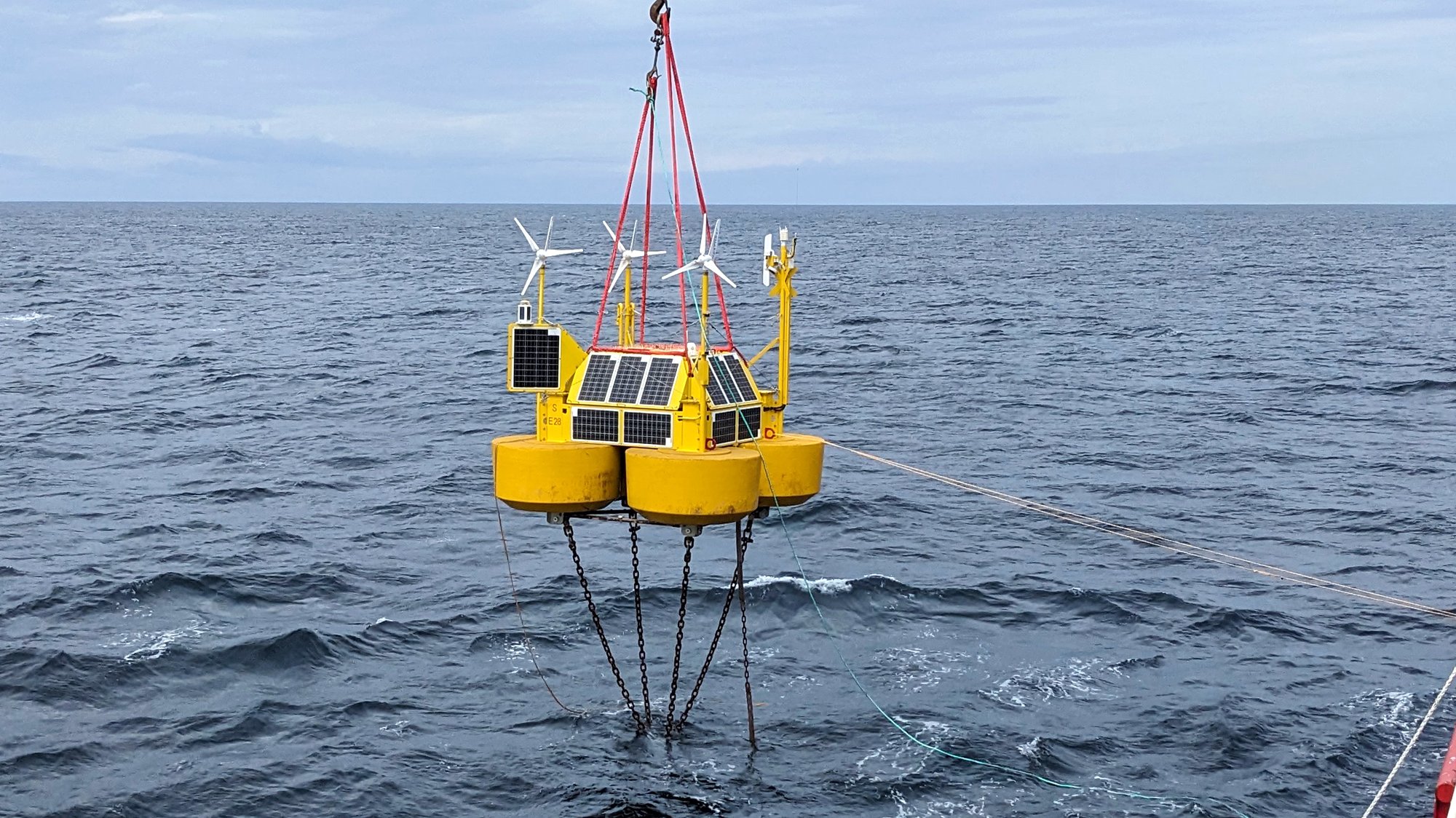 Image of the TGS buoy being deployed in the Utsira Nord area to begin collecting vital wind and metocean measurements ahead of offshore wind leases.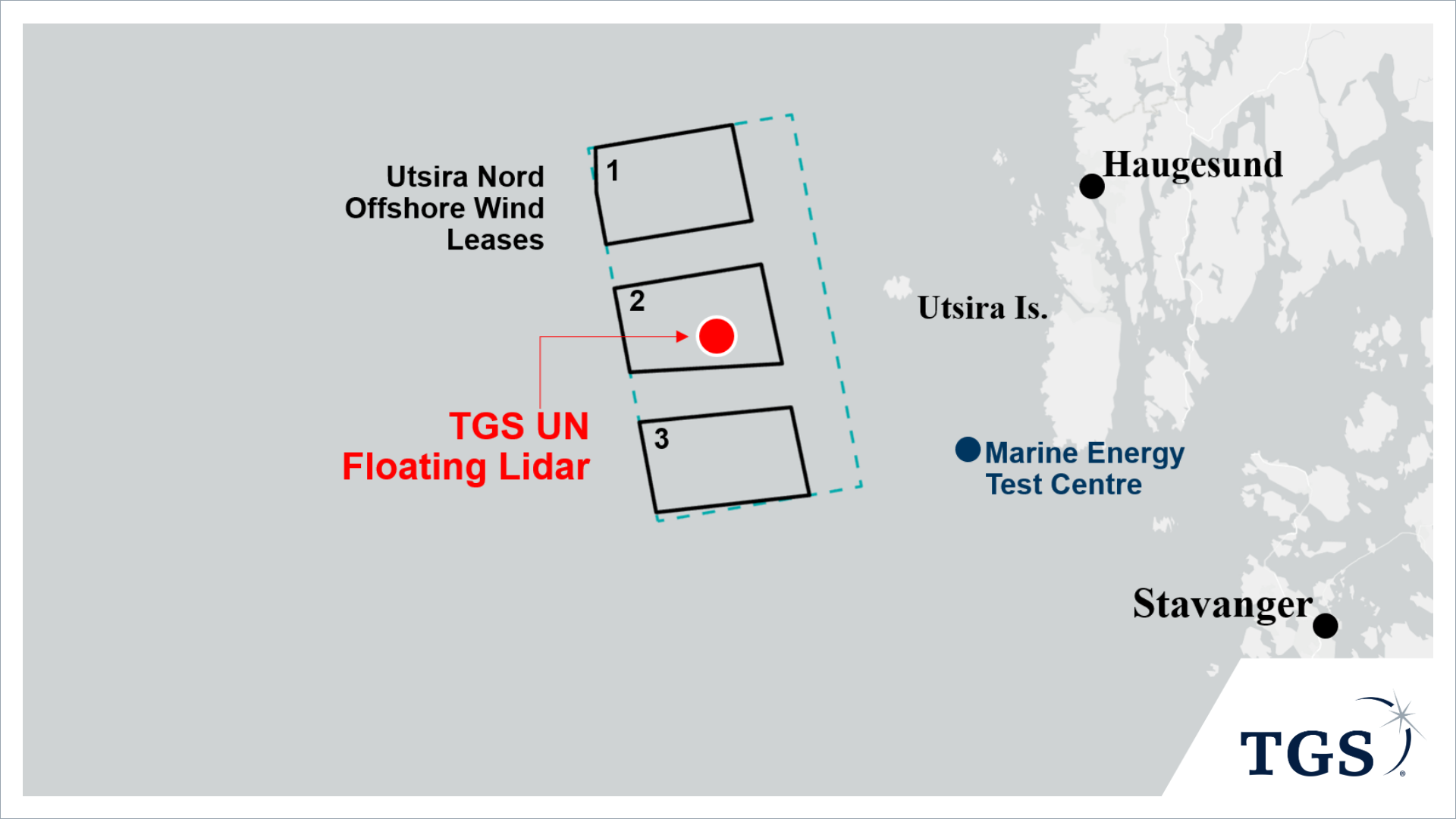 Map indicating the deployment location in relation to the Utsira Nord offshore wind leases.
About TGS
TGS provides scientific data and intelligence to companies active in the energy sector. In addition to a global, extensive and diverse energy data library, TGS offers specialized services such as advanced processing and analytics alongside cloud-based data applications and solutions. For more information about our products, services, and who we are, visit TGS.com.
For media inquiries, contact:
Jaclyn Townsend
VP, Marketing
jaclyn.townsend@tgs.com