LOWESTOFT, UK (26 June 2023) - Forecast installation of floating offshore wind energy in 2030 and 2035 has been adjusted downward for the second time in 12 months, according to our latest market intelligence report, representing a 25% downgrade year-on-year for the 2030 outlook.
The twice-annual Floating Offshore Wind Report published today by TGS | 4C Offshore predicts 12.4 GW of potential floating wind capacity will be operational or under construction globally by 2030, increasing to 39 GW by 2035. These forecast figures are down 1.8 GW and 6.4 GW, respectively, compared to the analysis from Q4 2022, and down 3.7 GW and 8.7 GW from Q2 2022.
This reduced momentum in installation is primarily due to lower-than-expected rates of securing offtake contracts and permits, resulting in greater volume shifting post-2030. Of the forecast 12.4 GW by 2030, 6 to 7 GW is projected to be operational, while the remainder is expected to be under construction.

According to TGS | 4C Offshore's updated Floating Market Attractiveness Index published in today's report, the United Kingdom remains the world's most attractive floating wind market, followed by Norway, South Korea, the US and Japan.

The new edition of the Floating Offshore Wind Report contains a deep-dive analysis of floating wind's Levelized Cost of Energy (LCOE) and CAPEX for both existing and future projects. LCOE is expected to decline over time but at a slower rate than recent projections showed due to increasing supply and capital costs.

Using project data to predict LCOE, TGS | 4C Offshore expects the energy costs for floating wind to be around €85-100/MWh by 2030 (for projects starting offshore installation), €70/MWh by 2035, and €50/MWh by 2040.

The report also indicates a pathway to €50/MWh achieved through key cost reductions due to scale economies, decreasing capital costs, technology innovations and longer lifetimes.

TGS | 4C Offshore's Director of Research Richard Aukland commented on the latest findings: "Floating wind holds a lot of promise, but delivery is challenging. Offtake visibility is currently limited, and regulatory uncertainty is high in key emerging floating markets. There are many countries whose processes have not yet been tested and matured through bottom-fixed wind. Consequently, we don't expect the build-out of floating wind to scale significantly until after 2030

TGS | 4C Offshore releases regular intelligence reports on a wide variety of offshore energy subjects, including wind farms, construction & heavy maintenance, wind logistics, and Offshore Transmission and Cables. For more information, visit 4coffshore.com.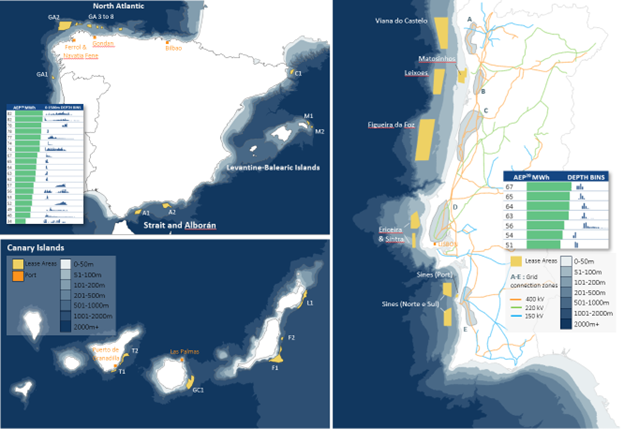 Analysis using TGS Wind AXIOM to calculate energy production and explore bathymetry for 25 GW of potential leases on the Iberian Peninsular (Spain & Portugal)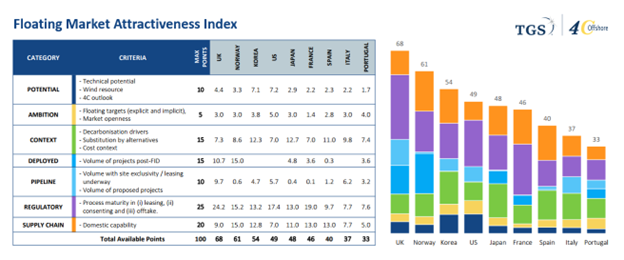 TGS | 4C Offshore's Floating Market Attractiveness Index (June 2023) using seven factors influencing floating wind development. A mixture of qualitative and quantitative scoring frameworks is employed.
About TGS
TGS provides scientific data and intelligence to companies active in the energy sector. In addition to a global, extensive and diverse energy data library, TGS offers specialized services such as advanced processing and analytics alongside cloud-based data applications and solutions. For more information about our products, services, and who we are, visit TGS.com.
For media inquiries, contact:
Jaclyn Townsend
VP, Marketing
jaclyn.townsend@tgs.com