Lowestoft, UK (13 March 2023) – More countries than ever before are planning their first offshore wind lease rounds in 2023. That is according to the Q1 2023 edition of 4C Offshore's Global Market Overview.
However, while governments are racing to take those initial steps, project development and Final Investment Decision (FID) delays are putting the brakes on offshore wind build-out in the short term. Bottlenecks such as slow permitting, delays in offtake auctions, supply chain issues, and extended negotiations with the supply chain due to price uncertainties continue to throttle progress.

As detailed in the report, these challenges continue to slow the rate of progress, with FID rates far below the 4.7 GW per quarter required to reach 4C Offshore's 2030 forecast of projects installed or under construction. However, the 4C Offshore analysts expect the industry to be able to catch up in the coming years as it looks to counteract the effects of rising inflation and cost of capital. Their latest figures show a small 1 GW increase in the forecast of projects installed or under construction globally in 2030 compared to last quarter's predictions, to 269 GW.

Those countries set to embark on their first offshore wind lease rounds include Norway, Lithuania, Uruguay, Portugal, Australia, Brazil, Columbia, Estonia, and Ireland. Many will have modeled their approaches on successful recent rounds and innovations in the UK, the US, and Denmark.
With the average development cycle time from site award to first power being approximately eight years, many of these lease rounds will be unable to contribute to global energy production before 2030.
This edition of the Global Market Overview includes a Market Attractiveness Index for Floating Wind for the first time. Key floating wind markets were researched and scored across seven factors that influence project development. The index ranks the United Kingdom as the world's most attractive market for floating offshore wind at present, followed by Norway, South Korea, the United States, and Japan.
The report's Market Dashboard shows that offshore wind sites continue to be awarded at pace. To date in Q1 2023, governments have awarded site exclusivity for 17.1 GW of potential offshore wind capacity (bottom-fixed and floating combined) to project developers. That is the third-highest quarterly site award rate ever recorded.
However, the report notes that only 900 MW of offshore wind capacity reached FID in 2022, significantly down on recent years. So far in 2023, no offshore wind project investment decisions have been made. Between 2015-2021, the average annual FID rate has been more than five times the 2022 number, at nearly 5 GW per year.
Jan Schoolmeesters, EVP of Digital Energy Solutions at TGS, 4C Offshore's parent company, commented on the latest findings. "Entering 2023, the status of the offshore wind industry continues to be mixed. The site award rate remains high, and more countries are embracing offshore wind. Floating offshore wind is making a breakthrough. All this bodes well for long-term growth," he said. "But the FID dip does need to reverse, and we expect that to happen as project developers, suppliers, and financiers adapt to a new reality of higher capital and supply costs."
The Offshore Wind Global Market Overview is out now for TGS / 4C Offshore report subscribers.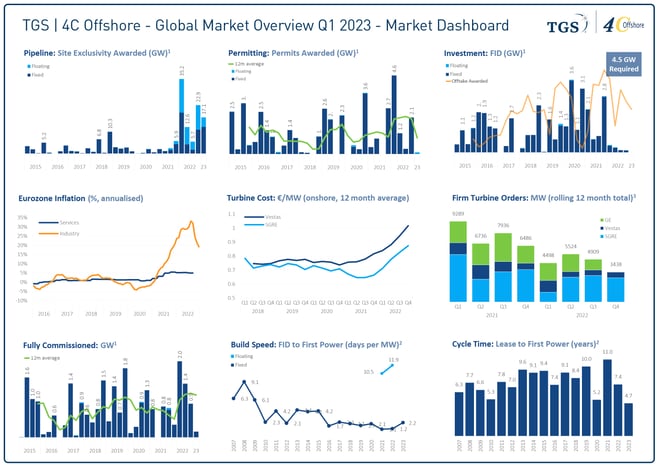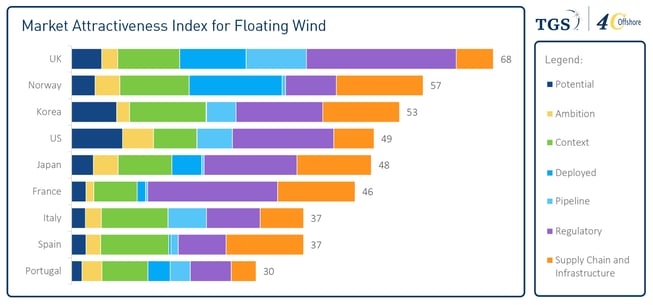 About TGS
TGS provides scientific data and intelligence to companies active in the energy sector. In addition to a global, extensive and diverse energy data library, TGS offers specialized services such as advanced processing and analytics alongside cloud-based data applications and solutions. For more information about our products and services and who we are, visit TGS.com.

For media inquiries, contact:

Jaclyn Townsend
VP, Marketing
jaclyn.townsend@tgs.com
Chief Financial Officer
investor@tgs.com