OSLO, Norway (09 March 2023) – TGS, a global provider of energy data and intelligence, today announced a significant expansion to their ground-breaking multi-client offshore wind and metocean measurement campaign off the US East Coast, adding to a list of global firsts.
In addition to their floating LiDAR buoy in the New York Bight, TGS has announced four further deployments. One offshore Massachusetts, two covering the impending Central Atlantic lease round, and another buoy in the New York Bight area to further enhance their existing data collection and wind modeling of this prime lease area.
The TGS multi-client approach, where multiple customers can subscribe to the same floating LiDAR data, offers offshore wind stakeholders the added benefits of reduced development costs, timelines, and, most importantly, the ability to minimize energy uncertainty further. In the Central Atlantic, the TGS-deployed floating LiDAR buoys will provide data and insights on a subscription basis to those pursuing wind development opportunities allowing the de-risking of prospects well before the lease bidding process.
These new, high-quality floating LiDAR data will be the only modern and full dataset covering the Central Atlantic lease areas, due to open for bidding in early 2024. Access to such data at this early stage is expected to significantly enhance the decision-making ability of all stakeholders investing in the wind development future of this region.
In the New York Bight, TGS' first buoy in the region is performing very well with high data recovery rates and measuring unique aspects of the wind resource not previously captured by prior modeling studies or measurement campaigns. Adding a second TGS floating LiDAR buoy will further reduce wind and ocean modeling uncertainties and cycle times for those embarking on site assessment activities. It will further validate TGS' expansive high-resolution numerical weather prediction (NWP) model data coverage. Similarly, those companies working on wind development offshore Massachusetts can acquire additional data to de-risk Final Investment Decisions (FIDs) or enhance Construction and Operations Plans (COPs).
In all five deployments, TGS is utilizing one of the world's most advanced floating LiDAR systems with the highest level of accuracy (stage 3 validation) from EOLOS. Throughout each buoy's deployment campaign, data will be acquired continuously with the data stream quality-controlled and made available to customers daily via the Wind AXIOM platform, TGS' comprehensive site evaluation, and wind data analytics tool. In addition to wind speed measurements, the data package includes critical metocean and environmental data such as significant wave heights, ocean current profiles, and acoustic monitoring of whales, dolphins, birds, and bats.
Using aggregated data inputs, including wind models and measurements, Wind AXIOM instantly accesses and processes vast amounts of site-specific data via the cloud. This functionality allows wind developers and stakeholders to constrain the most influential factors affecting the viability of offshore wind projects and answer questions related to energy output, annual revenue, supply fluctuations, and more. Wind model inputs are complemented by a range of cost-influencing factors, creating a tool that improves the quality and speed of decisions by offering a configurable experience for various participants in the offshore wind market.
Jan Schoolmeesters, EVP of Digital Energy Solutions at TGS, commented: "Having supported the energy industry for over 40 years with data-driven insights, TGS understands the value of gaining early access to as much relevant data as possible in the project development cycle. We identified a need for wind measurements earlier in the development process, but the costs to deploy offshore measurements have been prohibitive and often don't make sense from a risk-reward perspective. With the multi-client floating LIDAR program, TGS hopes to provide the best data earlier for greater risk reduction throughout the project."

All projects are supported by offshore wind industry funding.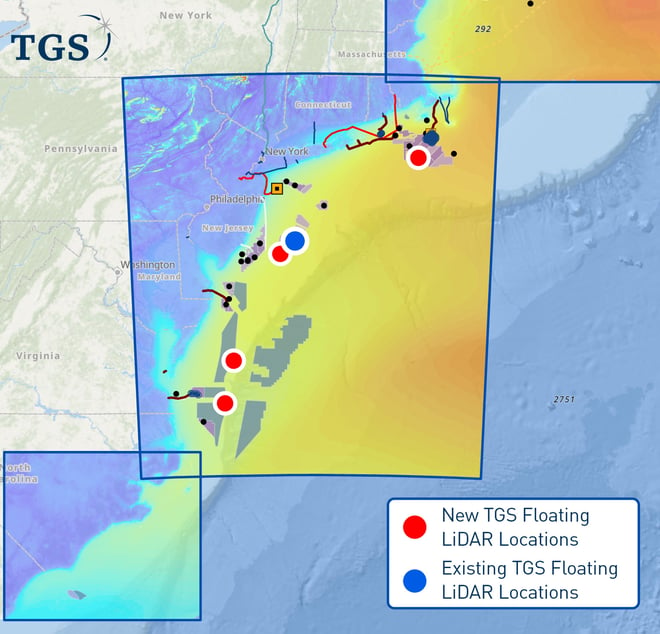 About TGS
TGS provides scientific data and intelligence to companies active in the energy sector. In addition to a global, extensive and diverse energy data library, TGS offers specialized services such as advanced processing and analytics alongside cloud-based data applications and solutions. For more information about our products and services and who we are, visit TGS.com.

For media inquiries, contact:

Jaclyn Townsend
VP, Marketing
jaclyn.townsend@tgs.com
Chief Financial Officer
investor@tgs.com