HOUSTON, Texas (3 March 2023) – TGS, a global provider of energy data and intelligence, in partnership with NRGX, announced today they are expanding their partnership to enable access to TGS well log data simultaneously with client proprietary data. Customers can quickly identify and access all available log data through the NRGX well log data workflow optimization system.
By joining forces, the NRGX LAS WORX application offers single-point access to allow Geologists, Data Managers, and Geotechnicians to easily query all available well and curve coverage, saving time and reducing error.
Through this integration, the NRGX LAS WORX system will also enable on-demand digital log data transformation to deliver digital log data according to user-specific requirements, eliminating the need for secondary data processing once the data has been downloaded.
Jan Schoolmeesters, EVP of Digital Energy Solutions at TGS, said, "We are excited about our partnership with NRGX and believe it will ensure our customers have access to all the log data they need for any given project at any given time.  TGS listens very closely to its customers to help improve and enhance our data workflows and this was such a request. This new solution is available immediately."
Randy Striemer, President and Founder of NRGX Technologies Ltd., said, "NRGX is proud to be working alongside TGS, integrating TGS' industry-leading well log data offering with our LAS WORX well log data platform, used globally by a wide range of E&P companies, service companies and government agencies."

For more information, visit TGS Well Data online at https://www.tgs.com/products-services/well-data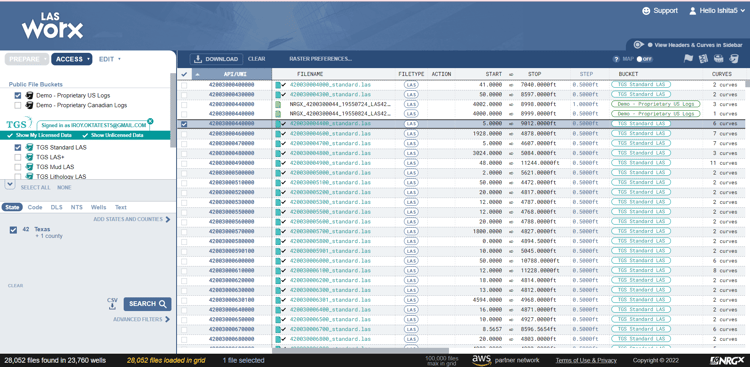 About TGS
TGS provides scientific data and intelligence to companies active in the energy sector. In addition to a global, extensive and diverse energy data library, TGS offers specialized services such as advanced processing and analytics alongside cloud-based data applications and solutions. For more information about our products and services and who we are, visit TGS.com.
For media inquiries, contact:
Jaclyn Townsend
VP, Marketing
jaclyn.townsend@tgs.com
About NRGX
NRGX Technologies Ltd. is a leading provider of high value, well log data software solutions and services for the energy industry. Its people have deep roots in the well log data business, pioneering the development of data capture systems in the 1970s, log data delivery solutions in the 1990s, and since 2011 with the introduction of its LAS WORX log data workflow optimization application.

For more information, visit NRGX online at NRGX.com.