HOUSTON, Texas (25 September 2023) – TGS, a global provider of energy data and intelligence, today announced a Northern extension to its previously announced Pontiac 3D Survey in the Midland Basin. The extension increases the size of the Pontiac 3D from 167 sq mi to a total of approximately 267 sq mi. and is located in Midland, Ector, Upton and Crane counties, Texas.

The Northern Extension of the Pontiac 3D sits on the western edge of the Midland Basin and encompasses historical production from Sprayberry and Wolfcamp intervals along with significant accumulations in deep-seated structures in the Devonian and Ellenburger formations. The survey is designed to assist in the evaluation and horizontal development of multiple zones including the emerging Barnett Shale, Mississippi Lime, and Devonian horizons which are highly prospective with analogous play concepts having been proven just north of Pontiac in Andrews County. Data acquisition is expected to begin in Q4 2023 with final data available to clients in early Q3 2024. TGS' extensive geologic products database complements Pontiac 3D, which includes interpretive products and data from over ~250,000 wells in the Midland Basin.
David Hajovsky, EVP of the Western Hemisphere at TGS, commented, "We are pleased to add the Northern Extension of the Pontiac 3D survey to our expanding Permian Basin library. We continue to leverage our knowledge and expertise to aid our clients in their exploration and development activities in the Midland Basin. The data will be processed by TGS utilizing modern land imaging technology, including Dynamic Matching Full Wave Inversion, to provide clients with greater reservoir understanding."
This project is supported by industry funding.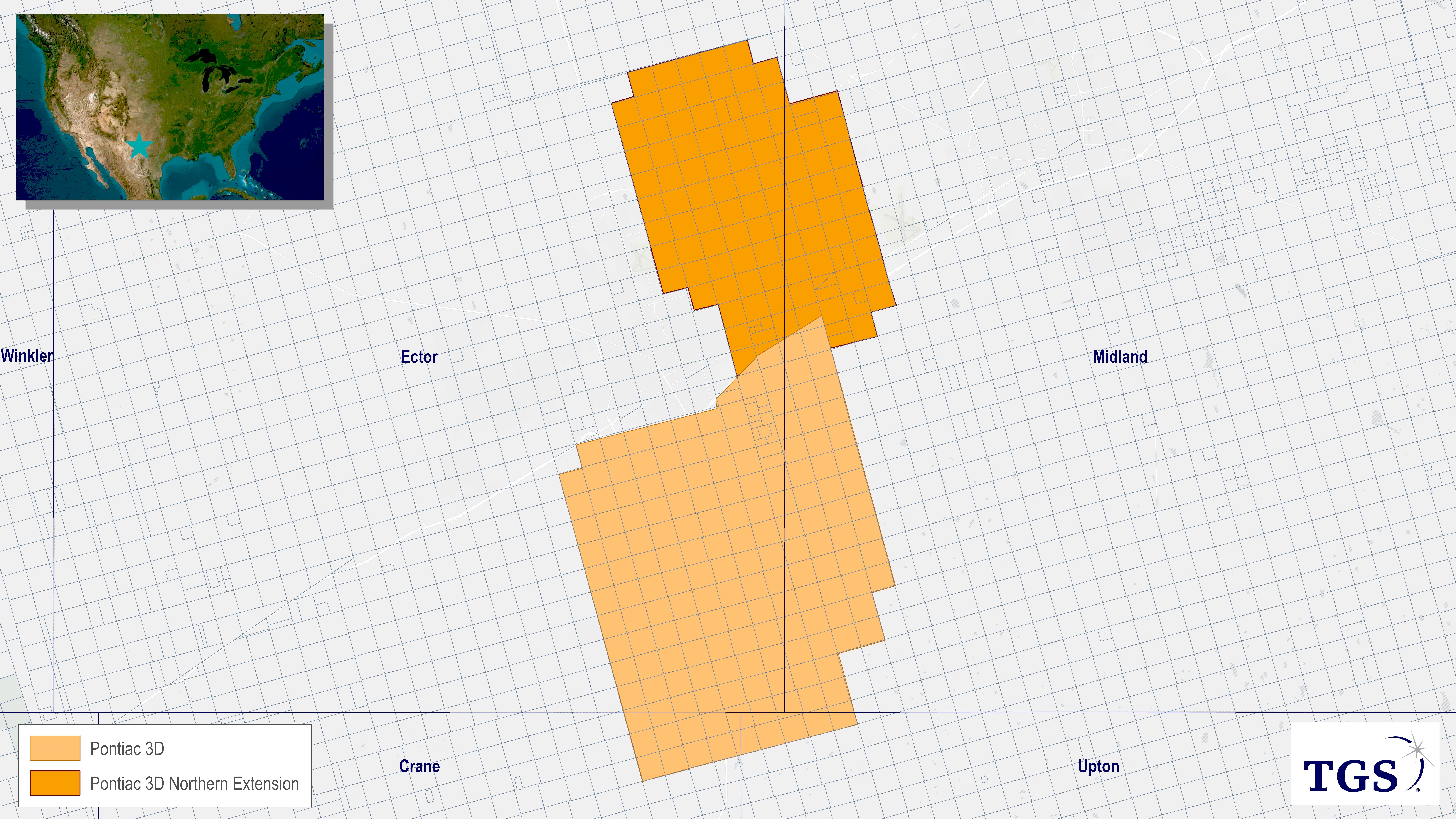 About TGS
TGS provides scientific data and intelligence to companies active in the energy sector. In addition to a global, extensive and diverse energy data library, TGS offers specialized services such as advanced processing and analytics alongside cloud-based data applications and solutions. For more information about our products and services and who we are, visit TGS.com.
For media inquiries, contact:
Jaclyn Townsend
VP, Marketing
jaclyn.townsend@tgs.com