HOUSTON, Texas (17 November 2022) – TGS, a global provider of energy data and intelligence, today announced the Beyond Far East 3D, a new onshore seismic program in the Midland Basin. This project will encompass approximately 59 square miles in Mitchell County, TX.
This area of the Midland Basin includes historic production from the Clear Fork, Strawn, Sprayberry, and Upper Wolfcamp intervals. The Beyond Far East 3D survey is designed to assist in evaluating and developing the multiple zone potential, including the emerging Wolfcamp D, which presents itself on the eastern edge of the Midland Basin. Data acquisition is expected to begin in Q1 2023, with final data available to clients in early Q3 2023. Beyond Far East 3D is complemented by TGS' extensive geologic products database with interpretive products and data from over ~250,000 wells in the Midland Basin.
David Hajovsky, Executive Vice President, Western Hemisphere at TGS, commented, "We are pleased to bring our knowledge and expertise to help our clients in their exploration and development activities in the Midland Basin. The data will be processed by TGS utilizing its modern land imaging technology to provide clients with greater reservoir understanding."
This project is supported by industry funding.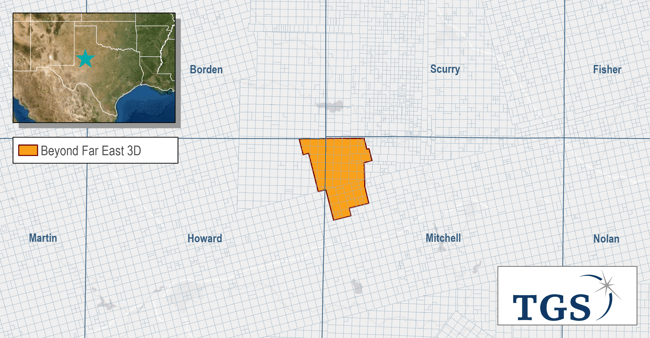 About TGS
TGS provides scientific data, data-driven solutions and intelligence to companies active in the energy sector. In addition to a global, extensive and diverse energy data library, TGS offers specialized services such as advanced processing and analytics alongside cloud-based data applications and solutions.
For more information, visit TGS.com or contact:
Jaclyn Townsend
VP, Marketing
jaclyn.townsend@tgs.com