OSLO, Norway (22 June 2021) - TGS, a global provider of energy data and intelligence, has released a comprehensive numerical weather prediction (NWP) model to enhance wind energy knowledge and operations offshore Scotland, including the current ScotWind lease round. TGS now fulfills its ambition to supply the region's most accurate, dynamic, and trusted wind energy dataset and aims to expand coverage in other key global locations.

This wind energy model has been produced in collaboration with Vaisala, a global leader in weather, environmental, and industrial measurements, to create a higher resolution dataset than publicly available with coverage over the entirety of offshore Scotland. As a result, interested parties will enhance both their regional understanding and de-risk specific ScotWind lease areas.

Meteorological conditions have been reconstructed over the last 10 years at a spatial resolution of 1km with an hourly temporal resolution, providing operators with a unique, immediately available data resource that can evaluate wind conditions at various scales. Crucially, these model results are being validated by publicly available measurements to increase confidence and improve data quality compared to other industry datasets.
"We continue advancing our new energy solutions business in the offshore wind sector. In addition to supplying the industry with enhanced and cost efficient wind energy data to support their investment decisions, this model has already produced some interesting insight", commented Katja Akentieva, VP New Energy Solutions at TGS. "Initial analysis indicates higher average wind speed than predicted by currently available models in the market, further emphasizing the need for additional wind energy assessment in this region. Our next step is to collect more observational data in order to improve the knowledge."
The TGS NWP model has utilized Vaisala Wind Energy Weather Modeling Technology, which has performed exceptionally well in benchmarking tests. The Vaisala method relies on a combination of advanced mesoscale numerical weather prediction (NWP) computer modeling, innovative and efficient microscale wind modeling, and proprietary algorithms. The model results are available to download now.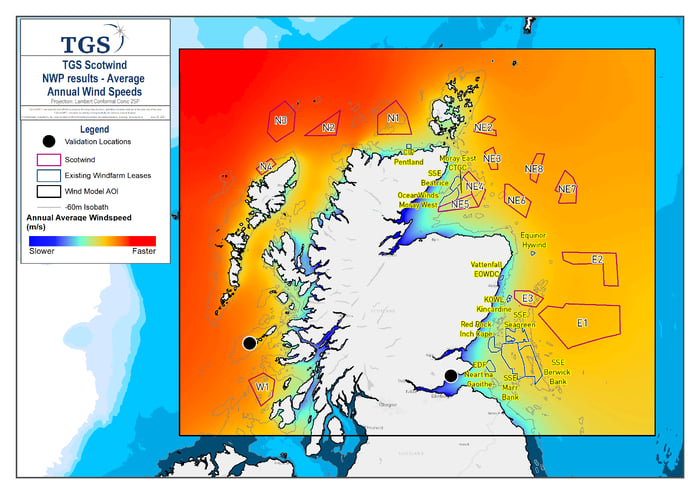 The TGS Wind Energy Model covers a large area around the current ScotWind lease blocks providing additional insight into this regions' wind energy potential.

About TGS
TGS provides scientific data and intelligence to companies active in the energy sector. In addition to a global, extensive and diverse energy data library, TGS offers specialized services such as advanced processing and analytics alongside cloud-based data applications and solutions.
About Vaisala
Vaisala is a global leader in weather, environmental, and industrial measurements. Building on 85 years of experience, Vaisala provides observations for a better world, with space-proof technology even exploring Mars and beyond. We are a reliable partner for customers around the world, offering a comprehensive range of innovative observation and measurement products and services. Headquartered in Finland, Vaisala employs over 1,900 professionals worldwide and is listed on the Nasdaq Helsinki stock exchange.
For more information contact:
Jaclyn Townsend
Director, Corporate Marketing
jaclyn.townsend@tgs.com