TGS has today announced the addition of Unexploded Ordnance analysis to the Central Atlantic Call Areas covered by Wind AXIOM, the insight platform that helps offshore wind developers explore high-value areas, prepare bids, and develop leases.
Unexploded Ordnance (UXOs) and remnants from military activity represent significant HSE and cost risks to the development of offshore wind farms and are routinely assessed as part of a wind farm site assessment.
To understand their distribution on the US East Coast, quantify the level of risk and plan potential operational mitigations EPI has designed a series of Threat Assessment Studies, targeting each Call Area location in the Central Atlantic bid round.
These studies present offshore wind developers with clear and concise overviews with which to consider UXO risks in preparation for the bid auction and post-lease award.
TGS Wind AXIOM now levers spatial constraint information from EPI's First Level Threat Assessment to contribute to a much wider analysis of contextual information themes in the Central Atlantic, from Seabed conditions, Environmental & Fishing constraints, Metocean characteristics, transmission proximity and other marine spaces users; building a complete picture with which to assess the Central Atlantic Call areas.
This is the latest of several recent upgrades to the Wind AXIOM platform, including the addition of Virtual Met Masts through a collaboration with 3E, and the launch of NASH | dev which enhances the ability to simulate asset-specific energy production, and capture price and revenue forecasts.
Premier baseline data for Offshore Wind development in the US East Coast with five floating lidar buoys and contextual risk information
TGS's strategic investment in the US East Coasts now includes five floating lidar and metocean observation buoys to make available bankable quality wind resource observations before lease auctions occur. Two systems are currently collecting data in Central Atlantic call areas enabling wind developers to access the most accurate information and evaluate lease area energy uncertainty. Combined with high-resolution wind model baselines, open-source wind and metocean observations, and thematic contextual data on a range of risk factors, Wind AXIOM presents the premier data resource with which to form bidding strategies in this competitive acreage. This novel approach will enable developers to minimize risk facilitating a safe and economically sound expansion of offshore wind in The United States.
For more information about Wind AXIOM contact windaxiom@tgs.com or visit https://www.tgs.com/wind/analytics-platforms
For more information about EPI's Threat Assessment Studies in the central Atlantic, please visit https://www.epigroup.com/uxo-threat-reports-2/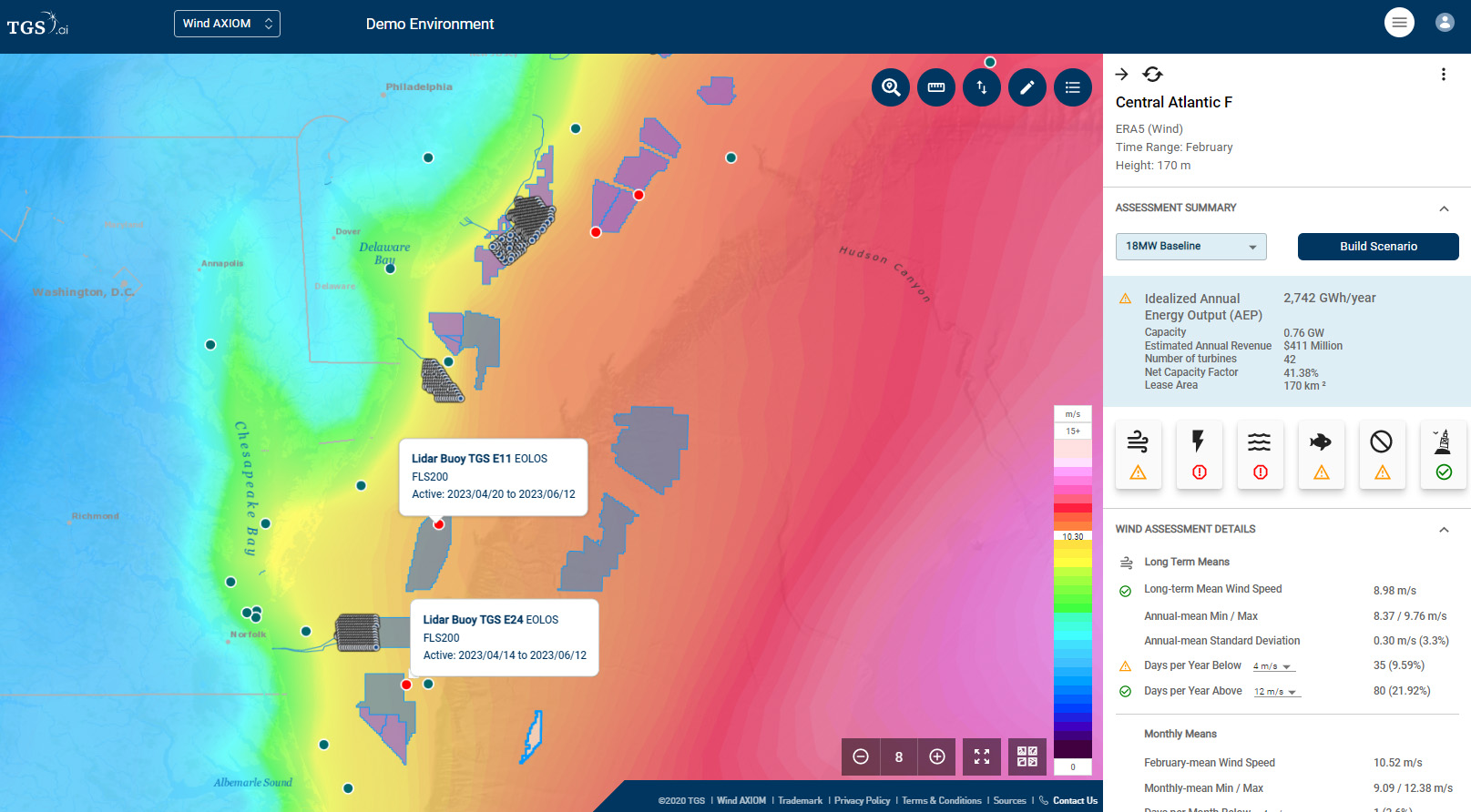 About TGS
TGS provides scientific data and intelligence to companies active in the energy sector. In addition to a global, extensive and diverse energy data library, TGS offers specialized services such as advanced processing and analytics alongside cloud-based data applications and solutions. For more information about our products, services, and who we are, visit TGS.com.
For media inquiries, contact:
Jaclyn Townsend
VP, Marketing
jaclyn.townsend@tgs.com