HOUSTON, Texas (13 June 2023) – TGS, a global provider of energy data and intelligence, is proud to unveil its groundbreaking cloud-based analytics platform, Well Data Analytics.
The easy-to-use analytics tool empowers energy professionals by offering an affordable and comprehensive solution for benchmarking, predicting, and optimizing well performance, all while ensuring the utmost data quality and accuracy.
Well Data Analytics brings together the industry's largest library of subsurface data, powerful visualization and advanced analytics. The application provides users with a streamlined and intuitive experience that enhances productivity across their operations. By leveraging TGS' extensive data portfolio, which encompasses every major U.S. basin, this platform offers unparalleled access to highly competitive well data within seconds, enabling efficient analysis and effective decision-making to drive essential business objectives. The streamlined analytics tool also provides fast and easy access to vast cloud-based well data resources that are already QC'd and ready to use.
Jan Schoolmeesters, EVP of Digital Energy Solutions at TGS, said, "TGS holds the largest and most accurate well data library in the world, and we are excited to announce that this new cloud-based platform harnesses its full potential. The tool was meticulously designed with and for our customers and we take great pride in our collaborative approach. At every stage of development, we actively engaged our customers to guarantee an exceptional user experience and impeccable data quality, including valuable geologic insights, which serve as the cornerstone of Well Data Analytics."
Well Data Analytics combines highly adaptable search workflows, multi-variate map-based visualizations and analytics, advanced time-series plotting, benchmarking tools, and highly customizable dashboard layouts with high-quality well data and well performance data in a cloud-based application. These key features allow users to benchmark, predict and optimize well performance easier and with more accuracy.
Within Well Data Analytics, users will gain access to wide array of essential datasets. Quality-controlled well data, including headers, directional surveys, production metrics, completions details, wellbore spacings, forecasts, EUR data, Drill Stem Tests (DSTs), permits, geological data, and formation tops, are seamlessly integrated into the application's solid infrastructure.
The platform's highly customizable visualizations and analytics enable users to intuitively explore and analyze these datasets. Configurable map layers, production plots, type curves, and bubble map visualizations provide dynamic data representations, allowing users to identify patterns and trends with exceptional clarity. This empowers decision-makers to make informed choices based on accurate and reliable information.
Additionally, the platform facilitates presentation-ready exports and images in seconds, making sharing insights and findings with colleagues, stakeholders, and clients effortless.
To experience the power of Well Data Analytics, interested users can sign-up for a free trial to access the platform for 30 days. Sign up here: https://www.tgs.com/well-data-products/well-data-analytics.
For more information about Well Data Analytics, visit TGS online at https://www.tgs.com/products-services/well-data.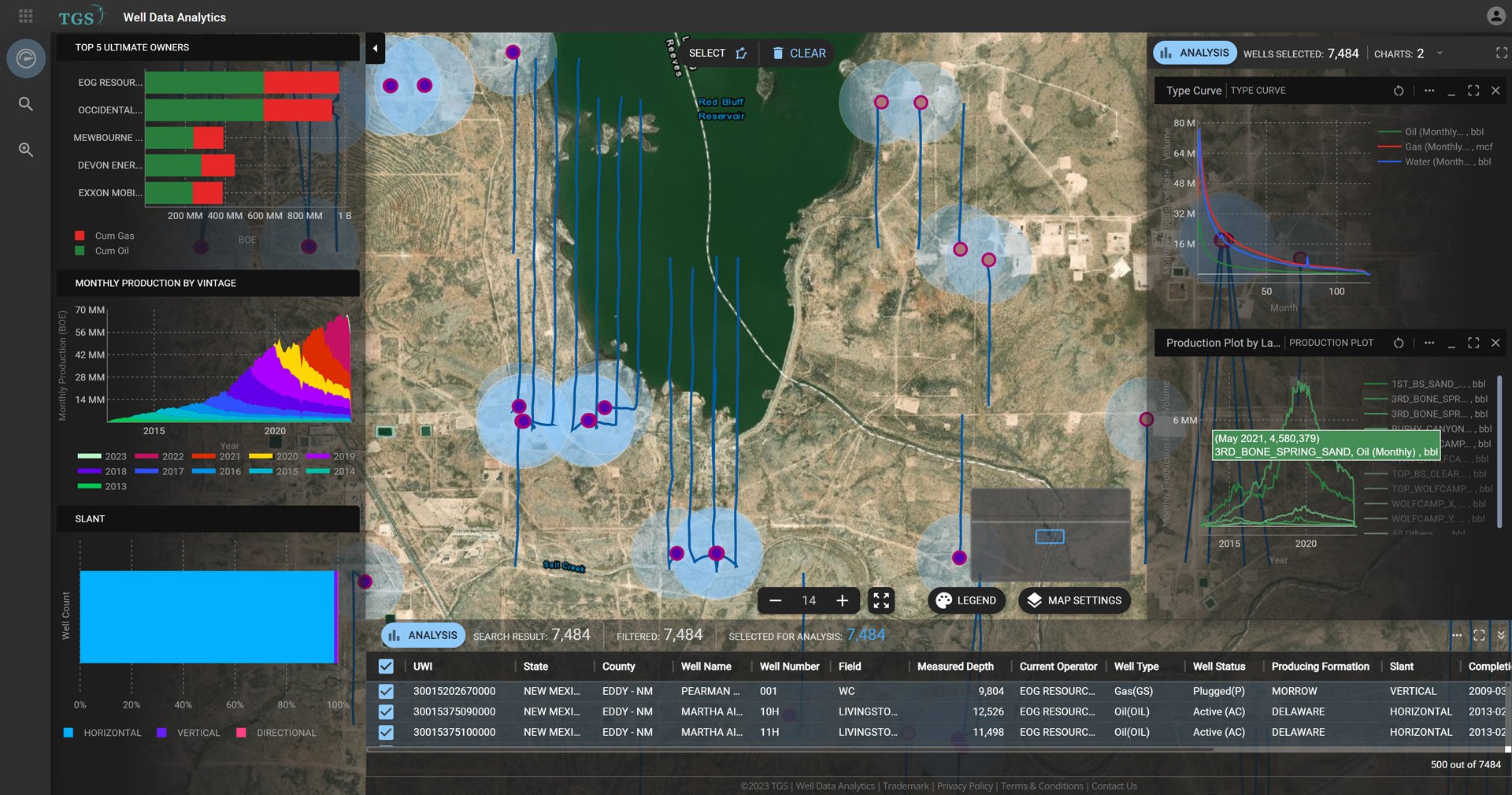 About TGS
TGS provides scientific data and intelligence to companies active in the energy sector. In addition to a global, extensive and diverse energy data library, TGS offers specialized services such as advanced processing and analytics alongside cloud-based data applications and solutions. For more information about our products, services, and who we are, visit TGS.com.
For media inquiries, contact:
Jaclyn Townsend
VP, Marketing
jaclyn.townsend@tgs.com