Petrophysical Interpretation Logs
Easy to use petrophysical data for accurate decision making
Stay ahead of the curve

- Jump start interpretation, enabling you to make better, faster decisions

A library of detailed well by well analyses of consistent petrophysical properties for regional scoping, mapping, and sweet spot identification. Save time and improve workflows with petrophysically interpreted LAS data that has been edited and QC'd. Now a part of the world's largest digital log library.
Eliminating the leg work involved in petrophysical analysis
Coverage in six key regions: Oklahoma, Midland Basin, Delaware Basin, San Juan Basin, DJ/Niobrara Basin, Utica/Marcellus Basin

Edited

log datasets, available in LAS format, qc'd with consistent curve nomenclature, allows users to spend their time interpreting rather than correcting data
Lower cost than building in-house with ready-to-go data for faster access and decisions
Gain a better understanding of key petrophysical properties
Interpreted results including: clay volume, total porosity, total water saturation, mineral volumes, 5 component facies (available for Midland and Delaware basins), Geomechanical properties, OOIP/200ft/acre – contained in LAS files
Interpretation built around well log – core analysis relationships in multiple wells (where available). Core data from the public domain is included in the LAS files
Transparent interpretation methods provided with product in documentation file
| | |
| --- | --- |
| Edited log dataset, QC'd with consistent curve nomenclature | Detailed curves added after petrophysical analysis |
Detailed attributes can be used to make high quality basin-wide maps and cross sections

Total Organic Carbon
Organic Thickness
Facies Distribution
Original Oil in Place (OOIP)
Hydrocarbon Pore Volume
Clay Volume
Total Porosity
Total Water Saturation

Helps to identify:

Frac Barriers and improved completion practices
Landing zones and lateral placements
Organic Layers
Key drivers with the ability to compare production to petrophysical properties and other subsurface attributes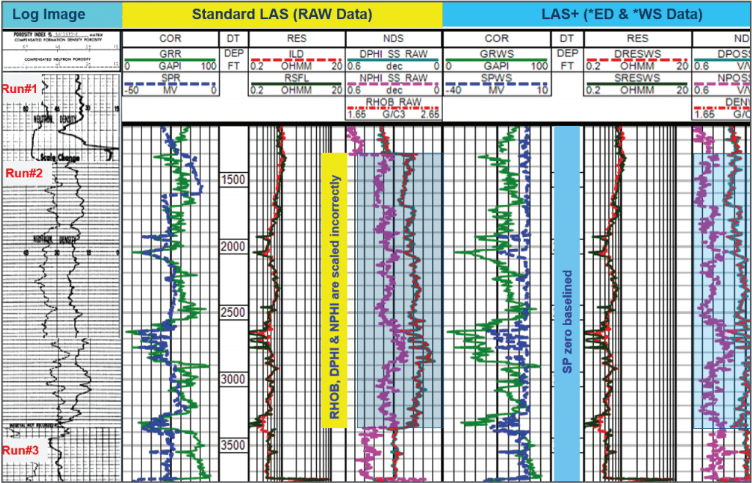 LAS+
The best and the most complete log curve data available, meticulously processed and QC'd, workstation-ready for analysis and interpretation.
Discover LAS+