The World's Largest Library of Geological Data for the Oil and Gas Sector
Search, purchase, and manage geological data from the world's largest well log subsurface database in TGS R360. Click through millions of processed raster logs, digital logs, and geological interpretations in U.S. and international basins. Available to download directly or via the OSDU-compliant TGS Data Lake API.
Geological Data
Our comprehensive geological data provides clarity, precision, and strategic insights for the full exploration and development lifecycle.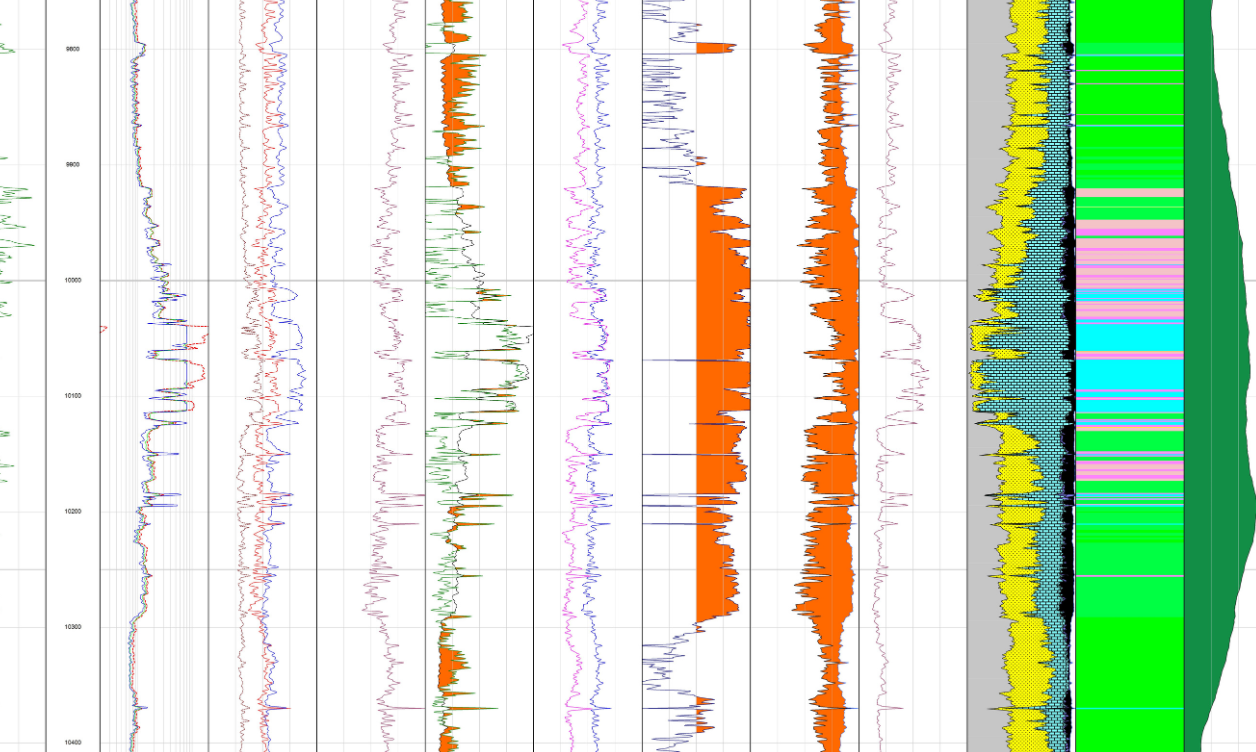 Depth-calibrated raster logs:

Depth-calibrated and easily viewable digital representations from scanned well logs

Digital LAS logs:

12-Curve log suites to provide the best essential log curves, digitized from top-to-bottom with curves of same name/description merged

Mud logs: D

ata from the drilling engineer and well site geologist relating to the rock and hydrocarbons encountered

Check shot and velocity data: D

irect measurement of

travel time

between the surface and a given depth

Petrophysical interpretations:

Core-calibrated attributes incl. TOC, OOIP, clay volume

and more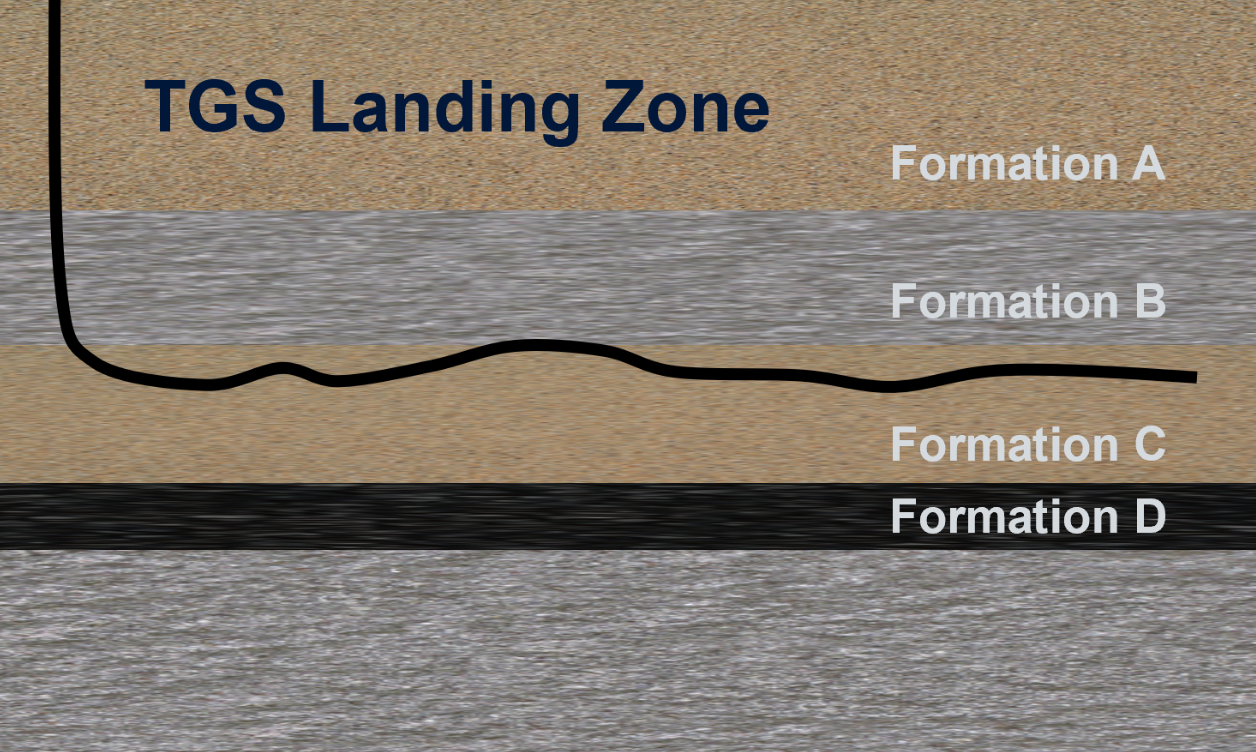 Well log digitizing and scanning services:

Scanning, indexing,

validating

, digitizing, and conditioning well logs to the TGS standard and customized specifications

Subsurface data management:

Mastered, secure, and OSDU-compliant solution

specifically for well data and geological data

Interpreted tops and stratigraphic models:

Structural grids, temperature models (BTM), and attribute volumes (predicted log responses, petrophysical properties); over

two

million hand-picked tops in

21

U.S. basin

s

Carbon capture and storage:

CO2 storage suitability and

capacity

assessment for depleted hydrocarbon reservoirs and saline aquifers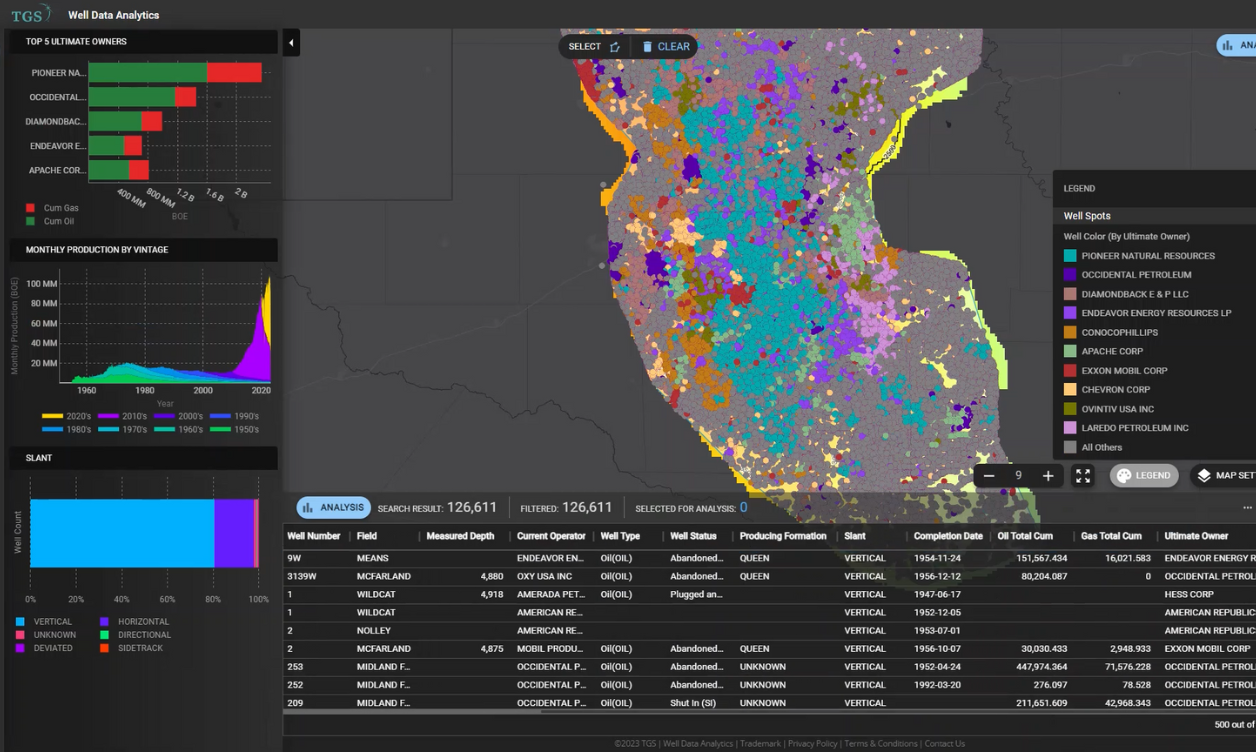 Utilize Well Data Analytics
Access our geological data through Well Data Analytics to benchmark, predict, and optimize oil and gas well performance. Our latest software seamlessly integrates production data, geological mapping, powerful visualization, and user-favorite workflows. The platform also provides unparalleled access to an extensive subsurface data library within seconds, supporting efficient on-the-spot analysis. Additionally, predictive analytics for oil and gas enhance decision-making, and the cloud-based well data resources are quality controlled and adaptable for various usage levels.
TGS Geological Data Quality
Our industry-leading library of geological data includes global coverage of rasters, digital logs, and stratigraphic models, providing valuable insights for the best subsurface understanding.

TGS Validated well header ties the correct data to the correct wellbore

PPDM and OSDU compliant API numbers

Workflow-ready datasets

, matched with the l

argest library of

well

data
30% of our database is unique to TGS from proprietary sources

23% more

rasters

than state agencies

5x more digital wells onshore, 7

times

more

digital wells in key basins

Digitized top-to-bottom

More than 60 types of well logs:

Standard: GR/SP, RES, DEN, NEUT, SON
Speciality: MUD, Lith + comments, composites, check shots, porosity etc.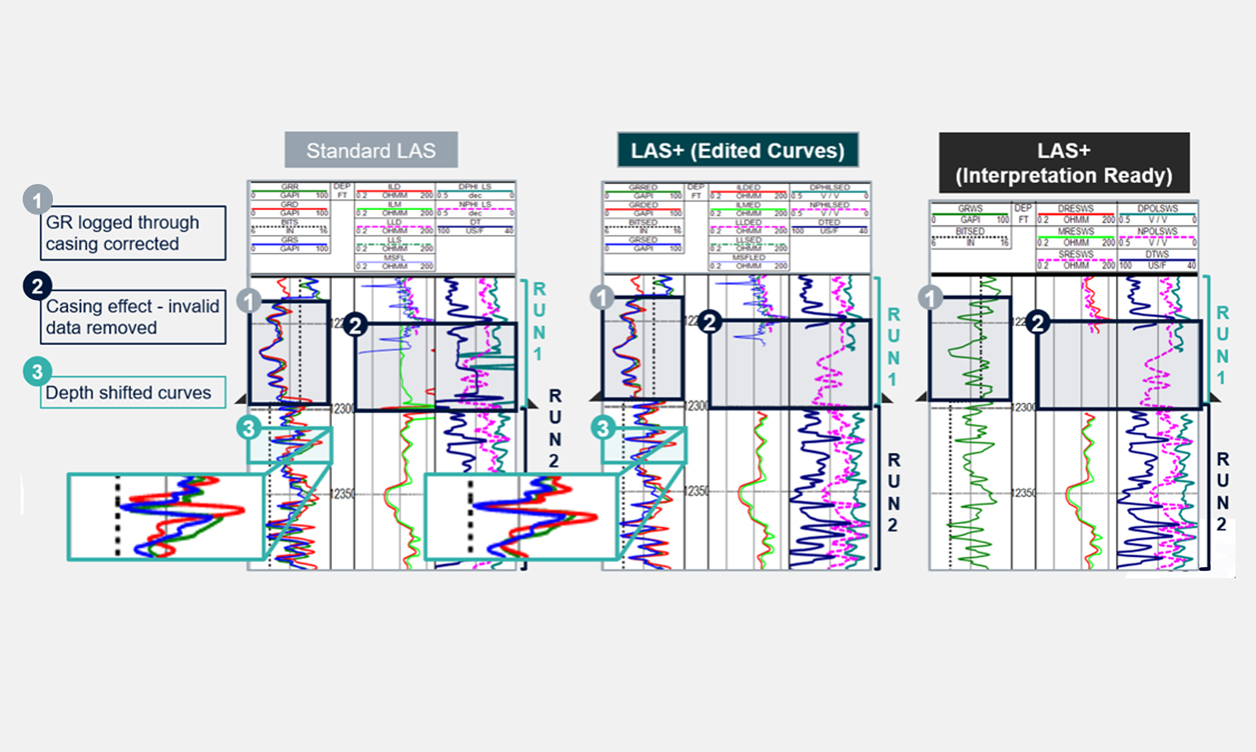 LAS+ Workstation-ready l

ogs: Edited and Conditioned
Start interpreting right away with industry-leading corrected curve data. Leverage the work of our in-house petrophysicists and save hours of processing and preparation time. Available onshore and offshore.
LAS+ includes only geologically valid logs, depth-shifted, standardized mnemonics, spliced WL and LWD, and removal of invalid data

Includes original and edited curves that have been cleaned up, depth-shifted, and validated

Interpretation-ready data that has been consolidated and spliced fro maximum depth coverage

Detailed documentation of available original curves and description of the curve corrections made.
| | Top-to bottom digitization of rasters and digital data | Primary curve groups: RES, DEN, GR, NEUT, SON | Curve Class Mnemonic Standardization | Top to Bottom Composited Curves | No incorrect data | All data on depth |
| --- | --- | --- | --- | --- | --- | --- |
| LAS | | | | | | |
| LAS+ | | | | | | |
Stratigraphic Models
We offer hand-picked interpreted tops across all major U.S. onshore basins derived from the industry's largest library of well logs.
Stratigraphic framework interpreted by experts across 21 North American basins

Key wells based on spatial distribution and penetration

Top-to-bottom picks with emphasis on high-value formations

picked by a single geologist per basin

Continuous expansion to increase lateral and vertical density

to support basin

modeling

Detailed report for each model

including:

Interpretation and QC workflow

Attribute Volumes:

Basin Temperature Model: c

onstructed from formation tops integrated with BHTs from TGS' Stacked Headers

Cubes Available: Temperature, Mud Weight, Total Organic Carbon (TOC)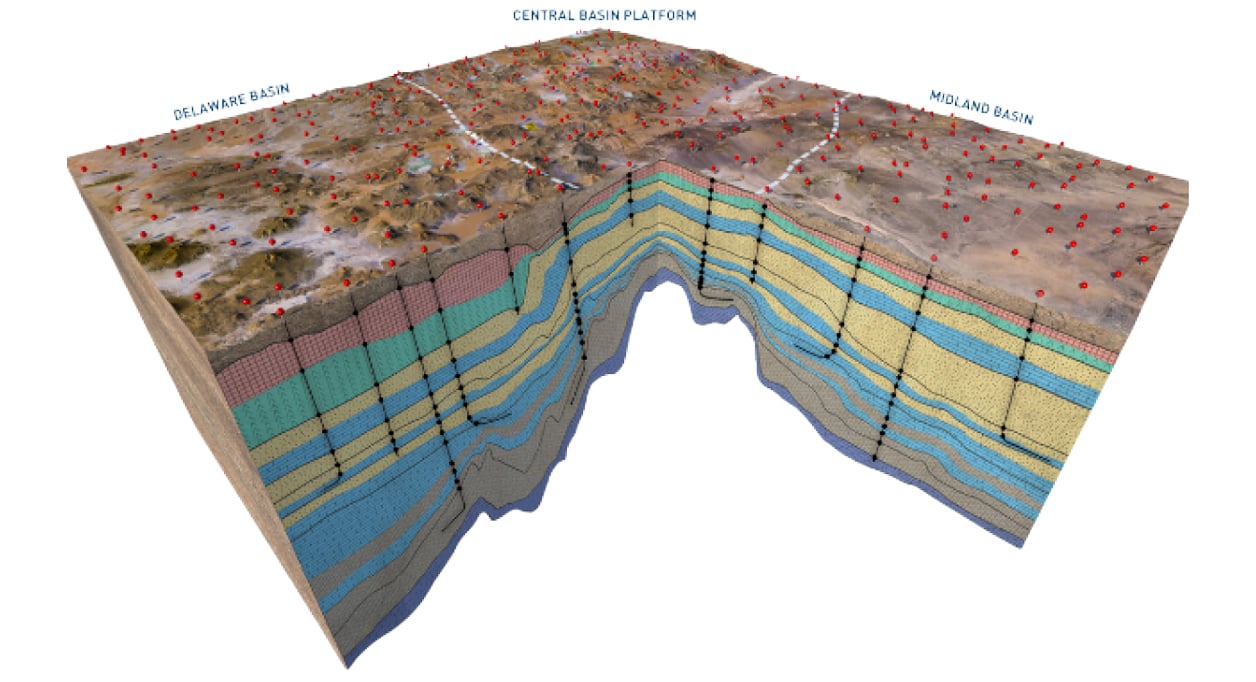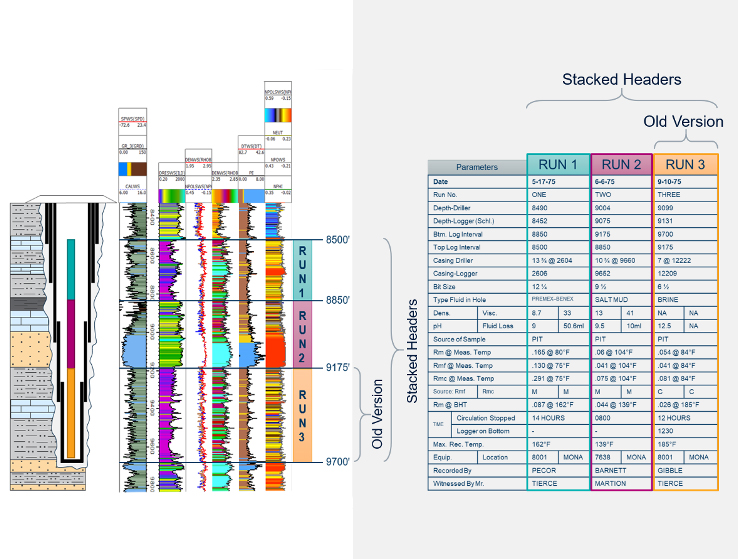 Stacked Headers
Our stacked headers provide quality log parameters for top-to-bottom log correction and analysis for every run.
Digitized log header information from all runs instead of only the deepest
Extensive quality control, ensuring outliers are reviewed and rectified, when necessary, with the focus on providing the data as logged
Easy consumption within projects
Including, but not limited to:

Wellbore diameters
Temperature measurements
Drilling fluid properties
Mud resistivity variations
Casing characteristics
Matrix density
Well Data Analytics Free Trial
The Well Data Products Team is here to help

Spend more time analyzing your well data and less time on quality control so that you can make decisions with confidence. Whether you need a complete picture of your well performance or just want to access your well data quickly, our platform has got you covered.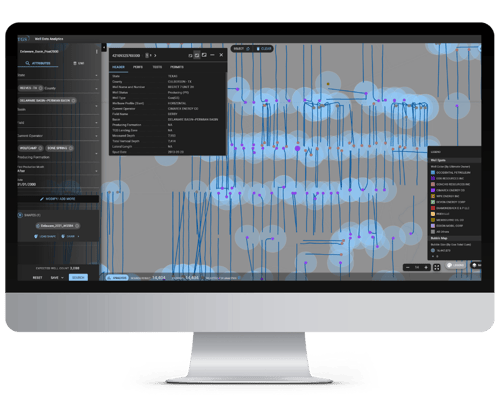 Analytics-Ready LAS: A full quad combo log suite for every well!
Leveraging the industry's largest library of log data, our stratigraphic models, and proprietary Machine-Learning models, we predict missing curve data resulting in full quad-combo equivalent curve coverage.
Model-predicted curves include Gamma Ray, Resistivity, Density, Neutron, and Sonic

Machine-Learning assisted log clean-up:

Bad hole identificaiton

Log splicing

Bad curve detection

Unit conversion

GR spatial normalization

Mnemonic collision correction

Machine-Learning model processing

Post-processing and statistical analysis

Curve level review and re-prediction

Well-level review for accuracy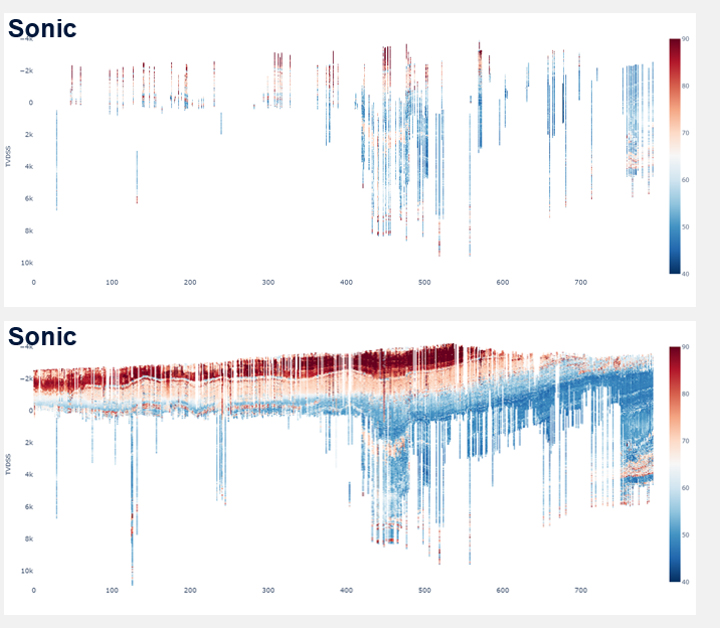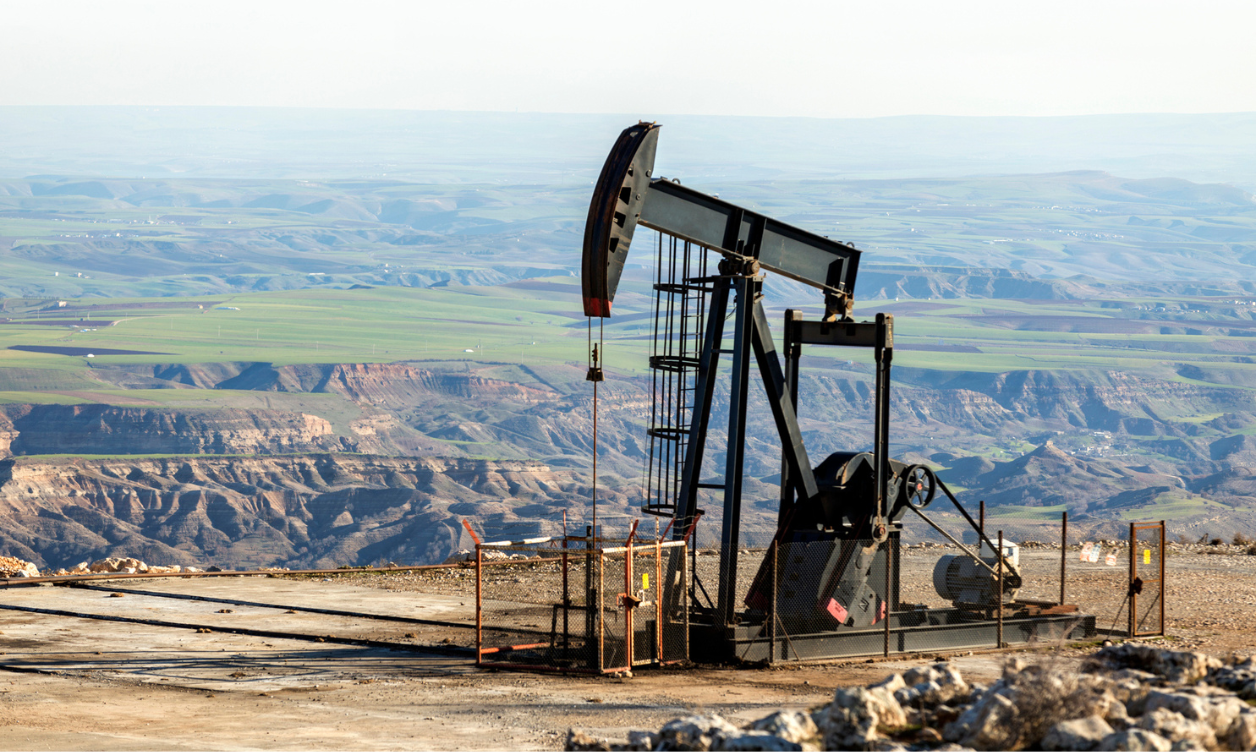 TGS Scanning and Digitizing Services
TGS offers a full turnkey solution including document gathering, processing, and certified destruction. TGS will take your hardcopy and microfiche data and turn it into digital files. Data is associated to the proper API number using our Validated Well Header, and de-duplicated against our extensive commercial log library for cost savings. This service is offered on a proprietary and commercial basis. Incremental or full project delivery to meet your needs.
Collection & Scanning:

Take inventory of the shipment

Evaluate each box individually

Organize and

identify

well sets of logs within each box

Identify

the unique logs within each set

Scan only the logs of best quality

Scanned at 200-300 DPI in the format of the log received (

color

or b

/w)

Indexing

,

catalog

, and process:

Index raw scanned log image for review

Assign the log to the correct well using our Validated Well Header

Identify

duplicates already licensed by customers or available in our commercial library

Capture metadata such as log start and stop depths, log types, service company, runs, etc.

Digitzation

for high-priority log suites upon request

Depth-calibrate and/or digitize to LAS format in TGS commercial standard

Delivery

include

digital files

catalog

u

ed

by UWI via FTP, hard drive, or API
Core Data
Introducing TGS Core Data, the ultimate source of ground-truth reservoir information, to enhance your petrophysical modeling and subsurface interpretation. Core data serves as the foundation for accurate petrophysical and geological analyses. By utilizing our digitized core analysis reports, you can greatly improve the accuracy and dependability of subsurface data in your projects.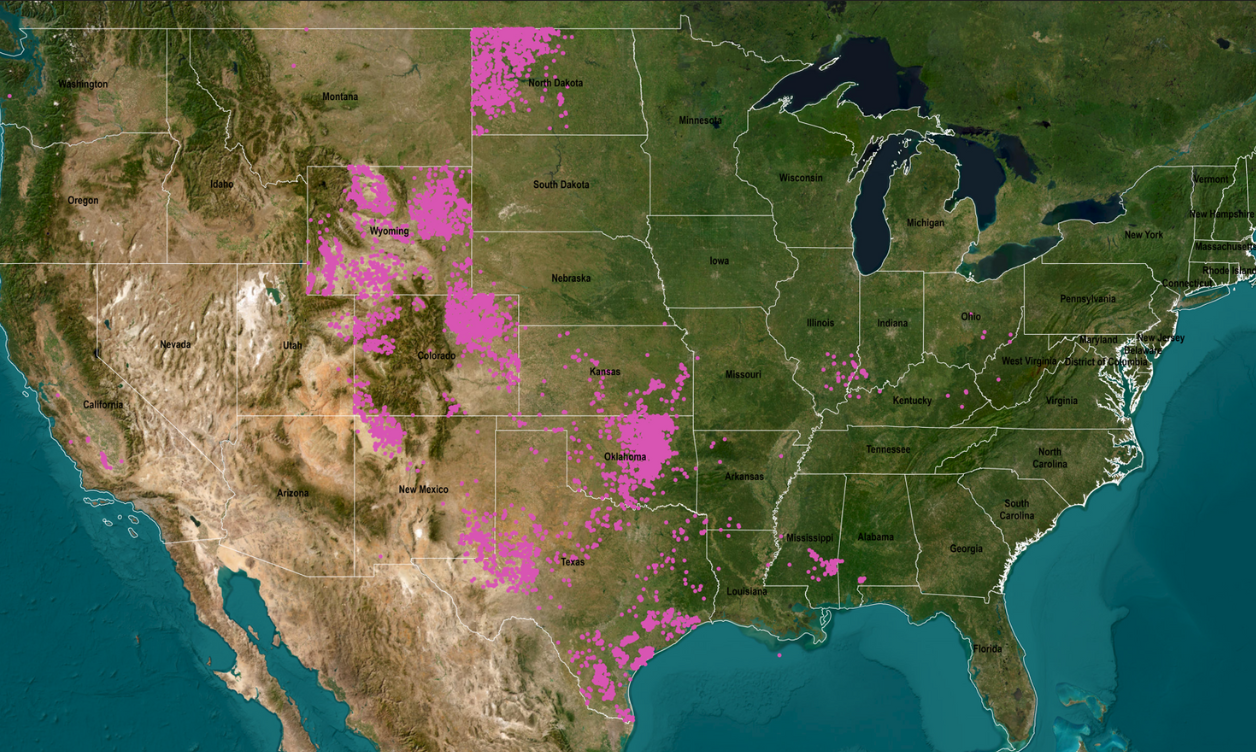 TGS Geological Data
Our Geological Data provides a trusted foundation for oil and gas exploration decision-making. Our comprehensive data helps guide informed decision-making, ensuring optimized drilling locations and precise reservoir evaluations. Learn more about our offerings' intrinsic value and competitive advantage below.
Quality and coverage matter when assessing the feasibility of reservoir rock and determining drilling locations. TGS geological data is tied to the correct well header by utilizing the TGS Master Data Model. Logs are workstation-ready and can be used in interpretive workflows right away. Subsurface data managers can interrogate the TGS database by using TGS R360 and PPDM and OPSDU-compliant Application Programming Interfaces (APIs).
The geological data offering originates from a multitude of regulatory and proprietary sources. Our library comprises of depth-calibrated rasters, digital logs, petrophysical interpretations, and stratigraphic models. TGS scanning and digitizing services ensure you receive value from your hardcopy data. TGS subsurface data management ensures that all our customers' data is mastered to the same well header and both vendor and proprietary data is delivered to customers together.
Geological data plays a crucial role in oil and gas exploration as it provides valuable insights into subsurface formations, helping industry professionals make informed decisions regarding estimated reserves, drilling locations, and formation evaluation.
Raster logs and digital logs

provide

detailed information about rock formations

encountered

while drilling.

Mud logs

provide

information about lithological properties and

indicate

the presence of hydrocarbons.

T

ogether, t

hese logs record various reservoir properties such as lithology, porosity, permeability, resistivity, and saturation. This data

is essential for

identifying

potential hydrocarbon-bearing zones a

nd understanding the geological structure of the subsurfac

e to

determine

the economic viability of

potential drilling locations.

Petrophysical interpretations involve integrating and

analyzing

various well log data to

determine

the properties of the subsurface

.

Petrophysicists

combine data from depth-calibrated raster logs and digital logs to calculate the porosity and saturation levels in specific

formations.

This process helps in characterizing the potential reservoir rock and estimating the

amount

of hydrocarbons it may

contain

.

Stratigraphic models

represent

the geological layers and their distribution in the subsurface. These models are constructed based on various geological data sources and help in understanding the spatial relationships of different rock formations. Geologists can use stratigraphic models to

identify

potential traps and reservoir compartments that might hold hydrocarbons. By

analyzing

the distribution and geometry of different rock layers, they can predict the best drilling locations.

Basin temperature models are used to estimate the thermal history of a sedimentary basin. They

provide

information about the subsurface temperature at different depths and times, which is critical for understanding the maturation and migration of hydrocarbons.

Petroleum geologists can use basin temperature models to assess the maturity of organic-rich source rocks, which indicates whether they have generated and expelled hydrocarbons. This knowledge helps in targeting areas with high potential for oil and gas accumulations.
A high-quality geological database play a critical role in the planning and management of oil and gas wells, providing a treasure trove of subsurface data that experts in the field heavily rely on. Geological databases such as ours might store information from core samples, enabling experts to gain valuable insights into the geological structures and rock formations beneath the surface.
By utilizing sophisticated subsurface data technology and analytics, you can precisely determine the best well locations and design optimal drilling trajectories to access hydrocarbon reservoirs effectively. Identify fault lines, stratigraphic layers, and potential reservoir traps to inform accurate reservoir assessments.
The integration of geological databases with advanced subsurface data technology can empower your teams to make data-driven decisions, reduce exploration risks, improve drilling efficiency, and maximize oil and gas production.
Speak to a Specialist
Interested in a product demo or trial? Let us know your needs and we'll connect you to the right person on our Well Data Products team.