Newly announced 3D survey by TGS will illuminate deeper targets for future development
TGS announced Pontiac 3D on Monday, a new multi-client onshore seismic program in the Midland Basin. Spanning 167 mi2 across parts of Ector, Crane, Midland, and Upton Counties, Texas, the survey aims to provide operators a new tool to evaluate deeper hydrocarbon accumulations in the Barnett, Mississippian, and Devonian. Already proven to contain recoverable hydrocarbons in nearby Andrews County, these formations are envisioned to drive production growth as Wolfcamp, Ellenburger, and Spraberry zones mature.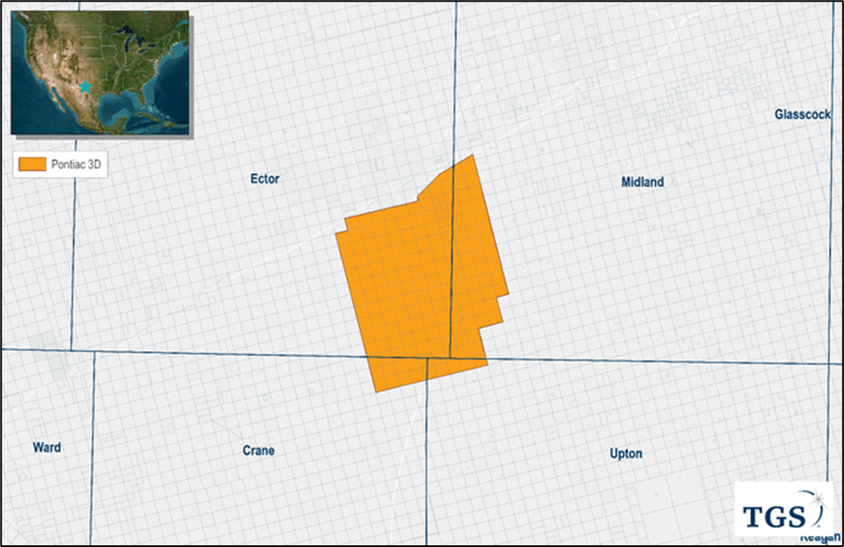 According to TGS Well Data Analytics, annual production has fallen 58% from its peak in 2014 across the Pontiac survey area, primarily driven by a 75% combined drop in Wolfcamp and Ellenburger. Comparatively, Spraberry production has increased by 105% over the same period to 8 MMBOE in 2022, slowing the decline over the area. Similar production declines have occurred in Andrews County in the Wolfcamp and Ellenburger, but considerable Spraberry production growth of 133% since 2014 to 40 MMBOE has limited the overall decline compared to the Pontiac survey area.
In Andrews County, the prospective formations mentioned above have shown mixed results since 2014. Devonian production declined by 54%, Mississippian remained relatively flat, and Barnett grew from zero to 2 MMBOE in 2022. All together, they comprise 19% of the total production in 2022 in Andrews County versus 6% in the survey area. The Barnett, in particular, has received rising levels of attention over the past year, with Pioneer CEO Scott Sheffield proclaiming the Barnett has "been tested already" and results "look very positive." Due to the successful Barnett and Devonian drilling north along strike in Andrews County, these targets could also be a key driver of production growth in the survey area.