Update: The CO2 Atlas is now Carbon AXIOM. Learn more.
Houston, TX, US – (19 May 2021) –TGS, a global provider of energy data and intelligence, today announced that it is developing a regional level CO2 storage risk assessment atlas for North America in collaboration with consultancy firm Canadian Discovery Ltd.

The atlas, explicitly designed for use as a screening and assessment tool for subsurface carbon storage sites, will consist of an interpretation data set delivered in a digital atlas format. Data will be visualized via TGS' user-friendly Pathfinder app for instant, interactive analysis of potential CCS hubs and subsurface information to assess existing geologic resources potentially suitable for carbon storage.

"Carbon capture and storage technology is critical for meeting climate targets. Storing CO2 in deep underground formations in a safe, secure and permanent fashion requires a thorough understanding of subsurface complexities and associated risks. TGS is uniquely positioned to develop this assessment tool by leveraging its comprehensive subsurface data and knowledge", stated Katja Akentieva, Vice President of TGS New Energy Solutions for the Western Hemisphere.

The digital atlas data will include consistent volumetrics with risk and confidence assessments and prospect ranking based on various criteria, along with supporting data appendices. The first phase of the atlas project will focus on Enhanced Oil Recovery (EOR) and depleted reservoirs in the US onshore Gulf Coast region and will be available in Q3, 2021.

The TGS data library holds over 9 million well logs, including Analytics Ready LAS (ARLAS) products. Onshore interpretation products include 19 key basins covered by Basin Temperature Models (BTMs) and have over 1 million hand-interpreted formation tops.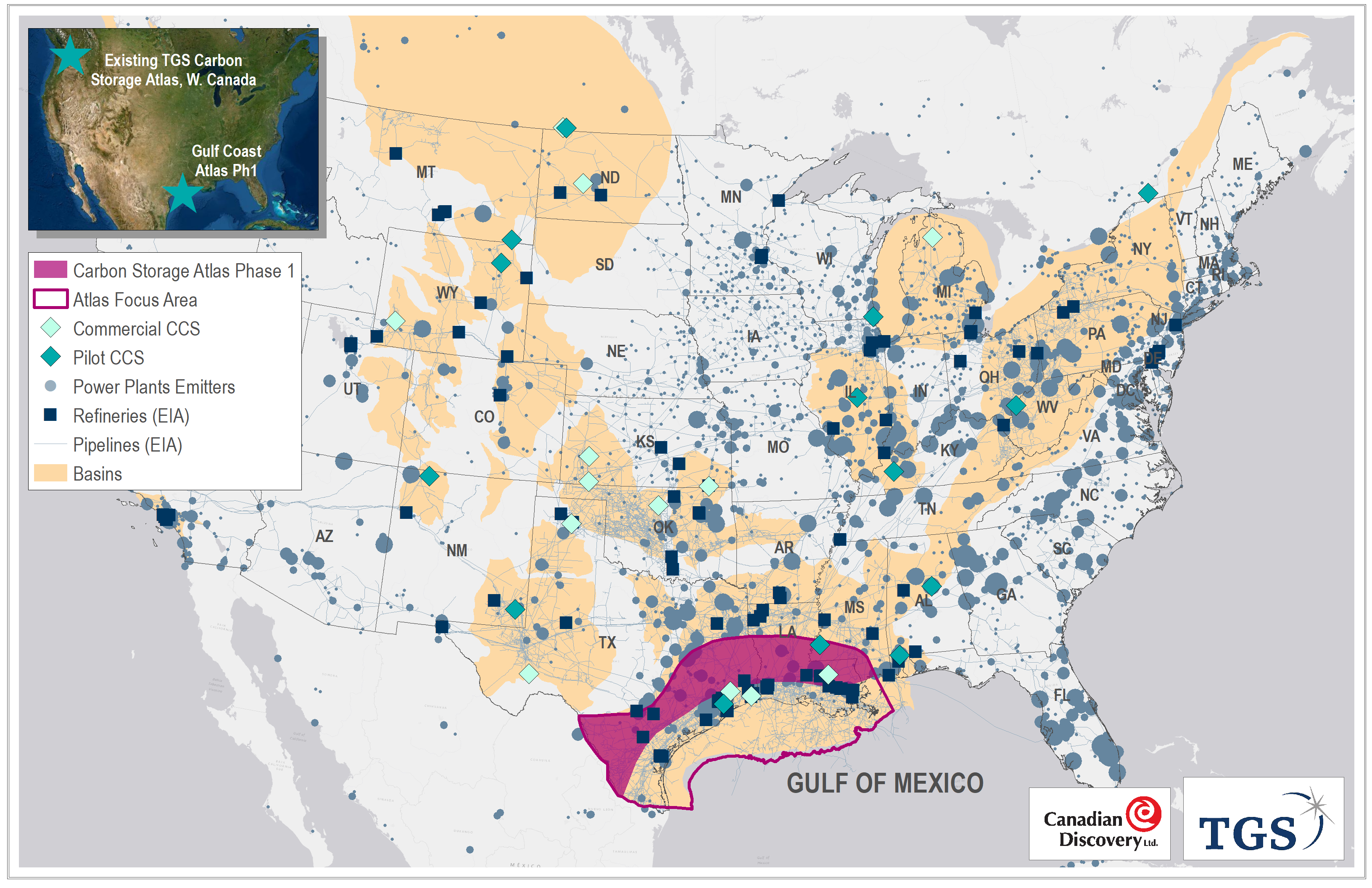 About TGS
TGS provides scientific data and intelligence to companies active in the energy sector. In addition to a global, extensive and diverse energy data library, TGS offers specialized services such as advanced processing and analytics alongside cloud-based data applications and solutions.
About Canadian Discovery Ltd.
Canadian Discovery Ltd. (CDL) is an independent, global energy information services company headquartered in Calgary, Alberta, Canada. For over 30 years we have evolved to deliver oil and gas data, analytics and expertise via online applications and supporting consultancy services. We are world leaders in basin evaluation including assessing reservoir property, pressure, fluid flow, fluid chemistry and geomechanics. CDL's subsurface knowledge and GIS capabilities support Clean Technologies including CCUS site identification, Deep Geothermal and Critical Mineral assessments. https://canadiandiscovery.com/

For more information, contact:
Jaclyn Townsend
Director, Corporate Marketing
jaclyn.townsend@tgs.com