Anadarko Basin
TGS offers modern, contiguous coverage in the core of the prolific SCOOP/STACK play
TGS has created the most complete commercially available database of products in the Anadarko Basin with over 200,000 wells including thousands of previously unidentified wellbores.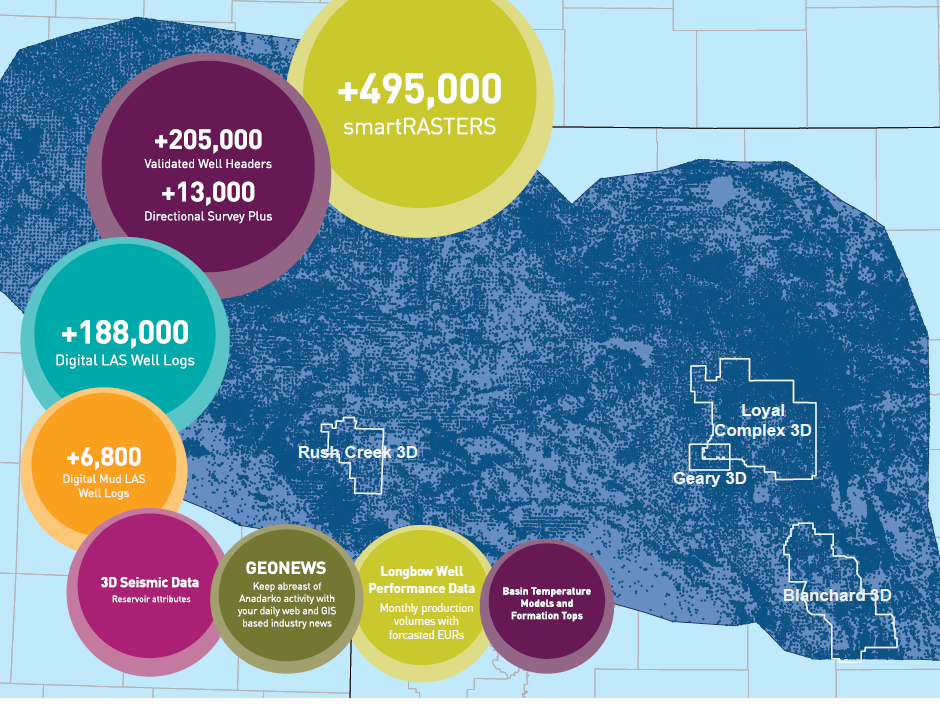 The Anadarko Basin database can be used to build a subsurface geological framework for regional as well as detailed local evaluations. TGS data provides the foundation for structural, stratigraphic, and petrophysical models. With such a diversity of available products, exploration, A&D, and new venture teams are seeing the biggest immediate benefit from a basin-wide package of data sets. The well performance data and EUR's further open the Anadarko Basin up to engineers, financial companies (banks, private equity, and venture capitalists), and service companies, in addition to E&P companies. As the industry moves more and more rapidly toward horizontal and directional drilling, TGS has the most complete, top to bottom, basin-wide view of the Anadarko Basin available.
The Anadarko Basin well data and interpretive products complement the 3D seismic surveys in the basin and puts TGS in the unique position to offer clients a comprehensive, high-quality database to evaluate high potential plays in the US. The well database is available immediately through TGS' R360 web portal with data packages covering the SCOOP / STACK plays or over the entire basin. All data products come with 100% coverage of the wellbore system from surface to TD, have been quality controlled for completeness, and ensure all attributes such as depth, direction, height, and elevation meet the most stringent guidelines for accuracy. With extensive experience in North American unconventional resource plays, the TGS Reservoir Services Group offers innovative seismic reservoir characterization products, enhancing the value of the high-resolution 3D Seismic data.
Interpretive Products
TGS has developed a new methodology for generating accurate Basin Temperature Models to support the exploration for oil and gas. These models utilize over 10,000 logs which are indexed for bottom-hole temperature values (BHT) and integrated with lithostratigraphic data to create a temperature volume. The temperature volume is constructed by stacking the interval geothermal gradient layers for the basin. Basin Temperature Model is available in the Anadarko Basin.
Seismic
TGS' Anadarko Basin seismic data, covering 1,300square miles of 3D data is important to TGS' onshore strategy and provides a platform for future growth in this area. This geophysical data was processed by utilizing its modern land imaging technology to provide clients with greater reservoir understanding.
TGS' high-resolution 3D surveys are designed to assist in the evaluation and development of multiple zone potential including the highly productive Woodford and Meramac intervals. TGS has the expertise and appropriate tools for characterizing the basin reservoirs. Seismic workflows are designed based
on characteristics exhibited by the reservoir zones of interest, and integrated with other relevant data in an effort to enhance their interpretations.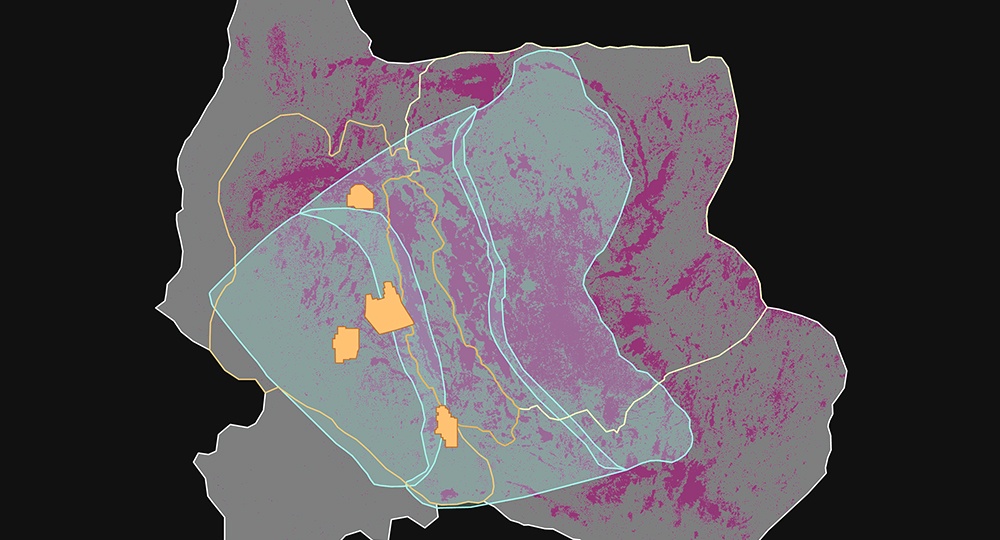 Discover the Permian Basin
Over 430,000 wells including thousands of previously unidentified wellbores, only from TGS.
Learn more